It's that time of year again – the festive season is upon us! Here is your go to Christmas gift guide for runners.
If you have someone in your life who loves to run, or is thinking about taking up running, then this Christmas gift guide has got you covered.
Depending on your budget, there are a lot of choices when it comes to running gear and equipment – from running shoes and GPS watches to stocking fillers and Secret Santa ideas.
With running becoming ever more popular each year, there is so much more on the market nowadays for every type of runner. You really are spoilt for choice! The key is to find a gift that is both practical and personal.
Here is my Christmas gift guide for runners. Just a little note to say that all opinions are my own and this post does not contain any gifted or sponsored items.
A Christmas gift guide for runners
The best Christmas gifts for runners for under £10
Body Glide, £9
Body Glide helps to keep blisters and chafing at bay.
It looks like a deodorant stick and works like a lubricant that you can apply anywhere where chafing occurs – typically your feet, your inner thighs, sports bra lines and underarms.
My trouble areas are my feet and sports bra lines – so this little stick comes in very handy to help minimise any chafing in these areas.
Where to buy: Amazon
Vaseline Queen Bee Lip Balm, £3.49
It's important to keep your skin and lips hydrated on a run, especially during the winter months.
This lip balm is great as it softens and soothes dry lips, and locks in moisture to help lips recover from discomfort.
I apply this just before I leave for my run and it keeps them nice and soft – no more chapped lips!
Where to buy: Amazon
Karrimoor Running Socks, £5.99
A decent pair of running socks are a must when hitting the road or trails.
Running socks are a bit different from normal trainer socks in that they're a bit thicker, padded and more soft and spongy – meaning extra comfort and protection.
You can normally get four pairs for less than £10 depending on the deals you can find.
Where to buy: Amazon
Nalgene Everyday Water Bottle, £7.95
I love this water bottle! I bought one a few months ago and now cannot leave the house without it.
It's not the most compact, but it comes in very handy when I'm out and about and at work as it helps me get my daily intake of H20.
It's completely leak proof, easy to clean and virtually indestructible!
Where to buy: Amazon
The best Christmas gifts for runners for under £20
Karrimoor Sierra Running Backpack, £13
This small running backpack from Karrimoor is ideal for road running and trail running.
Some backpacks I've tried over the years are far too big for my back and end up chafing on my hips.
I love this backpack as it fits really well – nice and tight on my back – and stays put whilst I'm running.
Whilst you probably couldn't use it for running commuting as it's not quite big enough, it's great for your weekend runs.
Where to buy: Amazon
Westlab Epsom Salt, £16
After a long run, there's nothing better than having an Epsom salt bath.
Epsom salt has been used for hundreds of years to ease all kinds of aches and pains.
A simple soak in the tub may help you feel better after a run or workout.
I only discovered this a few years ago. Now it's my go to, post-run treat!
Where to buy: Amazon
Ronhill Running Headband, £11.99
Protect your ears with this cosy headband, especially on those long runs in the wind and rain.
Made from lightweight fleece material, it has a contoured shape to cover your ears properly and regulates your body's temperature as it heats up.
It also has a reflective trim – ideal for dark nights.
Where to buy: Amazon
Nike Expandable Lean Running Belt, £12.95
This running belt is perfect for holding your essentials on a run, such as cards, keys and cash without adding too much bulk.
It's expandable and stretchy with a zipper that keeps your stuff secure. The high visibility taping is also handy for that extra 'be seen' factor.
If fits really well on your back and doesn't bounce around whilst you run.
Where to buy: Amazon
The best Christmas gifts for runners for under £50
Trigger Point Performance GRID Foam Roller, £33.99
Many runners have a love hate relationship with foam rolling. It's painful yet satisfying at the same time!
Foam rollers help muscles recover with improved blood and oxygen flow after a long run or intense workout.
There are a lot of foam rollers on the market, but this foam roller is ideal for dense tissue or deeper muscle compression.
Even more, it's designed to withstand constant, heavy and repeated use without breaking down.
Where to buy: Amazon
Vivo Life PERFORM Vegan Protein Powder, £42.99
This protein powder is 100% plant based and is great for your health.
I used it after every run and workout as it tastes incredible and delivers epic results!
Protein powder is essential for muscle recovery after a run or workout.
It's sometimes difficult to find a powder that doesn't contain any nasties.
Vivo Life protein powder contains 25g of plant based protein with no artificial colours, sweeteners, flavourings, preservatives, fillers or binders – perfect!
Where to buy: Amazon
Nike Dri-Fit Running Top, £47.95
This top is perfect for chilly runs as it keeps you warm without overheating.
A looser fit under the arms and through the body lets you wear it over a running top, while its thumbhole design adds to your comfort.
I have this top in black and I wear it regularly on my runs.
Where to buy: Amazon
Shock Absorber Run Sports Bra, £21.99
Wearing a great sports bra can change your run!
This bra has superior bounce control and comfort you need to be able to focus on your performance and enjoy your run without distractions.
It has reflective tap across the cups for high visibility and a fully back opening for easy on and off.
I cannot stress enough how important it is to have a good fitting bra. If you're in the market for a new one, this is a great option for you.
Where to buy: Amazon
The best Christmas gifts for runners under £100
Nike Essential Running Jacket, £69.95
It's not so great when you get caught out in the rain on a run.
This jacket from Nike features durable fabric with a water-repellent finish so you can keep your miles up even in the elements.
Vents in the back add breathability, and a packable design makes it easy to carry when the weather clears up.
Where to buy: Amazon
Gregory Maya Running Backpack, £68.99
If you're a keen running commuter, this is the perfect backpack for you! You can read my own review of this running backpack.
It features a large central compartment with two mesh organiser pockets for all your essentials, two hip belt pockets and an inside pocket for a drinking system.
The fit and shoulder straps allow you to really cinch in your waist and it has been designed with a women's figure in mind.
Where to buy: Amazon
Veho Pebble Power Bank, £59.95
Power banks really are life savers when you run out of battery.
I regularly use one for my phone, GoPro and sports tracking watch.
This power bank from Veho is built to charge your phone or sports tracking watch with as much efficiency as possible.
It charges your devices as quickly as possible which is a life saver if you ever get stuck whilst out on a long run.
The bank comes with two ports allowing you to charge two devices at once.
When it's is out of power it takes just eight hours to fully recharge. Brilliant for those long runs and weekends away.
Where to buy: Amazon
Reflect360 Women's Running Jacket, £84.99
In my opinion, Reflect360 offer some of the best high visibility jackets on the market.
This high visibility running jacket helps you stand out on the roads on those dark nights.
It's feather-light design means you won't be weighed down, and its super comfortable soft-mesh back and under arms that allows good airflow and all the heat that you build to escape.
Where to buy: Amazon
The best Christmas gifts for runners under £250
Brooks Cascadia Trail Running Shoes, £110
These shoes are great for when you want to hit the trails.
They feature an integrated gaiter connection point and internal saddle system for a close-to-foot fit.
The 3D rubber print mud guard also provides on-the-go protection from trail debris.
I bought a pair back in September and I haven't regretted my decision. They're stylish, comfortable and durable!
Where to buy: Amazon
Garmin Forerunner 235 Sports Tracking Watch, £176
This is one of my favourite running gadgets. The Garmin Forerunner 235 is a simple and easy to use sports tracking watch which comes with a range of features, including wrist band heart rate, GPS, smart notifications, audio prompts and pace alerts.
In addition to distance, time, pace and calorie tracking features, you can also see your cadence, heart rate and heart rate zone.
There are also customisable audio and vibrating alerts to help guide you on target pace and heart rate.
Where to buy: Amazon
Under Armour Heat Gear Running Tights, £50
These running tights from Under Armour are the perfect running tights when you're faced with the elements.
They're made from Gore-Tex which means they're light, totally windproof and highly water resistant.
Their next-to-skin design and breathability keep you protected from event the harshest winter weather.
The tights also offer an expandable centre-front waistband pocket which is water-resistant and keeps your essentials like your phone from bouncing
Where to buy: Amazon
Nike Aeroloft Vest, £130
This light and breathable vest is both comfortable and warm with down fill and stretch woven side and back panels that help you stay ventilated.
Running gilets are great because they don't feel too heavy or overwhelming.
I sometimes struggle to wear fleece jumpers whilst out running as I quickly overheat, but this gilet is the best of both worlds!
Where to buy: Amazon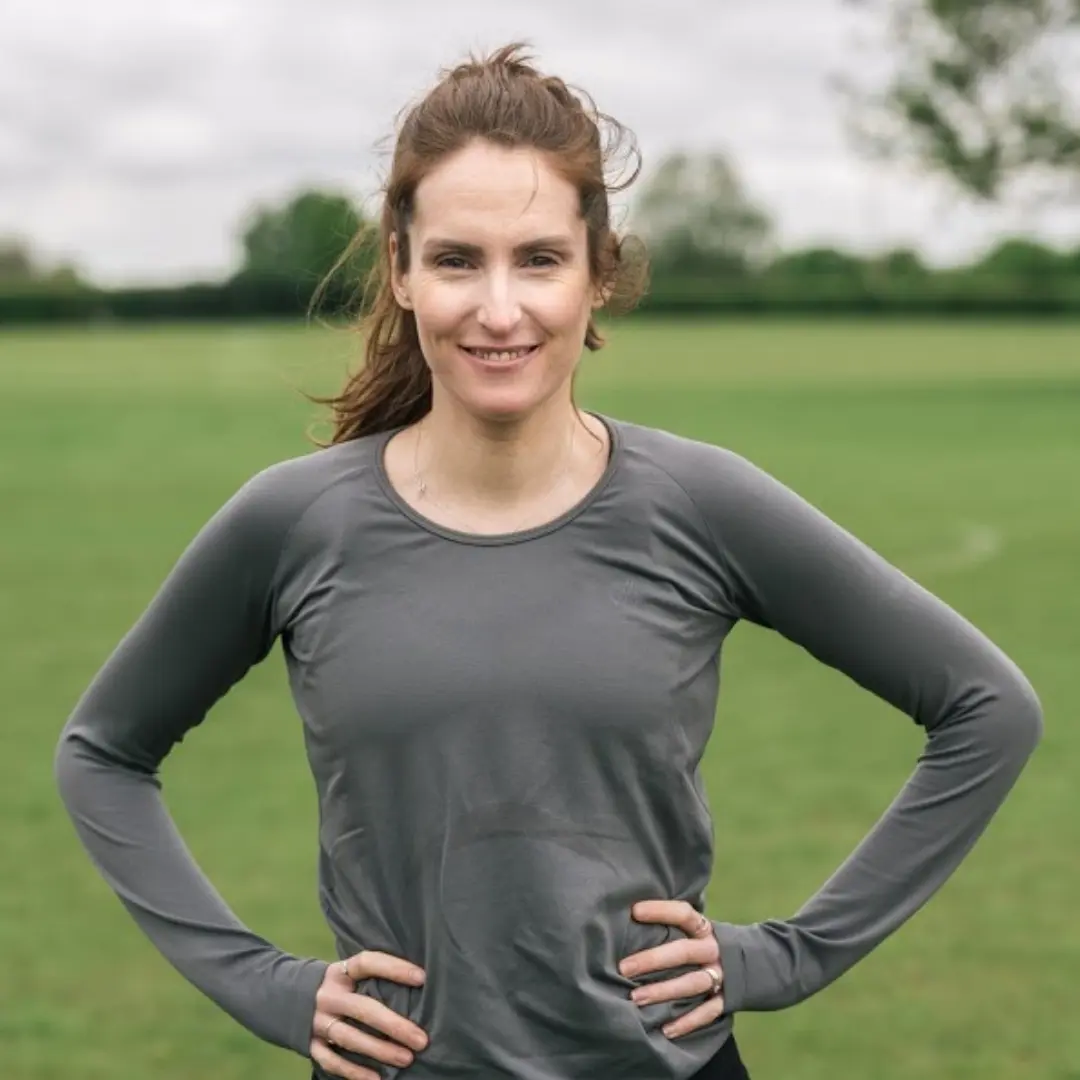 Latest posts by Caroline Geoghegan
(see all)