Luckily for us runners, there plenty of places to guy high quality, affordable running clothes.
Whether you're at the start of your running journey or you're a seasoned runner looking for new inspiration, this guide has got you covered.
Online shopping means affordable running clothes are more accessible than ever. It has never been easier to find cheap running clothes and gear.
But there is a downside to all of this choice – what should you buy and where is the best place to buy it?
In this guide we'll explore:
Running clothes checklist
Women's running clothes: What to wear
Winter running clothes: What to wear
Summer running clothes: What to wear
Where to buy running clothes: 7 of the best websites to buy affordable running clothes
Ready?
Let's get started!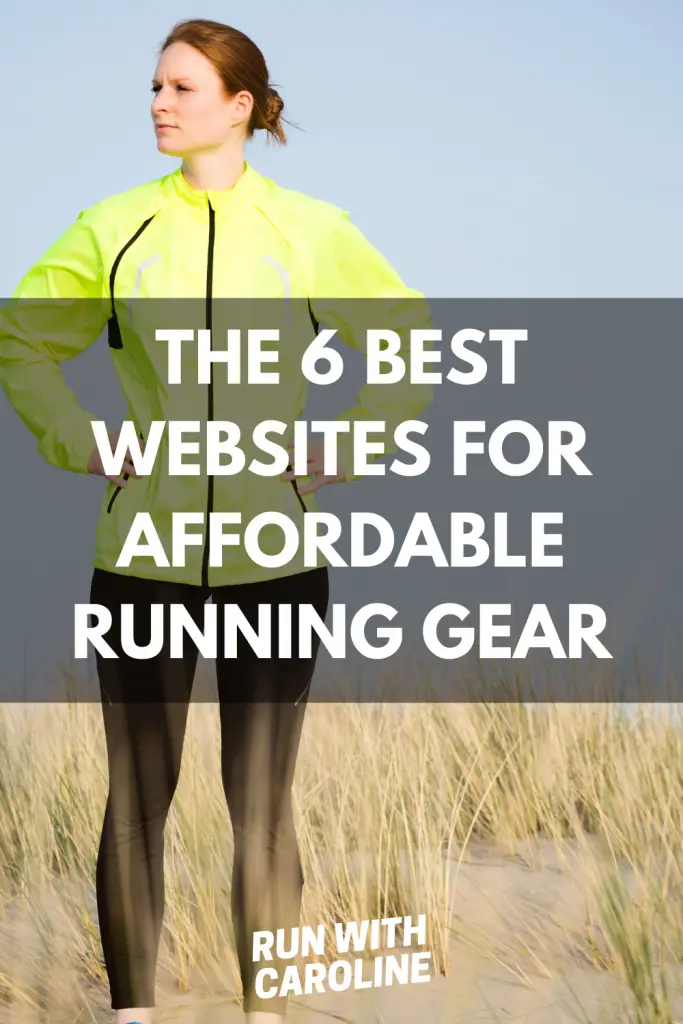 Running clothes checklist
One of the best things about running is that there are no major barriers or obstacles to you starting.
Unlike cycling or swimming, you don't need a lot of clothes and gear to get started.
If you're on a budget, then my advice would be to stick with the essentials.
No matter what some companies try to tell you, you don't need a snazzy sports watch or the latest pair of compression tights to get started.
The only pieces of clothing that I would advise you to spend a bit more money on are: a pair of decent running shoes and a good sports bra (if you're a woman).
You can find more tips and advice on finding the best pair of running shoes in my guide on how to choose the best running shoes for beginners.
Here is a list of must-have running clothes and gear for when you start running:
A good pair of running shoes
A good sports bra (for the ladies)
Running top (preferably sweat wicking – either long or short-sleeved)
Running leggings (either tights or shorts)
Comfortable underwear
Running socks
Related: The best running leggings for women
Related: Moisture wicking underwear: Benefits + where to buy
Women's running clothes: What to wear
If you're a woman, there are a few additional pieces of clothing and gear that you'd need to make your run a comfortable one.
A well-fitted sports bra is one of them.
Sports bras come in many shapes and sizes, but essentially you'll want to find one that is supportive and comfortable.
This is especially important if you're going to be running a lot of miles each week. Running is considered a high impact sport so you need to feel supported.
You'll also want to ensure your sports bra doesn't chafe when you run.
Related: What to bring to the gym: 15 workout essentials
Winter running clothes: What to wear
If you're training for a marathon or half marathon, then the majority of your training will take place during the winter months.
Depending on where you live in the world, this means you may have to contend with a range of different weather conditions in one season – from rain and snow to wind and hail.
This is why it's important to be prepared as much as you can for running during the winter months.
Winter running and running in the cold is all about layering.
Many runners make the mistake of wearing one big bulky piece of clothing on their run, such as a thick fleece or jacket.
Whilst you may feel the cold when you first head out the door, you will soon warm up and you'll regret wearing such a thick piece of clothing which you'll have to carry for the rest of your run.
A thin jacket on the other hand can be tied around your waist easily if you find yourself too warm.
It's also important that you are seen on your run. Therefore, prioritise running clothes that have reflective technology.
Here is a list of essential winter running gear:
A good pair of running shoes
A good sports bra
A warm base layer (opt for a sweat wicking and non-scratchy fabric like polyester or Merino wool)
A thin fleece or running top
A running vest or gilet
A thin windbreaker jacket (look for jackets that have a hood, are ventilated and breathable in sweat zones)
Thermal running tights (opt for warm, breathable, moisture wicking fabrics such as polyester and nylon)
Running hat
Running gloves
Comfortable underwear
Thick running socks
Sunscreen (SPF30 or above)
Hand held water bottle
Headlamp (for running in the dark)
Related: Running in the cold: How to dress for winter running
Related: The ultimate guide to running backpacks for women
Summer running clothes: What to wear
For many runners, running in the summer is the highlight of the training calendar – sunshine and blue skies are a real benefit after long months of winter running.
However, summer running comes with its own set of challenges when you run in the heat and humidity.
The key to summer running is to find clothes that allow your skin to breathe. This means buying light-coloured, loose fitting and sweat wicking materials.
Polyester and lightweight Merino wool are good examples of sweat wicking fabrics. Even better, they are odor resistant.
Stay away from cotton as it absorbs moisture and holds it next to your skin which can cause chafing.
Here is a list of must-have summer running gear:
A good pair of running shoes
A good sports bra
A short-sleeved running top or tank top (preferably sweat wicking)
Running shorts
Comfortable underwear
Running socks
Running cap or baseball cap
Sports sunglasses
Sunscreen (SPF30 or higher)
Hand held water bottle
Related: 7 essential tips for running in the heat and humidity
Related: How should a sports bra fit? The complete guide
Where to buy running clothes: 7 of the best websites to buy affordable running clothes
#1 Best for bargain running clothes: Sports Direct
If you're sticking to a budget and want to find some basic, affordable running clothes, then Sports Direct offers a range of good quality gear that won't break the bank.
They have a good range of running gear from brands like Nike and Adidas, and more affordable brands like Karrimoor.
Many runners start off their running journey with brands like Karrimoor, then sample other brands once they have a few more runs under their belt.
Note that Sports Direct do not offer refunds for goods bought in store. You can only get a credit note or exchange.
Items purchased online however qualify for a full refund within 28 days, provided it has not been used or fitted.
Related: 6 running accessories for half marathon training
#2 Best for basic running clothes: Decathlon
Decathlon is a favourite of many runners looking for affordable running clothes. You can buy a pair of running leggings for as little as £5.99 from their website.
Instead of selling high street brands and Nike and Adidas, Decathlon have their own range of affordable running clothes.
My recommended ranges are Kalenji and Kiprun where you can find everything from running leggings and running tops to water bottles and hats.
They also sell a wide selection of cheap running shirts which are great for running during the summer months.
Decathlon also sell their own range of home gym equipment should you be in the market for some dumbbells or kettlebells for a home workout.
Related: The best home gym equipment for runners
#3 Best for running, cycling and triathlon clothes: Wiggle
Wiggle started out as a small independent bike shop in 1995 in Portsmouth, UK.
Since then, it has become one of the world's largest online fitness stores, selling predominantly run, cycle, tri and swim gear.
You will find some of the world's biggest brands on Wiggle, as well as small, specialist brands.
Wiggle take pride in sourcing, testing and delivering the best sports equipment there is.
So if you're into cycling and swimming as well as running, Wiggle have all your affordable running clothes needs covered.
#4 Best for running clothes from big name brands: Runners Need
Founded by runner Chris Bould in 1982 in Camden, London, Runners Need has grown to over 40 stores nationwide in Great Britain and Northern Ireland and has more than 8 million people training and racing.
Whether you're in the market for a windproof running jacket or running socks, Runners Need sell all the essential affordable running clothes you should need.
Runners Need stocks a lot of the big name running brands like Saucony, Brooks and New Balance, as well as technology brands like Garmin.
They also offer free delivery over £50 and if you're unsure about a purchase, they have a 100 day returns policy giving you that extra piece of mind.
Related: How to choose the best running shoes for beginners
#5 Best for big name running clothes at reduced prices: TK Maxx
One of my favourite places to buy affordable running clothes is TK Maxx. It's such a great place to buy big name brands for little prices.
TK Maxx sell brands such as Under Armour, Adidas and Reebok at reduced prices.
They also offer a great range of stylish athleisure wear from brands like Elle and Pineapple for those times when you want to lounge around in your running leggings.
#6 Best for women's running clothes: ASOS
ASOS has really boosted its range of fitness and running clothes over the last few years.
Whilst I'd always advocate comfort over style when running, many brands nowadays have come a long way to offer gear that is both stylish and comfy.
ASOS sells many of the big name brands such as Nike and Adidas. They also sell their own range of affordable running clothes under the brand ASOS 4505.
A long-sleeved running top costs as little as £16, whereas a pair of running tights starts at around £18.
In addition, if you're an ASOS Premier Delivery member, you'll get your items delivered the next day with next day delivery.
Looking for a running clothes outlet? ASOS Outlet also offers end of line stock where prices are below the RRP.
#7 Best for sustainable running clothes: Presca
More people are looking for environmentally-friendly and sustainable running clothes in an effort to do their bit for the environment.
Presca makes environmentally conscious sportswear from design to delivery.
Whilst their clothing is not inexpensive, they offer a range of running clothes from running tops to running leggings ranging from £35 to £75 which doesn't break the bank.
Presca also prides itself on being the first carbon-positive sportswear company, and all of its clothing is made from 100% recycled materials.