If you struggle to go to the gym, then the easiest way to strength train is from the comfort of your own home.
Strength training is essential for becoming and staying a stronger and less injury-prone runner. It can also help you improve running form and run faster and increase your speed.
However, for some people it's not always possible to go to a gym every week.
Whether you prefer to workout at home or you don't want the commitment or cost of attending a gym, then these pieces are the best home gym equipment for runners.
In this guide we'll explore:
Benefits of exercising at home
How to choose home gym equipment for runners
Where to buy home gym equipment for runners
5 best home gym equipment for runners
Ready?
Let's get started!
Benefits of exercising at home
Many people prefer to exercise at home because it provides more flexibility, especially if you lead a busy lifestyle or can't get to the gym because you have care responsibilities.
Here are the benefits of exercising at home:
#1 Saves you time
When you go to the gym, half of your time is preparing for the workout.
From packing your gym bag to travelling to the gym, valuable time is spent simply getting yourself to the gym.
When you workout from home, you don't have to contend with any of this, meaning you get to focus your time and energy on the workout.
#2 Saves you money
One of the biggest reasons people opt to workout at home is because they want to save money.
A gym membership nowadays can cost between £500 – £1,000 per year, not to mention other costs like class passes and gym gear.
With a home workout, you can fit in a workout without having to spend hundreds on a gym membership each year.
#3 Provides flexibility
When you exercise at home, you can fit in a workout whenever you feel like working out.
With many people working from home, it's even more easier to fit in a quick workout before your working day, during a lunch break or in the evening.
Many companies also offer pre-recorded classes, meaning you can watch them anytime.
#4 Allows you more privacy
If you're not used to working out at the gym, then a visit can feel daunting if not overwhelming.
A home workout gives you much needed privacy if you don't fancy exercising with others at the gym.
You also get to exercise at your own pace.
Related: What to bring to the gym: 15 workout essentials
How to choose home gym equipment for runners
It can be overwhelming to know what gear to buy when considering the best home gym equipment for runners.
There is so much to choose from and you don't always know what to buy as a runner.
The best advice when choosing home gym equipment for runners is to select gear that is versatile, high quality and durable.
You'll also want equipment that is affordable, compact and mobile so they won't take up too much space in your home.
Equipment like dumbbells, kettlebells and medicine balls can be used in many different ways for various exercises.
There are also other fitness essentials like yoga and exercise mats and foam rollers which are also good pieces of gear to have in your armoury.
Related: Strength exercises for runners: 7 exercises to do everyday + 3 bonus workouts
Where to buy home gym equipment for runners
With online shopping offering many options, there are plenty of places from which to buy home gym equipment.
Amazon and eBay are both good places to buy affordable and high quality equipment.
Sports stores like Decathlon and Sports Direct also offer a range of gear.
Even department stores like TK Maxx and John Lewis offer home equipment and accessories.
Related: Where to buy affordable running clothes
5 best home gym equipment for runners
Here is the ultimate list of the best home gym equipment for runners:
Exercise mat
Dumbbells
Medicine ball
Resistance bands
Foam roller
#1 Exercise mat
A good exercise mat is important when exercising at home because it provides a cushioned, non-slip surface to do your moves.
Many people opt to work out in their kitchen or studio if it has a hard floor, so it's good to have a thick exercise mat to lie on.
Even if you have carpets or rugs, it's better to sweat on an exercise mat than on your floor.
A good exercise mat will last years, so it's best to invest in one that you can use time and time again.
Invest in one that is at least 5mm thick and that is non-slip.
What to buy:
#2 Dumbbells
Dumbbells are small and portable and are great for adding difficulty to simple strength exercises like squats, lunges and hip bridges.
They can also be used to work on your core muscles and upper body, which are also key parts of the body for runners.
For these reasons, dumbbells are at the top of the list when it comes to picking the best home gym equipment for runners.
When selecting dumbbells, there are different styles to choose from depending on how you intend to use them.
If you're opting for lower weights (between 1kg and 5kg), soft touch, neoprene hand weights are an ideal solution.
For heavier weights (6kg and above), opt for hexagonal dumbbells with grip handles as these are easier and safer to handle.
Hexagonal dumbbells are also great for floor work.
What to buy:
#3 Medicine ball
Medicine balls are affordable and versatile and can be used for a variety of exercises.
They can be used to target your core, abs and arms. They are also great to improve muscular power and performance.
Medicine balls can be thrown and caught making them the best home gym equipment for runners for explosive movements.
When choosing a weight, pick a medicine ball that's heavy enough to slow the motion, slower than if you weren't using any weight at all.
Make sure it's not so heavy that your control, accuracy and range of motion takes a hit.
What to buy:
#4 Resistance bands
Resistance bands are fantastic for making workouts harder without adding more weight.
They are also essential for injury prevention and injury recovery and rehab as they help with mobility.
Even better, resistance bands don't take up much space and they can be bought fairly inexpensively, making them a versatile piece of home gym equipment for runners.
Resistance bands are normally made of rubber and come in different strengths and lengths so it's advisable to buy a set of bands to increase and decrease resistance.
The colour and thickness of the bands will vary by brand. In general, a thicker band equals more resistance.
Typically, the darker the colour the more resistance you can expect.
A good way to use a resistance band is around both of your legs above your knees for glute bridges, clams and squats.
You can also utilise them in cardiovascular exercises, like high knees and side skaters.
What to buy:
#5 Foam roller
There are so many benefits to foam rolling, especially for runners who regularly experience tight or sore muscles after a long run.
A good foam roller is essential for recovery after a long run and rehab and is therefore an important piece of home gym equipment for many runners.
What to buy: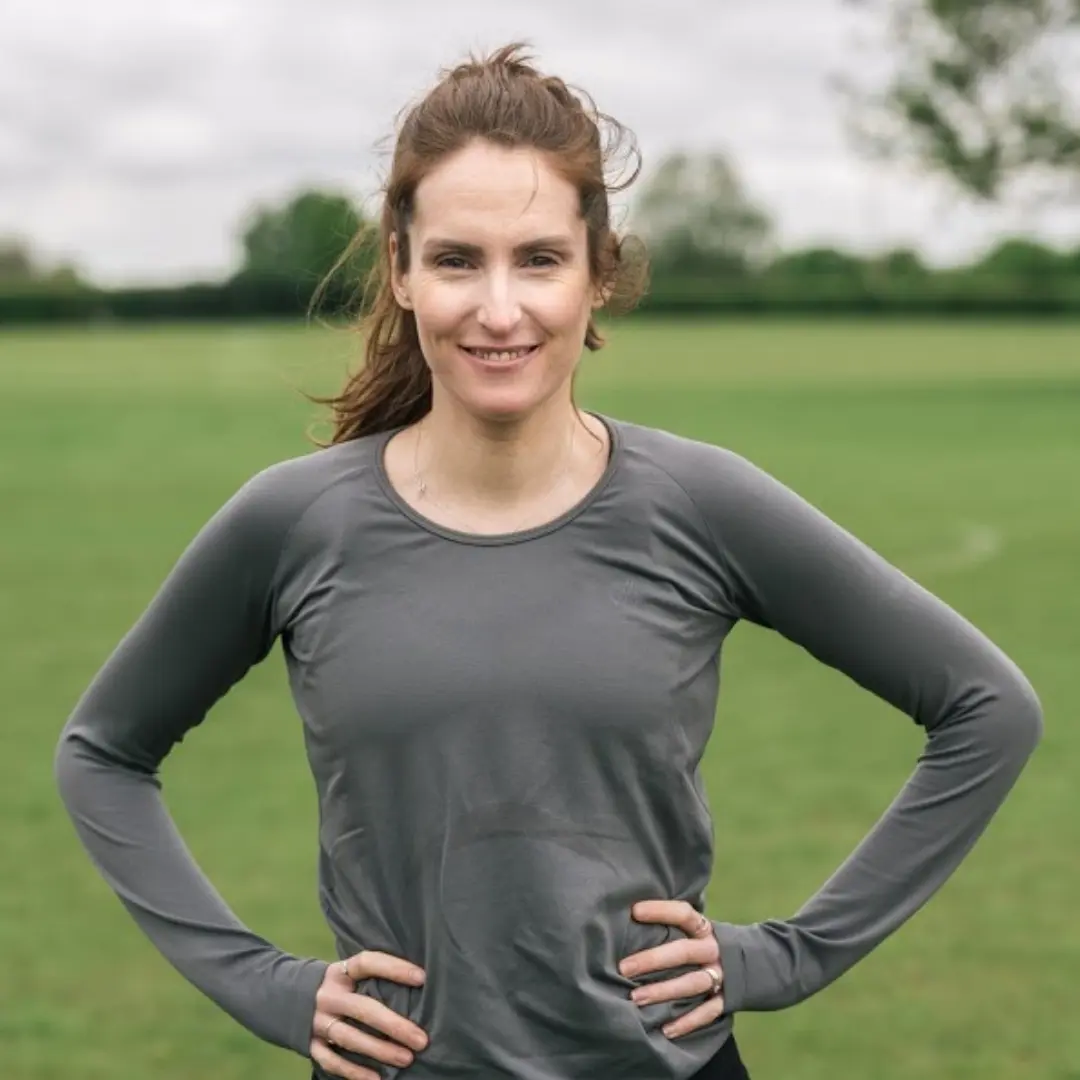 Latest posts by Caroline Geoghegan
(see all)