I have run in Brooks running shoes for over three years now – they are by far my favourite running shoe brand. In this Brooks Cascadia 13 trail running shoe review, I'd like to explain why I think these trail running shoes from Brooks are the top of my list.
Brooks are one of the most well known running shoe brands in the world, with millions of runners all over the globe investing in a pair of their running shoes.
Brooks are popular with so many runners because they genuinely believe in the powerful and life-changing benefits of running, and they are made up of runners themselves. It also helps that their shoes are pretty good too!
It's no secret that a decent pair of running shoes can set you back between £80 and £130. Albeit expensive, a good pair of running shoes are a must when starting and continuing your running journey.
And when it comes to trail running, it is even important to invest in a pair of running shoes that fit the bill. The reason being that with trail running you are having to navigate a wider range of terrains and obstacles, so your shoes need to be able to support your feet in the right way.
In this blog, I'd like to provide a review of my favourite trail running shoes Brooks Cascadia 13. If you haven't already, check out my review of my favourite road running shoes Brooks Adrenaline GTS 19 if you're in the market for a new pair of road running shoes.
Related: How to choose the best running shoes for beginners
The best trail running shoes: Brooks Cascadia 13 trail running shoe review
If you're looking to get into trail running, a pair of supportive trail running shoes are a must. You need a pair of shoes that can handle the different terrains that you're going to be running on.
If you're hoping to run in your road running shoes, then I strongly recommend you reconsider and invest in a pair of proper trail running shoes.
You may be wondering what the differences are between road and trail running shoes. The fact is, trail running shoes are built differently to road running shoes.
Whereas road running shoes don't usually offer enough grip or support to tackle tougher terrain, trail running shoes offer more aggressive tread patterns. They also give you a better grip on all types of terrain, boosting your performance and stability.
Trail running shoes also offer higher levels of protection through stiffer, tougher soles and hidden toe plates to protect toes and feet from bruising from rocks, roots and debris.
The Brooks Cascadia 13 trail running shoes deliver in all of these areas, and are a solid pair of shoes to get you started on your trail running journey.
Fit
When I first ran in my trail running shoes, the first thing I noticed was the tougher sole. I could almost feel the tread through the sole of the shoe.
I remember thinking at the time that they didn't feel as supportive as my road running shoes, but I was told this was because trail running shoes are more akin to minimalist shoes, in that they have a lower profile and heel height.
Apparently, a lower profile helps you respond quicker to the changing terrain, therefore giving you more stability.
On those very muddy runs, it's important that you are wearing a sturdy trail running shoe, with good tread and tougher soles for extra grip. I've found the tread on the Brooks Cascadia 13 shoes cope well on my muddy runs.
The grip on these shoes is amazing and I very rarely slip and slide when running in these shoes which is important when preventing injuries.
These shoes also have a good amount of cushioning which helps when I am running on rocky terrains, which is very rare by the way as I live in an area of England which is very flat!
Related: 12 trail running tips for beginners
Performance
One of the first things I noticed about these shoes was the rock shield at the back of the shoe. These guard your feet from trail debris which is really useful when running on rocky terrains.
The rock shield and sole of the shoe helps massively with stability, without feeling too sturdy and stiff. When I first started running in these shoes, I thought my feet would feel sore after a few runs, but the shoe feels surprisingly cushioned.
Brooks calls it their 'BioMoGo DNA' cushioning technology which dynamically adapts to your stride, along with their 'Pivot Post' system which connects to create a stabilising suspension system.
All in all the Brooks Cascadia 13 trail running shoes provide good stability as well as a tight fit that support my feet on those long muddy and rocky runs.
Related: The 6 best websites to buy affordable running gear
Style
I really like the look of trail running shoes. For some reason I find them much more physically appealing than road running shoes, but of course we runners know that you should never choose style over substance!
The Brooks Cascadia 13 trail running shoes come in different colours depending on your preferences and style.
One thing I did notice when wearing these shoes is that they appear much bigger on my feet than my road running shoes. This may be linked to their lower profile, which can sometimes make you feel like you're wearing clown shoes!
Related: 7 must have running accessories you didn't know you needed
Price
The Brooks Cascadia 13 trail running shoes will set you back between £80 and £130. It's worth noting that Brooks have since released later versions of this shoe, so they may have come down in price, so please do check these out.
A good pair of trail running shoes are not cheap, but if you're serious about taking up trail running, then I recommend you invest in a good pair to avoid injury and slippages.
Related: Proper running footstrike and ways to improve it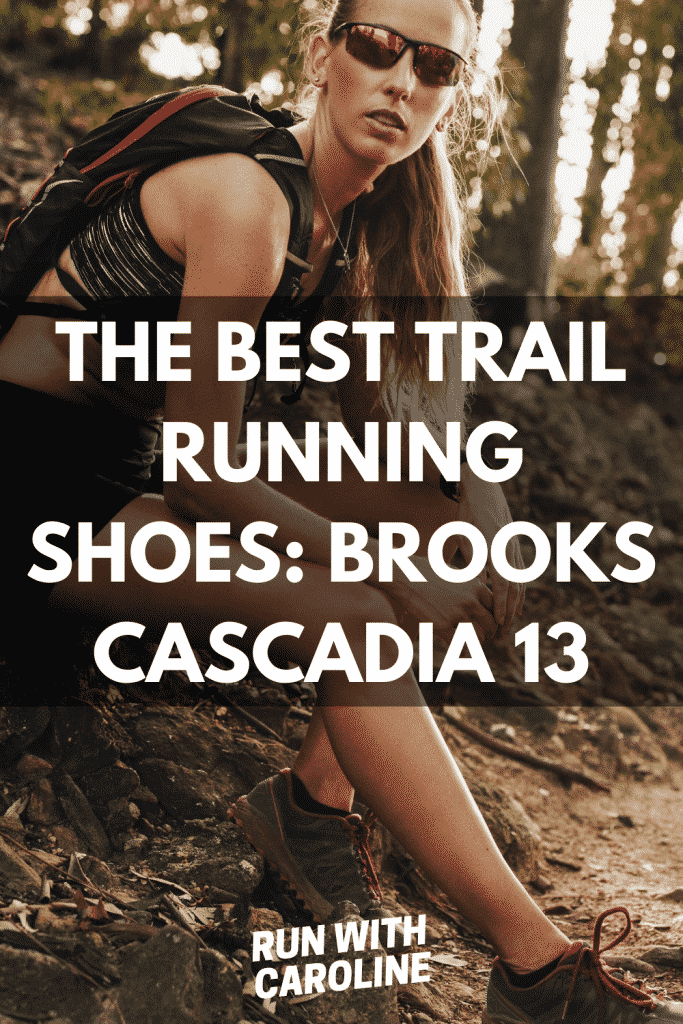 Final thoughts
The Brooks Cascadia 13 trail running shoes are a solid pair of shoes that support your feet in all the right ways on those long trail runs.
The size, fit, design and performance of these shoes are what sold it for me. It took me a little while to get used to the sturdy sole, but once you get used to this, the shoes feel very supportive.
Check out the Brooks website if you're looking to invest in this pair of shoes. Brooks offer free shipping over £75 and a 90-day test run should you find out that these shoes are not for you.
Amazon also offer a range of Brooks shoes at reduced prices.