You know the feeling: you're running in a half marathon or marathon and you're getting ever closer to the finish line, and you feel like quitting or giving up.
The pain is all too real and you'd rather be sat at home on your sofa in your pyjamas watching Netflix.
A lot can be said of funny and motivational race day sign ideas – the good ones give you a confidence boost when you need it most and bring a smile to your face.
Let's face it – we could all do with a laugh towards the end of a half marathon or marathon!
According to Run Repeat's State of Running 2019 report, participation in half marathons and marathons has declined since 2016, when it peaked at 9.1 million runners.
And for the first time in history, there are more female runners than male runners which is amazing.
So whether you have your family and friends cheering you on, or you have a kind stranger clapping as you run, we can all agree that the support from spectators can make your race that much easier.
Here are 101 funny and motivational race day sign ideas.
If these funny and motivational race day sign ideas have inspired you to run, then check out the best selection of running quotes, running puns and running memes: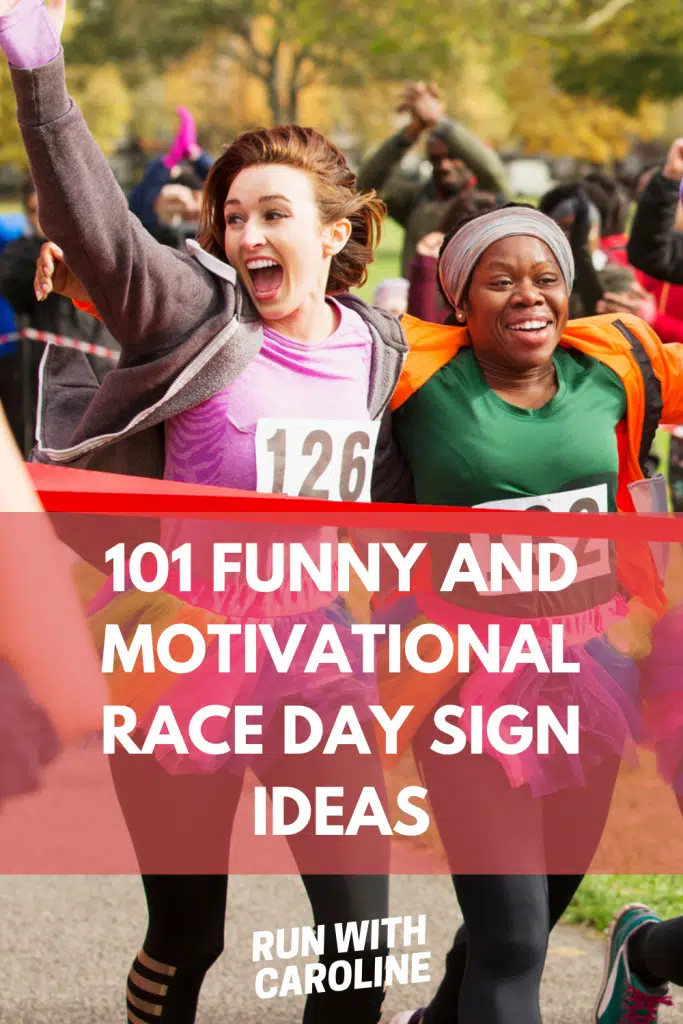 101 funny and motivational race day sign ideas
#1 High five if you love running.
#2 Left foot, right foot, repeat!
#3 Remember, you paid for this!
#4 Smile, you might be on camera!
#5 If it was easy, everybody would be doing it.
#6 Your pace or mine?
#7 Don't stop! People are watching!
#8 Pain is temporary, race results are online forever.
#9 May the course be with you.
#10 You think you're tired, my arms are killing me.
#11 The Kenyans have already crossed the finish line.
#12 Run like someone just called you a jogger.
#13 Run now, wine later.
#14 I stayed up all night making this sign.
#15 Your feet hurt because you're kicking so much butt.
#16 Kick some asphalt!
#17 Pain is temporary, finishing is forever.
#18 You're stronger than you think you are.
#19 You look hot when you sweat.
#20 Someday you will fail – today is not that day!
#21 Go random stranger, go!
#22 Our parents are running 26.2 miles – and we're lazy as s**t.
#23 F**k it – wanna go bowling?
#24 I have a taxi fare!
#25 Run faster! I farted
#26 Always give 100% – except when giving blood
#27 I bet you're second guessing this New Year's resolution aren't you?
#28 Run, Forrest, Run!
#29 Run like the wind!
#30 Free beer at the finish line, hurry up!
#31 Are we there yet?
#32 Naked firemen at the next mile.
#33 Blisters are in this season.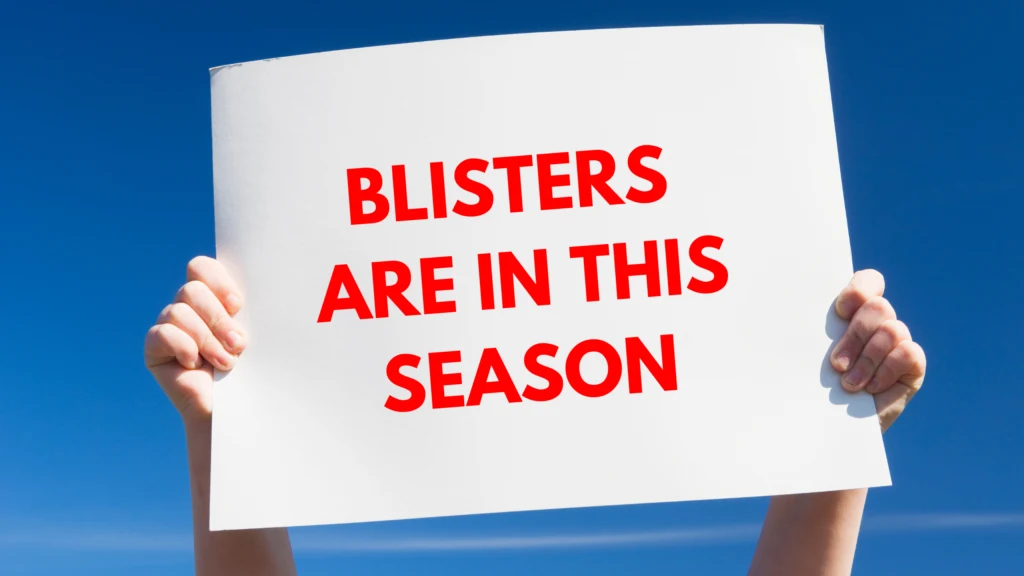 #34 Those shorts make your legs look sexy.
#35 There isn't a time limit on greatness!
#36 Smile if you just farted.
#37 Marathoners make better lovers.
#38 Free high fives!
#39 Motivational quote.
#40 You are NOT almost there.
#41 If you want to cry, do it now!
#42 Go [name]! Only [name]
#43 Keep pushing!
#44 You know you don't have to do this, right?
#45 Run fast, he bites!
#46 Run from your childhood.
#47 You run marathons, I watch them on Netflix.
#48 Why?
#49 I've been training for 6 months to hold this sign.
#50 At least you're not at work.
#51 Chafe now, wine later.
#52 Run like you stole something.
#53 Run like Ryan Gosling is at the finish line.
#54 You could've chosen chess.
#55 Run, you sexy b**stard!
#56 Touch here for a turbo boost!
#57 Getting up early to make this sign wasn't easy either.
#58 The finish line is just around the corner.
#59 I've heard black toenails are in fashion this year.
#60 As you pass, we're checking out your ass.
#61 If you think running is hard, try crawling.
#62 Worst parade ever!
#63 You know the first person ever to do this died, right?
#64 You've come this far, you might as well finish!
#65 You're running better than the government.
#66 Creative inspirational running sign.
#67 Run now, poop later. Never test a fart.
#68 All toenails go to heaven.
#69 Smile if you're a badass!
#70 Power high fives here!
#71 Run like Ben Affleck runs from commitment!
#72 You look hot when you sweat.
#73 This is the world's longest game of follow the leader.
#74 Slow down, I'm trying to count everyone.
#75 You are nucking futs!
#76 The faster you run, the sooner you will be drunk.
#77 Where is everyone going?
#78 Stopping – ain't nobody got time for that!
#79 You can do this!
#80 You've done dumber things when you were drunk.
#81 There's no place like the finish line.
#82 It's okay, nobody looks good in spandex.
#83 No one ever said it would be easy.
#84 Run like it's the start of the Squid Games.
#85 It's my birthday today!
#86 Don't worry, tomorrow you won't feel your feet at all.
#87 Run, random stranger, run!
#88 I ran once, it was horrible!
#89 Smile if you peed a little.
#90 I'm sure it seemed like a good idea 4 months ago.
#91 It doesn't matter how it feels – you look fast!
#92 26.2 reasons to brag.
#93 I love your stamina – call me!
#94 This is a lot of work for a free banana.
#95 Touch here for a speed boost.
#96 You look skinny.
#97 Great job, random stranger.
#98 Run like you're running from a bad Tinder date.
#99 Could you BE running any more miles?
#100 You rock!
#101 I've got 99 problems and chafing ain't one.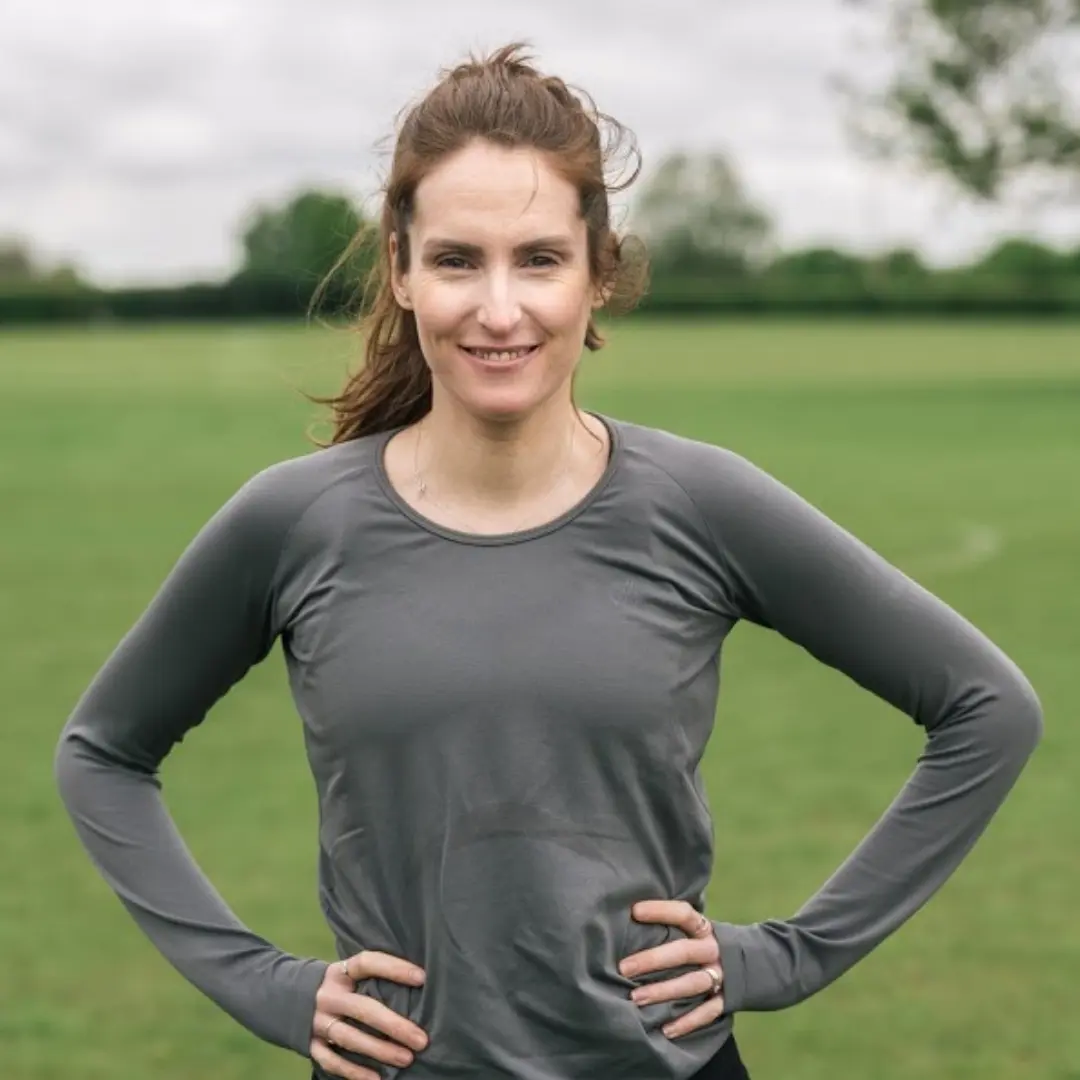 Latest posts by Caroline Geoghegan
(see all)