Are you ready to get back into running? Getting back into running after weeks, months or even years away can feel tough. In this blog, I'd like to share some tips on how to start running again after a long break.
You spend years building up your fitness only for it to disappear in a matter of months.
Perhaps you took a long break because of an injury, lack of motivation or family commitments. Whatever the reasons, it can feel daunting getting back into running.
It doesn't have to be scary though.
If you'd like to get back into running following a long break, follow these simple tips to make your return to running a success.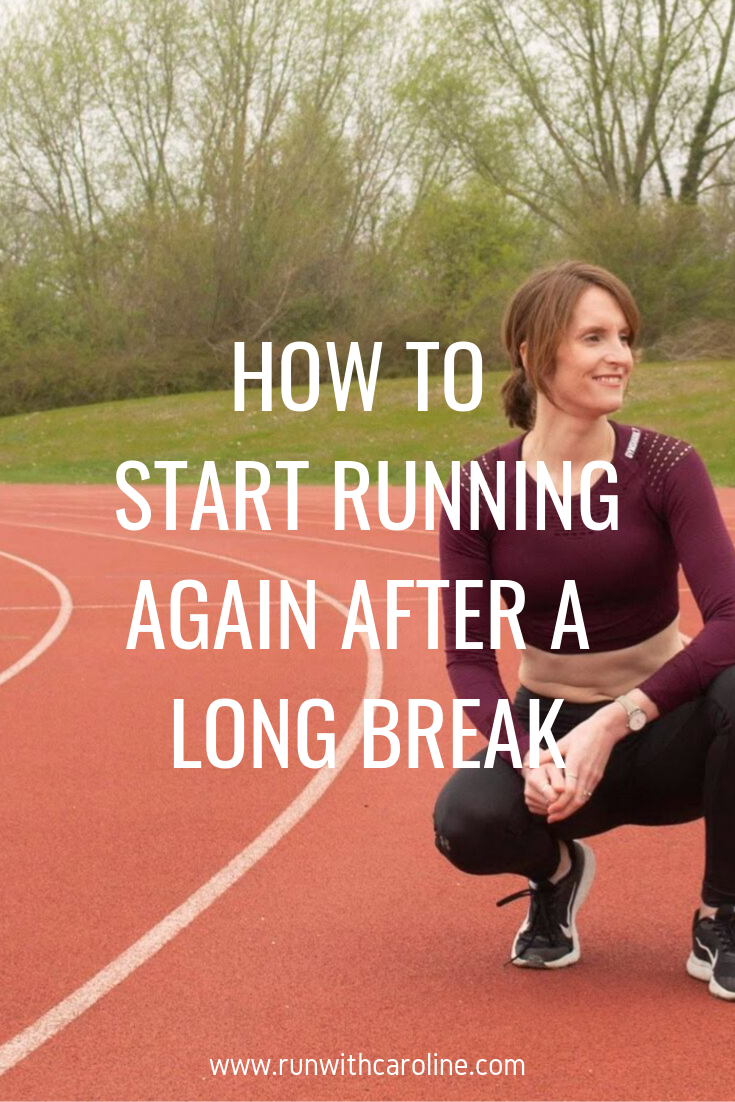 How to start running again after a long break
Build a habit
When you start it's important to build a running habit that you can maintain consistently. Forget about your times, how fast you can run a mile or how many miles you're running each week.
As long as you're running consistently each week, this is enough to slowly build momentum until you're at a stage where you can think about improving your times.
Start small and slowly build from there. And when I say small, I mean baby steps!
If during your long break you didn't do any exercise at all, you may need to build up your base fitness again. This means your aerobic fitness and endurance.
You may feel out of breath on your run. This is often a shock for a lot of people who are returning to fitness after a long break. But don't worry! You will build it back up again with consistent training.
As you hit your goals, you will slowly regain your running confidence.
Follow a training plan
Depending on the length of your break, you may need to start at the beginning again and build up from there.
There are many training plans out there that can get you from beginner runner to mile maiden in a matter of weeks.
The most popular training plan by far is Couch to 5k. I love this plan because it's ideal for beginner runners who are either completely new to running or returning after a long break.
Many runners start with Couch to 5k and go on to run a 10k, half marathon and even a marathon.
If you feel you're not quite at the beginner stage and would like something a little more advanced, think about your goals and find a training plan that not only suits your goals but your fitness levels too.
The tendency for a lot of runners is to go full throttle into a training plan when you return from a long break. This may sound appealing, but you risk burnout and injury so take it in your stride.
Check out my intermediate 5k training plan and intermediate 10k training plan if you're looking for some inspiration.
Join a running group
Finding the motivation and accountability to get out there each week is hard, especially when you're re-discovering your running mojo.
Find some local running groups near you and see what they have to offer. So many running groups are friendly and supportive, and even offer one-on-one coaching if you feel you'd benefit from this. You may also meet some new friends in the process!
Websites like RunTogether, MeetUp and Facebook list local running groups, so be sure to check those out.
Sign up to a race
If you have a goal or milestone in mind, a good way to stay motivated and accountable is to sign up to a race. Make sure you choose a race that aligns with your running goals. 
For example, if you're returning to running following a four year break and you sign up to a marathon that's taking place within a matter of months, this may not be the best idea.
Any race, whether it's a 5k, 10k, half marathon or marathon, is a huge accomplishment. You've already come so far by even deciding to start running again. 
Do Parkrun
Parkrun is one of my favourite things about running.
It's a free 5k run that takes place every Saturday morning at 9am across the UK and worldwide.
There's absolutely no pressure to go fast or achieve a PB, so it's great for anyone who is new to running or returning to running after a long break.
You could also consider volunteering at your local Parkrun. Seeing all the amazing runners each week could be enough to reinvigorate your passion and fire for running.
Cross train
Cross training is a great way to build up your aerobic fitness and endurance is to cross train.
Walking, cycling, strength training, yoga and swimming are all great cross training activities for runners. 
If you like a bit of variation in your training plan, consider adding cross training and you'll reap the benefits on the running track.
Stay positive
Stay positive and focus on the enjoyment of running. Don't worry too much at this stage about achieving your next PB.
When you return to running, it can be frustrating when you're not quite at the level you were at before your break. This is only natural.
The key is not to beat yourself up or compare yourself to anyone else and their journey. Everyone is different and you need to allow yourself time to train and improve your fitness levels.
There's plenty of time to run your fastest mile or achieve your next PB. In the meantime, just enjoy the ride!