Running miles and miles can be tough on your body. Chances are you will feel sore the next day.
That's why it's good to invest in running gear that will make your experience all the more comfortable.
Compression leggings are running tights that have become popular over the last few years.
They work by squeezing and applying pressure to the muscles in your legs to provide support and stability.
Along with a good pair of running shoes and a comfortable and supportive sports bra, comfortable and supportive running tights are at the top of my list when it comes to essential running gear.
There's nothing worse than a pair of running leggings that don't fit properly.
I personally can't stand leggings that bunch up at my ankles or slip down at my waist.
When I'm out running I don't want to have to worry about my leggings all the time, so finding a pair that fit snug against my legs is a must for me.
So what are compression leggings and how can they benefit your running?
In this guide we'll explore:
What are compression leggings?
What are the benefits of compression leggings?
What are the best compression leggings?
My experience with compression leggings
Ready?
Let's go!
What are compression leggings?
Compression leggings work by supporting and stabilising your muscles while you run by absorbing some of the strain of your workout.
You may be wondering: "What do compression leggings do?"
The definition of 'compress' is literally to squeeze and apply pressure – and this is exactly what compression tights do.
They essentially squeeze your legs in all the right places whilst you run.
Compression technology is designed to improve your circulation and reduce muscle vibrations.
This is important because running is considered a high impact sport.
Over time your muscles can become weary and fatigued, especially if you don't follow a proper recovery and injury prevention strategy.
So by wearing compression tights, you can help the recovery process.
Various studies have been conducted over the years to look at the benefits of compression tights.
According to one study, compression leggings are recommended for faster recovery, particularly after intense exercise with a pronounced eccentric aspect.
Related: The best running leggings for women
What are the benefits of compression leggings?
Here are the five key benefits of wearing compression leggings:
Help reduce muscle soreness
Improve blood flow
Help with balance
Improve athletic performance
Help with certain circulation conditions
#1 Help reduce muscle soreness
One of the key benefits of compression leggings is that they help to reduce muscle soreness after a run.
After a run, you may experience inflammation and a build up of lactic acid in your muscles.
Compression leggings can help reduce inflammation and assist the lymphatic system to drain lactic acid build up, meaning your muscles may feel less sore the next day.
#2 Improve blood flow
Compression leggings can help to improve blood flow by increasing the amount of blood that is sent back to the heart from the legs during a run.
Better blood flow means less of the heavy legs feeling when running, as well as less cramping and fatigue towards the end of your run.
#3 Help with balance
There are some studies that show that compression leggings can help to increase your awareness on a run.
This is because compression helps to stimulate the sensory receptors in your legs, helping you keep upright.
#4 Improve athletic performance
According to a 2016 study, runners wearing compression leggings might have a slightly better endurance performance and less muscle pain/inflammation than runners in regular tights.
Other research has shown that compression can improve runners' experience when performing high-intensity workouts.
#5 Help with certain circulation conditions
Compression garments like compression leggings are often medically prescribed for people who suffer from swollen ankles, nerve pain or blood circulation issues.
So if you suffer with any of the above ailments, compression leggings could help somewhat.
If in doubt, speak to your healthcare professional.
Related: How to find the right running shoes: A complete guide
What are the best compression leggings?
There are two types of compression leggings:
Therapeutic compression leggings are designed to be worn during exercise, whereas supportive compression leggings should be worn when you're less active.
It's worth noting that there are many types of compression garments on the market.
Socks, shorts, arm sleeves, pants and tops – these are sometimes medically prescribed to help ease a number of conditions related to poor circulation and blood flow.
When it comes to running, there are some well-known brands that offer their own compression leggings.
As with any running gear, it's sensible to do your own research before investing in a pair of compression leggings.
Some compression leggings can be particularly pricey because they are using compression technology, so shop around before buying.
Here are some well-known brands that offer compression technology in their leggings.
Under Armour
Under Armour have a wide range of compression tights and running leggings to choose from.
Their HeatGear range of leggings is particularly popular with runners as it uses a lightweight fabric that doesn't weigh you down when you run.
The high rise, no slip support is also great for those long runs when you need your leggings to stay put.
Nike
Nike are known for their compression tights, and offer a wide range of leggings with compression technology.
The Nike Pro Tight range offer many benefits, including sweat-wicking fabric and soft and stretchy material that moves with you and not against you.
Even better, Nike's Pro Tight range is made from at least 50% recycled polyester fabrics.
Adidas
Adidas's compression tights are some of the most comfortable on the market.
Their Believe This compression tights use 'aeroready' technology to absorb moisture and make you feel dry.
They also have built-in ventilation to keep you cool on your runs.
Lululemon
Lululemon's Wunder Train compression leggings are popular in the running community because they have four-way stretch and are made of breathable fabric.
These leggings also have hidden pockets for your keys and mobile phone which are always a winner.
2XU
2XU are known for their range of compression leggings which are great for supporting your muscles on long runs.
Their Light Speed Mid-Rise Compression Tights are a favourite in the running community – with over 98 5 star reviews on their website.
Related: 7 of the best websites to buy affordable running gear
My experience with compression leggings
I bought my first pair of compression leggings back in 2018.
I went with a blue pair of the Under Armour HeatGear compression leggings as I have worn Under Armour gear in the past and it didn't disappoint.
I was eager to try them out so I slipped into my leggings (it was a lot less graceful than it sounds) and headed out for a 7 mile run on a Saturday morning.
For the first three miles I went at a 9 minute per mile pace (mainly due to the muddy trails along the river).
For the last four miles, I ran between 7.30-8.30 minutes per mile as I ran on straight pavements and roads.
The biggest difference I noticed was that my muscles felt a lot more steady and 'sucked in' and were not vibrating as much as I ran.
The best way I can describe it is a feeling of lightness in your legs as you run.
I remember getting to mile 6 and thinking how light my legs felt.
The day after my run I didn't see much of a difference in the soreness in my muscles.
I don't tend to get much soreness after a run in the days afterwards, unless I really hit it hard, but I can see how these tights would help with that.
I'm pleased I found these running tights.
My first test of them was very positive, and I look forward to testing them out on longer distances.
All in all, I think compression tight technology has its merits, and anything that gives you that extra confidence boost on your runs is a win in my book.
Related: adidas Terrex Free Hiker 2.0 hiking shoe review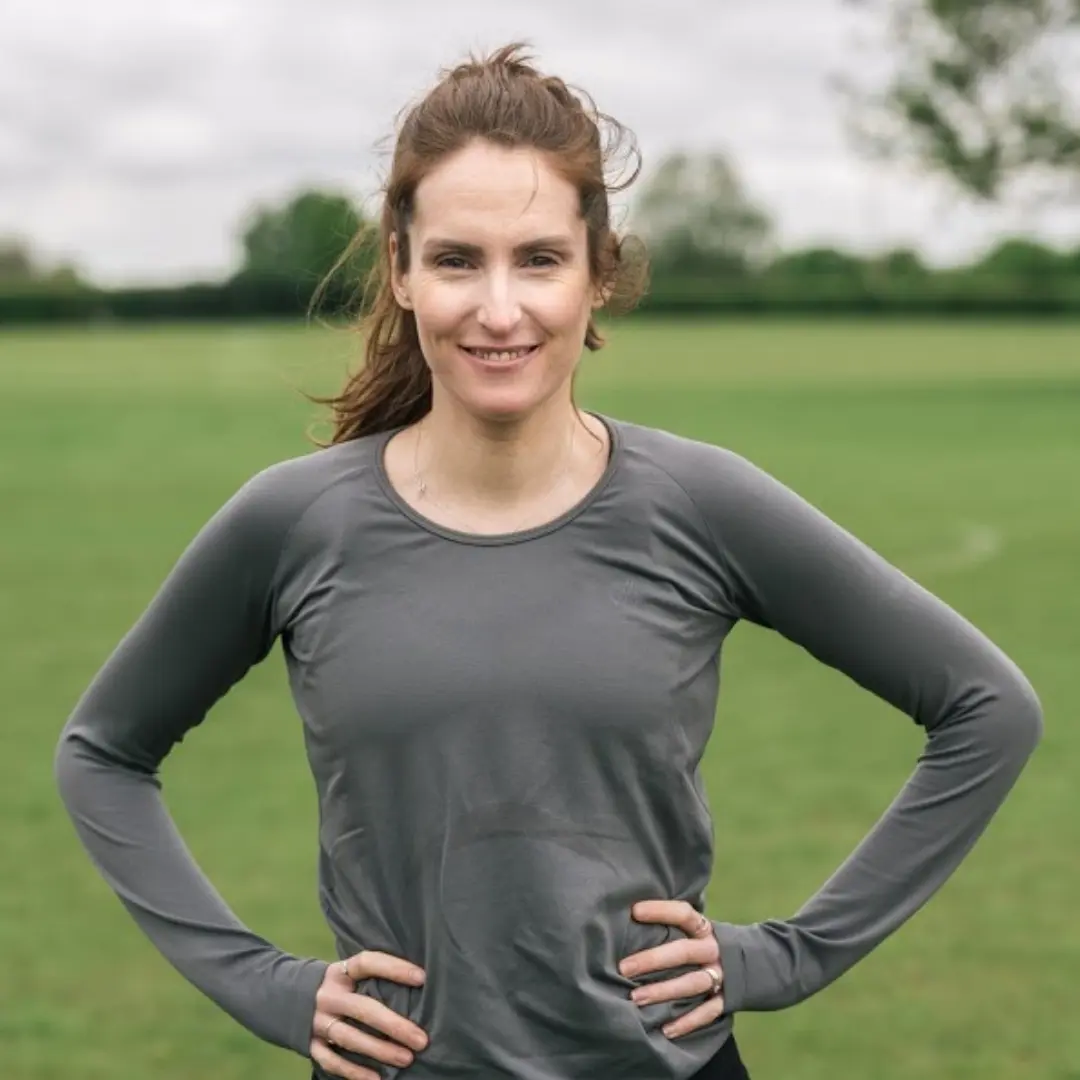 Latest posts by Caroline Geoghegan
(see all)