Running a 5k is a common goal for a lot of runners. Once you have finished programmes like Couch to 5k, many runners go on to complete a 5k. But what is the average time to run a 5k? You may be wondering this if you are about to train for a 5k.
Many factors can affect how fast you run a 5k. Your age, gender, fitness levels and running experience can all impact your race time. Even factors like the weather, terrain and how you feel on the day can affect your time.
Whatever your goal race time, make sure you invest some time into your running by following a suitable training plan. Whether you're a beginner runner or a seasoned pro, it's important you follow a training plan so you prepare adequately for your race.
There are many training plans out there. The key is to find one that matches your running ability and goals. Check out my intermediate 5k training plan if you have a few 5k races under your belt and you are looking to improve your race time.
It's worth noting at this point that running isn't all about race times. Yes, it's only natural to want to improve your times week in, week out. However, don't let this consume you at it will quickly become stale.
Running is so great because it offers so many health and mental benefits. Don't let the fun subside. It's important you enjoy yourself!
With that in mind, here are 5k run averages to help you predict how fast you can run a 5k. Please note this should be used as a guideline only.
If you're still wondering what is the average time to run a 5k, then read on below where I confirm the 5k run averages according to age and gender.
What is the average time to run a 5k?
Here are average 5k run times broken down by age and gender.
| | | |
| --- | --- | --- |
| Age group | Men | Women |
| 0 to 15 | 34:43 | 37:55 |
| 16 to 19 | 29:39 | 37:39 |
| 20 to 24 | 29:27 | 36:22 |
| 25 to 29 | 31:09 | 36:16 |
| 30 to 34 | 31:27 | 38:41 |
| 35 to 39 | 33:44 | 37:21 |
| 40 to 44 | 32:36 | 38:26 |
| 45 to 49 | 33:13 | 39:19 |
| 50 to 54 | 34:30 | 41:20 |
| 55 to 59 | 37:33 | 45:18 |
| 60 to 64 | 40:33 | 45:49 |
| 65 to 69 | 42:59 | 50:13 |
How to train for a 5k
Now you know your average 5k time based on your age and gender, you will want to start training! Depending on where you are on your running journey, you may be starting from the beginning, or completing your 100th 5k run.
Check out my blog post on how to train for a 5k for more tips and advice on running a 5k. This includes tips on warming up for a 5k, speed training and preparing for your first 5k race.
You'll also find tips and advice on completing the Couch to 5k programme.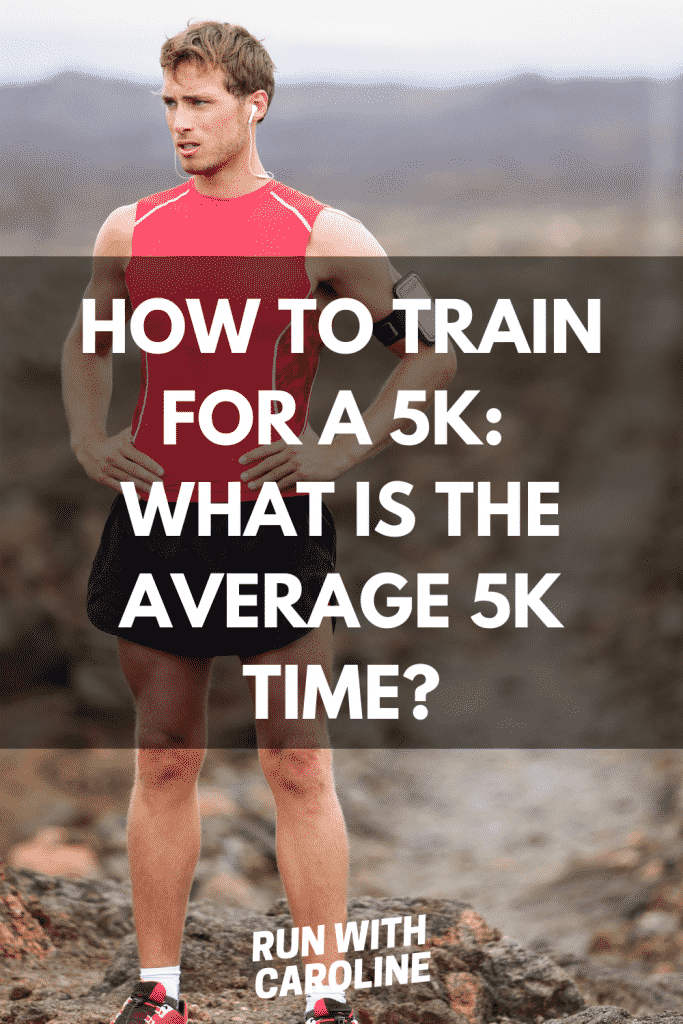 How to run a faster 5k
If you would like to beat your average 5k time and perhaps achieve your next PB, then you may be wondering how to run a faster 5k.
Being able to improve your race times is all about consistency, progress and practice. Anyone is capable of running a faster 5k if you apply your body and mind in the right way.
If you are looking to run a sub-25 minute 5k, then check out my post on how to run a 5k in 25 minutes or less.
Speed training is an integral part of being able to run a faster 5k. You will need to get your body used to running and sustaining a faster pace. Tempo running, interval training and hill workouts are all great ways to help you run a faster 5k.
My post on 6 secrets to increase your speed also provides advice and guidance on how to run a faster 5k.
Tips on completing a 5k
Here are some tips on completing a 5k:
Be consistent. When training for a 5k, it's important you be consistent with your training, especially if you're looking to achieve a PB.
Improve your endurance and speed. As discussed above, speed training is incredibly important when wanting to run a faster 5k. Tempo running, interval training and hill workouts are all great ways to do this.
Don't forget about the long run. When training for a 5k, it's important you build your stamina and endurance as well as your speed. A well-rounded training plan will include 1 or 2 long runs in the lead up to your race. A long run will anything between 5 to 7 miles.
Work on your running form. Proper running form helps you run more efficiently. Your posture, footstrike and cadence all come together to create good running form.
Rest and recover. Whilst training for a 5k, it can be easy to get carried away. Don't be tempted to run every day as your body needs time to rest and recover. Build in 1 or 2 rest days into your training plan.
Strength train. If you are looking to run a faster 5k and reduce your times dramatically then it's wise to include 1 or 2 strength training sessions a week.
Do some running drills. Running drills are used to improve form and performance. They be done as part of a warm up or as part of a standalone session.
Set a date. Sign up for a 5k race and set a date. This way you will have something tangible to work towards. Parkrun is a great way to complete your first 5k.