The half marathon has become one of the most popular running events in the world.
In the USA alone, over 1.9 million runners compete in over 2,800 half marathons every year.
It has become a milestone for many runners looking to challenge themselves.
Some of the best half marathons in the US offer amazing experiences and incentives to runners looking to smash their running goals.
Whether it's a shiny new medal you're looking for, a race t-shirt or simply race day memories, there are half marathon events suited to every taste, budget and training style.
Ultimately, the half marathon you pick will be down to your own personal preference.
Oftentimes, and practically speaking, runners look at factors like location, cost, scenery and terrain before choosing a half marathon event.
So if you are looking for some half marathon inspiration, then read on to find out more about 15 of the best half marathons in the US.
In this guide we'll look at:
How to choose a half marathon event
How to find half marathon events
14 of the best half marathons in the US
Ready?
Let's go!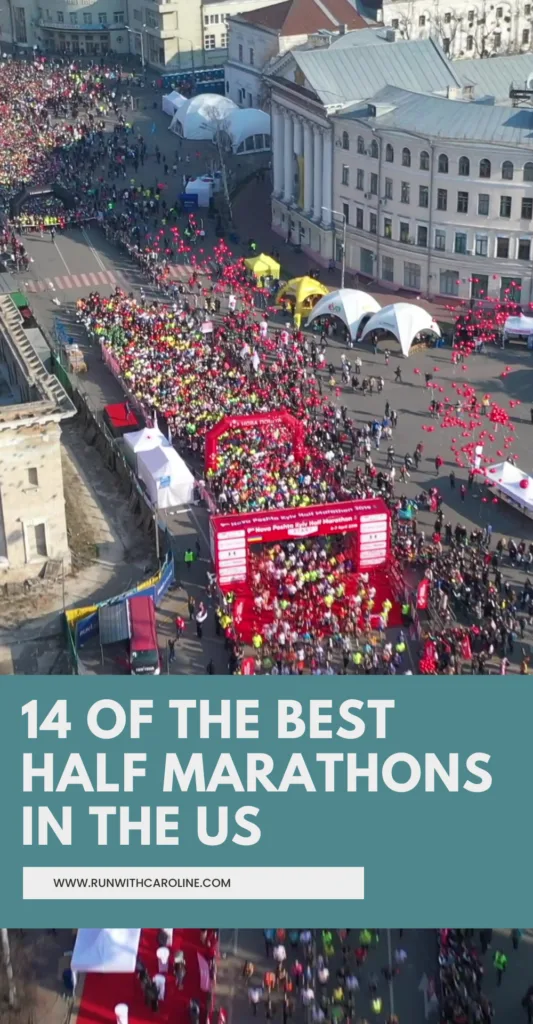 How to choose a half marathon event
When it comes to choosing a half marathon event, you want to ensure the race you sign up for is the right race for you.
There are a few things to think about when it comes to selecting an event:
#1 Location
It's not unheard of for some runners to travel the world in order to compete in half marathons.
If 'run tourism' isn't your thing and you want an event closer to home, then look for local half marathons.
You will also want to consider the location of the event:
Do you prefer running in an urban area or a more rural setting?
Do you prefer road running or trail running?
These will determine the right course for you.
#2 Course
You don't want to pick a half marathon event known for its hilly and uneven terrain if you're wanting to achieve your next PB.
A half marathon event with a flat course is by far a better option if speed is your priority!
#3 Size
Some half marathon events can cater for thousands of runners.
Thousands of runners often comes with thousands of spectators.
If running with thousands of runners and onlookers isn't your thing, then opt for an event with a smaller field size.
Half marathons with a smaller number of participants are often much more intimate with a family-friendly feel.
#4 Time of year
Depending on where you live in the world, the time of year in which you run a half marathon may be a consideration for you.
If you live in the northern hemisphere, then half marathon events typically take place between September and April in order to avoid the hot summer months.
If running in the heat and humidity is not a problem for you, then opt for a summer event.
#5 Cost
Most half marathon events require you to pay an entry fee so the race organisers can cover the costs of holding the event.
Larger events can charge up to $70 so it's important to factor this in when choosing an event if budget is a limiting factor for you.
#6 Goody bag
Some of the best half marathons in the US offer goody bags to their runners.
A goody bag can include a race t-shirt, freebies from brands and the all important finisher medal.
Increasingly, whether or not an event offers a decent goody bag is a deciding factor for people looking for a memento of their run.
Some runners even sign up for events just to get their hands on the finisher medal.
#7 Race day facilities
Each half marathon event can range in facilities like toilets, lockers, warm up stations and food trucks.
If you're bringing your friends and family along, then you may want to opt for an event that offers these.
Oftentimes, events in towns and cities offer these as standard, but it's always worth checking.
#8 Race day photo
Although the race day photo can fill some runners with dread, it is a great way to remember your run.
Most events nowadays offer some form of race day photo, but it's always worth checking before you sign up.
Related: What is a good half marathon time? Average half marathon times by age and gender
How to find half marathon events near you
Once you've narrowed down your criteria, it's time to find an event!
At the end of this guide you will find our top half marathon picks, but it's always useful to know where to find events.
Websites like Running in the USA, Let's Do This and HalfMarathons.net all offer a directory of half marathon events in the US.
So take a look to see what fits the bill!
Related: First half marathon tips: 11 things I wish I'd known before running my first half marathon
14 of the best half marathons in the US
Once you've decided what matters most to you when choosing a half marathon event, take a look at our list of the best half marathons in the US.
These half marathon picks are based on reviews from across the web.
#1 Best for party-goers: Rock 'n' Roll Las Vegas Half Marathon (Las Vegas)
Looking for a party?
Look no further than the entertainment capital of the world!
The Rock 'n' Roll Las Vegas half marathon is self-styled as the "ultimate running party".
It prides itself on being one of the world's few running events where you can "stay out all night and sleep all day".
We're not sure if this is a positive or negative when it comes to your half marathon training!
But if you do want to take advantage of the big lights and big city, then this race is for you.
#2 Best for Disney fans: Disney World Half Marathon (Florida)
This half marathon is undoubtedly for Disney fans and anyone who wants to indulge their inner child.
The Run Disney Half Marathon takes place on a race weekend alongside other events like the 5k and 10k.
So lace up and join Mickey Mouse and friends on a magical weekend!
#3 Best for Disney Princess fans: Disney Princess Half Marathon (Florida)
This one is for all the Disney Princess fans out there.
What makes this event so great is that they encourage you to run in a costume.
So you can expect a race full of people wearing tutus, tiaras and sparkles.
Indeed, the Disney Princess Half Marathon is all about finding your inner heroine (or hero)!
Every year it never fails to be a celebratory weekend filled with fun, laughter and magic.
#4 Best for NYC sightseeing: United Airlines NYC Half Marathon (New York)
What better place to do a half marathon than New York City?
The United Airlines NYC Half Marathon is the biggest half marathon event in the US, attracting over 22,000 participants each year.
Along the route you'll take in some of the most famous sites the Big Apple has to offer, including Central Park, Times Square and Grand Central Station.
The event takes place on St Patricks Day each year so you'll get to soak up the atmosphere whilst you're there.
#5 Best for exploring hidden parts of NYC: RBC Brooklyn Half Marathon (New York)
The RBC Half, hosted by New York Road Runners, takes you into areas of New York that tourists (and even residents) don't often travel to.
From Prospect Park to the Coney Island Boardwalk, you'll do a 13.1 mile tour through the Borough of Kings.
So if you're more interested in an NYC half marathon that goes off the beaten track, this one is for you.
#6 Best for desert views: Arizona Rock 'n' Roll Half Marathon (Arizona)
If you're looking for a challenge to celebrate the New Year with a bang, then the Arizona Rock 'n' Roll Half Marathon just outside Phoenix, Arizona is a great choice.
The event takes place in the Valley of the Sun in the Arizona Desert.
The 13.1 mile route gives you the opportunity to run through some of the best scenery the desert has to offer, including beautiful sandstone formations.
With over 9,000 people competing in the event each year, it promises to be a hot one!
#7 Best for beach lovers: Long Beach Half Marathon (California)
The Long Beach Half Marathon is known for its spectacular beachfront views, beautiful beach paths and charming seaside villages.
Starting on Shoreline Drive in Los Angeles, are are guaranteed to see the Pacific Ocean for 90% of the course.
Even better, you'll close out the race downhill to the finish line – making it even easier to achieve your next PB!
#8 Best for wine lovers: Napa to Sonoma Half Marathon (California)
Named as one of the top 7 most scenic half marathons in the US by Forbes, the Napa to Sonoma Half Marathon allows you to run through the rolling hills and vineyards in the Napa and Sonoma Valleys.
If that wasn't enough, you'll get to enjoy the post-race wine festival where you'll get to taste some of the region's best wines.
The event promises to be a treat for wine connoisseurs
#9 Best for a tropical retreat: Maui Half Marathon (Hawaii)
The Maui Half Marathon also made Forbe's list of most scenic half marathons, and it's easy to see why!
Although small in comparison to the Honolulu Marathon, the Maui Half Marathon has developed a reputation over the years as a quality event.
This is partly to the volunteer and community support, and the fact that you get to experience some of the stunning sights on Hawaii's second largest island.
#10 Best for nature and wildlife: Aspen Valley Half Marathon (Colorado)
Nature and wildlife are major draws for Colorado, no matter the time of year.
You'll get to experience the best the state has to offer by competing in the heart of the Rocky Mountains.
With its scenic routes, downhill course and alpine forests, the Aspen Valley Half Marathon is a must for any runner or nature enthusiast.
#11 Best for the stunning bay views: San Francisco Bridge Half Marathon (San Francisco)
At the San Francisco Half Marathon you get to choose from two routes:
The 1st Half Marathon (Bridge Half)
The 2nd Half Marathon (City Half)
The Bridge Half Marathon is arguably more noteworthy as you get to run on the iconic Golden Gate Bridge with its stunning views across the Bay.
With a hilly course, the route isn't for the fainthearted.
The event also has a 3-hour cut off time, so bear this in mind before signing up.
#12 Best for the flat course: Chicago Half Marathon (Chicago)
If you're in the market for a PB, then this course may just be for you.
You'll get to take in the stunning views of the Chicago skyline as well as Lake Michigan as you run along Lake Shore Drive – arguably the prettiest urban parkway in America!
#13 Best for football fans: Rose Bowl Half Marathon (California)
At the Rose Bowl Half Marathon you'll get the opportunity to run in the world-famous Rose Bowl – one of the most famous venues in sporting history.
Best known as a college football venue, the Rose Bowl has hosted Super Bowl games, the FIFA World Cup and Olympic soccer matches.
The event promises to be a truly unforgettable experience for any runner and football fan.
#14 Best for music lovers: Mississippi Blues Half Marathon (Mississippi)
The Mississippi Blues Half Marathon honours musicians who have made history over the years, as well as those who continue to shape the sound of the blues today.
The course covers the Mississippi Blues Trail where you'll get to experience first hand how the Blues grew and shaped the great state.
Related: Intermediate half marathon training plan: Week by week plan + printable