Who is the fastest person in the world?
Multiple 100m sprint world records have been made and broken over the last few decades.
Sprint records have been set (albeit unofficially) as far back as 1891.
The first 100m world record was officially set over 100 years ago in 1912 by Donald Lippincott clocking in at 10.6 seconds.
Fast forward to today and the fastest sprinter has broken the 9.60 second barrier.
So who is the fastest person in the world and what factors affect running speed?
In this guide we'll explore:
Who is the fastest person in the world?
Top 10 fastest male runners in the world
Top 10 fastest female runners in the world
What is the fastest mile ever ran?
Fastest times by distance and gender
10 factors that affect running speed
Ready?
Let's go!
Who is the fastest person in the world?
Jamaican sprinter Usain Bolt is widely considered the fastest person in the world and the fastest sprinter on the planet.
In Berlin in August 2009, Bolt set the world record for the 100m sprint at 9.58 seconds.
This equates to 10.44 metres per second, or 23.25 miles / 37.58 kilometres per hour.
Bolt reached a top speed of 27.33 miles / 43.99 kilometres per hour towards the end of the sprint.
Before Bolt's world record in 2009, no other sprinter had broken the 9.60 second barrier.
Since 1987, no men's 100m world record had stood for more than three years and three months.
Bolt still remains the fastest person in the world and his record was made 14 years ago.
Related: How long does it take to run a mile? Averages by age and gender
Top 10 fastest runners in the world
Here are the top 10 fastest runners in the world by gender according to World Athletics.
They have been ranked by their 100m sprint times which is universally recognised as the indicator of speed.
Usain Bolt (Jamaica) – 9.58 seconds
Tyson Gay (United States) – 9.68 seconds
Yohan Blake (Jamaica) – 9.69 seconds
Asafa Powell (Jamaica) – 9.72 seconds
Justin Gatlin (United States) – 9.74 seconds
Christian Coleman (United States) – 9.76 seconds
Trayvon Bromwell (United States) – 9.76 seconds
Fred Kerley (United States) – 9.76 seconds
Ferdinand Omanyala (Kenya) – 9.77 seconds
Nesta Carter (Jamaica) – 9.78 seconds
Here are the top 10 fastest female runners in the world:
Florence Griffith-Joyner (United States) – 10.49 seconds
Elaine Thompson-Herah (Jamaica) – 10.54 seconds
Shelly-Ann Fraser-Pryce (Jamaica) – 10.60 seconds
Carmelita Jeter (United States) – 10.64 seconds
Marion Jones (United States) – 10.65 seconds
Shericka Jackson (Jamaica) – 10.71 seconds
Sha'Carri Richardson (United States) – 10.71 seconds
Marie-Josee Ta Lou (Cote d'Ivoire) – 10.72 seconds
Christine Arron (France) – 10.73 seconds
Marlene Ottey (Jamaica) – 10.74 seconds
Related: How to run an 8 minute mile: 8 ways to run faster
What is the fastest mile ever ran?
The world record for the fastest mile ever ran was set by Moroccan sprinter Hicham El Guerrouj in 1999.
At a time of 3:43:13 – this is still the fastest mile time to beat.
The current female world record mile time is 4:12:33 and this was set by Dutch athlete Sifan Hassan in 2019.
Related: How to use Jeff Galloway's magic mile running test
Fastest times by distance and gender
Who is the fastest person in the world?
If you're wondering who is the fastest person for other running distances, here are the fastest race times ranked by distance and gender according to World Athletics.
| | | |
| --- | --- | --- |
| Distance | Male world record | Female world record |
| 200 metres | Noah Lyles (19.67) | Julien Alfred (21.91) |
| 300 metres | Letsile Tobogo (31.52) | Beatrice Maslingi (34.60) |
| 400 metres | Muzala Samukonga (43.91) | Marileidy Paulino (48.98) |
| 600 metres | Ryan Sanchez (1:13.97) | Ajee Wilson (1:24.45) |
| 800 metres | Emmanuel Wanyoni (1:43.27) | Keely Hodgkinson (1:55.77) |
| 1,000 metres | Ignacio Fontes (2:19.03) | Majtie Kolberg (2:37.85) |
| 1,500 metres | Timothy Cheruiyot (3:31.47) | Faith Kipyegon (3:49.11) |
| 5km road race | Berihu Aregawi (12.49) | Ejgayehu Taye (14.19) |
| 5,000 metres | Joshua Cheptegei (12:35:35) | Faith Kipyegon (14:06.62) |
| 10k road race | Rhonex Kipruto (26.24) | Yalemzerf Yehualaw (29.14) |
| 10,000 metres | Joshua Cheptegei (26:11:00) | Letesenbet Gidey (29:01:03) |
| 10 miles road race | Benard Kibet (44.04) | Evaline Chirchir (50.32) |
| Half marathon | Jacob Kiplimo (57.31) | Letesenbet Gidey (1:02:52) |
| Marathon | Eliud Kipchoge (2:01:09) | Brigid Kosgei (2:14:04) |
Related: Running a mile a day: Benefits + 9 reasons to do it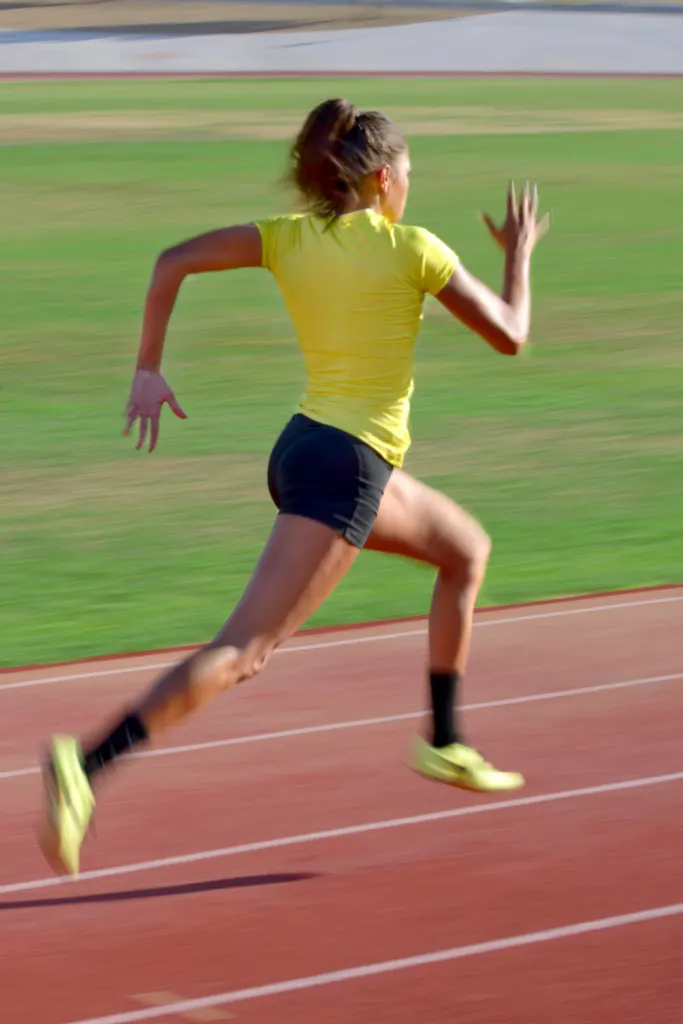 10 factors that affect running speed
Now you know the answer to "Who is the fastest person in the world?"
You may be wondering what factors actually affect running speed.
In other words, how can you leverage the science behind running speed for your own training?
Understanding the science is key for any aspiring runner looking to run faster.
It's not just about physical strength.
Instead, it's a mixture of:
Gender
Age
Biomechanics
Muscle power
Endurance
Nutrition
Hydration
Strong mindset
Gear and equipment
Terrain and altitude
Let's take a look at these areas in more detail.
#1 Gender
Men are typically faster than women.
As you can see from the lists above, men dominate the top 10 fastest sprinters in the world list.
This is because men have greater muscle mass and higher levels of the sex hormone testosterone which helps keep muscles and bones strong.
In fact, one of testosterone's main functions is to build muscle strength.
One 1996 study concluded that supraphysiologic doses of testosterone (i.e. more than what is normally present in the body), especially when combined with strength training, increases fat-free mass and muscle size and strength in normal men.
If you have low levels of testosterone, you may find it difficult to build muscle because low testosterone turns muscle into fat.
Women naturally have lower levels of testosterone.
However some studies have suggested that research conducted to date does not support an association between testosterone and muscle mass, strength or performance in women.
#2 Age
Research tells us that the younger the runner, the faster the runner.
Of course, there may be exceptions to this rule but typically this is what the data tells us.
Once you reach 40 years old, your running speed will start to slow down gradually.
One study found that between the age of 40 and 70, your running speed slows down by approximately 1% per year.
Adding that once you reach your late 70s, you begin to decline by about 1.5% each year.
#3 Biomechanics
Your biomechanics have a direct impact on your ability to run fast.
In other words, how you run and your running technique have a big say in running speed.
This includes everything from your running form and posture, arm swing, foot strike and stride length.
#4 Muscle power
Your muscles are made up of different muscle fibres.
Some of the best sprinters in the world have a high proportion of fast twitch muscle fibres.
Fast twitch muscle fibres are responsible for generating explosive power and speed and maximum power with each stride.
Activities like sprinting and hill repeats develop and enhance these types of fibres.
#5 Endurance
In order to run faster and maintain speed for longer periods of time, you need to combine short bursts of power with sustained endurance.
This is why it's so important to include a variety of training activities in your training plan alongside long distance running.
Activities like interval training, tempo running, Fartlek training, hill repeats and strides are all great forms of speed training to include as part of a structured training plan.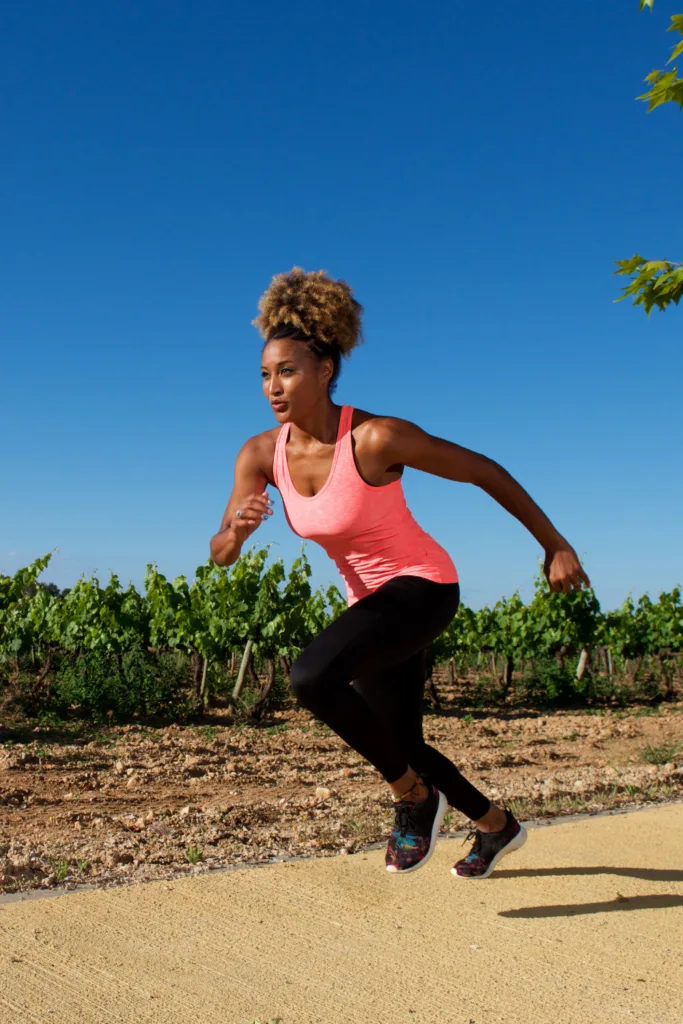 #6 Nutrition
High performance needs to be fuelled in the right way. The food and drink you consume matters.
Your diet should focus on good quality sources of carbohydrates, protein and fat as well as essential vitamins and minerals.
Carbohydrates are the ultimate source of energy for runners, whereas protein aids in muscle development and recovery.
This means opting for complex carbohydrates such as quinoa, sweet potato, oatmeal and whole grain foods instead of refined carbohydrates like white bread, some breakfast cereals, pastries, white flour and pizza dough.
Some good sources of protein include eggs, chicken, fish, tofu, cottage cheese, lentils and nuts.
#7 Hydration
It's essential you replace any fluids lost through sweat during exercise by drinking a lot of water and sports drinks.
Proper hydration is critical for optimum performance and overall health.
Aim to drink at least 8 glasses of water a day, especially if you're training every day.
#8 Strong mindset
In addition to physical training, mental toughness is incredibly important.
Many athletes use positive self-talk, visualisation techniques and breathing exercises to stay focused and calm under pressure.
Positive self talk, when practiced regularly, is a great way to boost your confidence on and off the running track.
Visualisation techniques also help you stay focused on your running goals.
For example, picturing yourself crossing the finish line first and winning the race may help you stay motivated during training and even during the race itself.
Breathing also plays an important role.
By keeping your breathing steady and controlled, this will help you maintain your speed and endurance throughout your run.
Training day in day out can be physically and mentally demanding, so these exercises will help you through some tough training moments.
#9 Gear and equipment
The right running shoes have a huge impact on running performance as they provide the necessary comfort and support to prevent injuries and help you run more efficiently.
Certain running shoes are designed to maximise speed and reduce drag on the track.
Some athletes also carefully choose their running gear to find the right balance between comfort and functionality.
There have been plenty of running innovations in sports technology and equipment over the last few decades – from wearable tech to certain fabrics.
#10 Terrain and altitude
Running on uneven terrain is typically slower than running on a flat surface like a 100m running track or road.
Likewise, if you're running at a high altitude, this will affect your race times.
At high altitudes there is less oxygen available for your muscles which can lead to tiredness and fatigue.
Related: 12 trail running tips for beginners