Many runners go on to run a 10k having completed a 5k – it's the natural next milestone on their running journey. My beginner 10k training plan is aimed at new runners looking to increase their mileage. It's also great for more advanced runners looking for a gentle schedule.
Before I share my training plan, here are a few training tips to get you started:
You need to have a good level of fitness to complete this plan. You've either completed a 5k numerous times or have run longer distances.
The shortest run in this plan is 2.5 miles – if that feels like too much for you at the moment, this plan is not for you. Try my beginner 5k training plan or my intermediate 5k training plan instead.
This plan can be used to prepare you for your next 10k race. The plan is 10 weeks long so if your race is less than or more than 10 weeks away, you can adjust it accordingly.
Related: Beginner 5k training plan: Run a 5k in 10 weeks
Beginner 10k training plan: Run a 10k in 10 weeks
About the plan
You'll notice in the plan that there are activities other than running. This is because with any good, well-rounded beginner 10k training plan, you need to be doing ancillary activities and exercises that complement your running. These take the form of resting, walking, cross training and strength training, in addition to your easy and long runs.
Here is a breakdown of what these activities are and how they are used in my plan:
Rest. Perhaps the most important activity is rest. Rest and recovery is integral to any training plan and is a crucial part of a good injury prevention strategy. Many runners think rest days are bad, when in fact you can't train efficiently without proper rest so take them seriously. Your two main rest days in my plan are before and after the long run on a Friday and Monday.
Stretching. Stretching is crucial in the recovery process and helps to reduce muscle soreness and improve flexibility. Make sure you find time to stretch, particularly after long runs.
Walking. Walking is often overlooked by runners. It somehow becomes a dirty word in the running community, when in fact it's an essential activity when starting out running. If you ever feel tired or need a break during a run, don't be afraid to walk. It's better to stop running and walk instead of pushing on and risking injury.
Easy runs. Easy runs are designed to be just that – 'easy'. Don't worry about speed or pace during these runs, as long as you cover the required distance and run at a gentle pace. You should be able to comfortably hold a conversation when you run. In this plan you will have three easy runs per week.
Long runs. In this plan you will have one long run per week on a Sunday. This is so you can plan it into your weekend, as it's normally easier to do longer runs at the weekend. If Sunday isn't convenient for you, feel free to do them on a Saturday and swap it with your cross training. Long runs should be run at a slow pace – and don't be afraid to take walking breaks. Your goal is to cover the distance.
Cross training (CT). Cross training is basically any activity other than running that is classified as aerobic training. Walking, brisk walking, hiking, cycling and swimming are all good forms of cross training that are aerobic in nature (i.e. exercise of low to high intensity). Cross training in this plan should be easy. Don't train too vigorously.
Strength training. Strength training is an essential part of becoming a stronger and faster runner. Strength training, also known as resistance training, benefits your running form and economy (2016 study) and has been shown to reduce the risk of injury. Strength training should always be completed after your run, therefore I have included two optional strength training sessions in my plan each week after each easy run, apart from the last week in the run up to race day.
Although I haven't explicitly stated it in this beginner 10k training plan, it's important that you warm up before each run and cool down after each run. Whilst the warm up is designed to get your heart rate up before your run and loosen your muscles, the cool down will return your body to its pre-exercise state.
Finally, the above activities and runs are used as guidance only. The activities in this beginner 10k training plan are what I have found useful over the years when training for a 10k.
If you find the plan is too easy for you, then try out my intermediate 10k training plan. The aim of this plan is to get you running a 10k in 8 weeks and combines running with the above activities, as well as speedwork.
Related: Intermediate 10k training plan: Run a 10k in 8 weeks
Beginner 10k training plan: Run a 10k in 10 weeks
Week by week plan
Tip: scroll to the bottom of this beginner 10k training plan to find a printout should you want to refer to this during your training.
Week 1
Monday – Rest day
Tuesday – 2.5 mile easy run (followed by an optional 15-30 minute strength training session)
Wednesday – 30 minute cross training
Thursday – 2 mile easy run (followed by an optional 15-30 minute strength training session)
Friday – Rest day
Saturday – 40 minute cross training
Sunday – 3 mile long run
Week 2
Monday – Rest day
Tuesday – 2.5 mile easy run (followed by an optional 15-30 minute strength training session)
Wednesday – 30 minute cross training
Thursday – 2 mile easy run (followed by an optional 15-30 minute strength training session)
Friday – Rest day
Saturday – 40 minute cross training
Sunday – 3.5 mile long run
Week 3
Monday – Rest day
Tuesday – 2.5 mile easy run (followed by an optional 15-30 minute strength training session)
Wednesday – 35 minute cross training
Thursday – 2 mile easy run (followed by an optional 15-30 minute strength training session)
Friday – Rest day
Saturday – 50 minute cross training
Sunday – 4 mile long run
Week 4
Monday – Rest day
Tuesday – 3 mile easy run (followed by an optional 15-30 minute strength training session)
Wednesday – 35 minute cross training
Thursday – 2 mile easy run (followed by an optional 15-30 minute strength training session)
Friday – Rest day
Saturday – 50 minute cross training
Sunday – 4 mile long run
Week 5
Monday – Rest day
Tuesday – 3 mile easy run (followed by an optional 20-40 minute strength training session)
Wednesday – 35 minute cross training
Thursday – 2 mile easy run (followed by an optional 20-40 minute strength training session)
Friday – Rest day
Saturday – 50 minute cross training
Sunday – 4 mile long run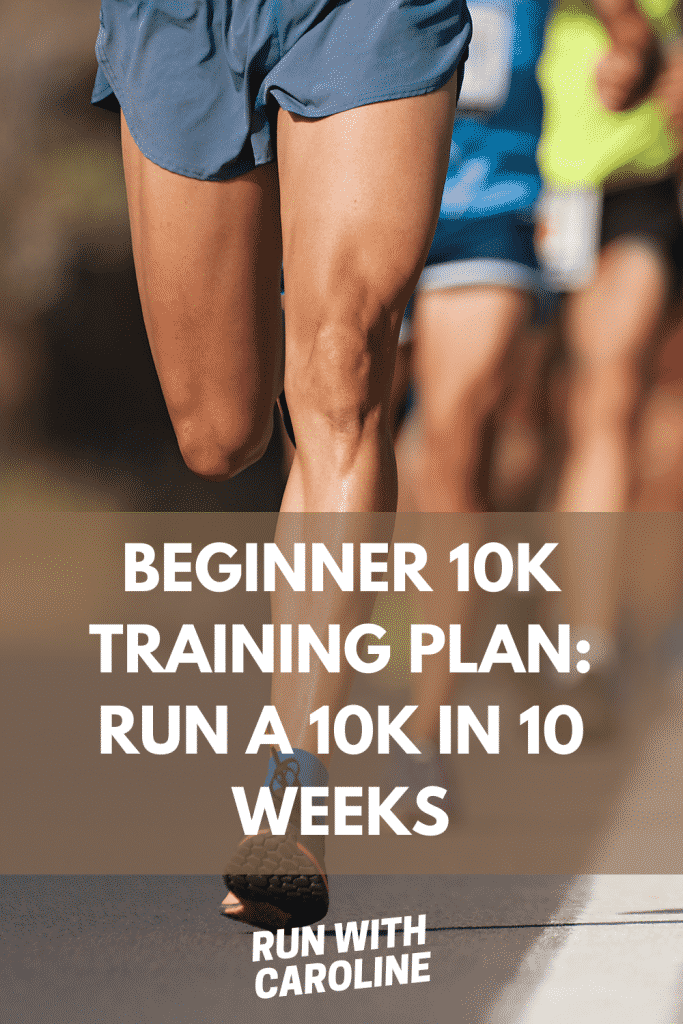 Week 6
Monday – Rest day
Tuesday – 3 mile easy run (followed by an optional 20-40 minute strength training session)
Wednesday – 40 minute cross training
Thursday – 2 mile easy run (followed by an optional 20-40 minute strength training session)
Friday – Rest day
Saturday – 60 minute cross training
Sunday – 4.5 mile long run
Week 7
Monday – Rest day
Tuesday – 3 mile easy run (followed by an optional 20-40 minute strength training session)
Wednesday – 40 minute cross training
Thursday – 2 mile easy run (followed by an optional 20-40 minute strength training session)
Friday – Rest day
Saturday – 60 minute cross training
Sunday – 5 mile long run
Week 8
Monday – Rest day
Tuesday – 3 mile easy run (followed by an optional 25-45 minute strength training session)
Wednesday – 40 minute cross training
Thursday – 2 mile easy run (followed by an optional 25-45 minute strength training session)
Friday – Rest day
Saturday – 60 minute cross training
Sunday – 5 mile long run
Week 9
Monday – Rest day
Tuesday – 3 mile easy run (followed by an optional 25-45 minute strength training session)
Wednesday – 45 minute cross training
Thursday – 2 mile easy run (followed by an optional 25-45 minute strength training session)
Friday – Rest day
Saturday – 60 minute cross training
Sunday – 5.5 mile long run
Week 10
Monday – Rest day
Tuesday – 3 mile easy run
Wednesday – 30 minute cross training
Thursday – 2 mile easy run
Friday – Rest day
Saturday – Rest day
Sunday – 10k run