Many runners go on to train for a 10k once they have mastered the 5k distance. It's one of the most popular races out there. But what is the average 10k time? You may be wondering this if you're thinking about running your first 10k.
According to a 2015 study, 10k races are consistenly found to be among the most popular running distances, even greater than half marathons and marathons. Two of the three largest road races in the United States are 10k races. This distance is also a popular Olympic track and field sport.
Running a 10k is not just like running a longer version of a 5k. It's an entirely different run and involves a different type of fitness training. You will need to teach your body new endurance running skills.
It goes without saying that many factors affect how fast you will run a 10k. These include your age, gender, fitness levels and running experience. Even things like the weather and how you feel on the day of your race can affect your time!
Here are 10k run averages to help you predict how fast you will run a 10k based on your age and gender.
These times should be treated as a guideline only. If you're already running faster than the average time for your race – this is fantastic! If you're running slower, don't feel too disheartened. You have plenty of time to train!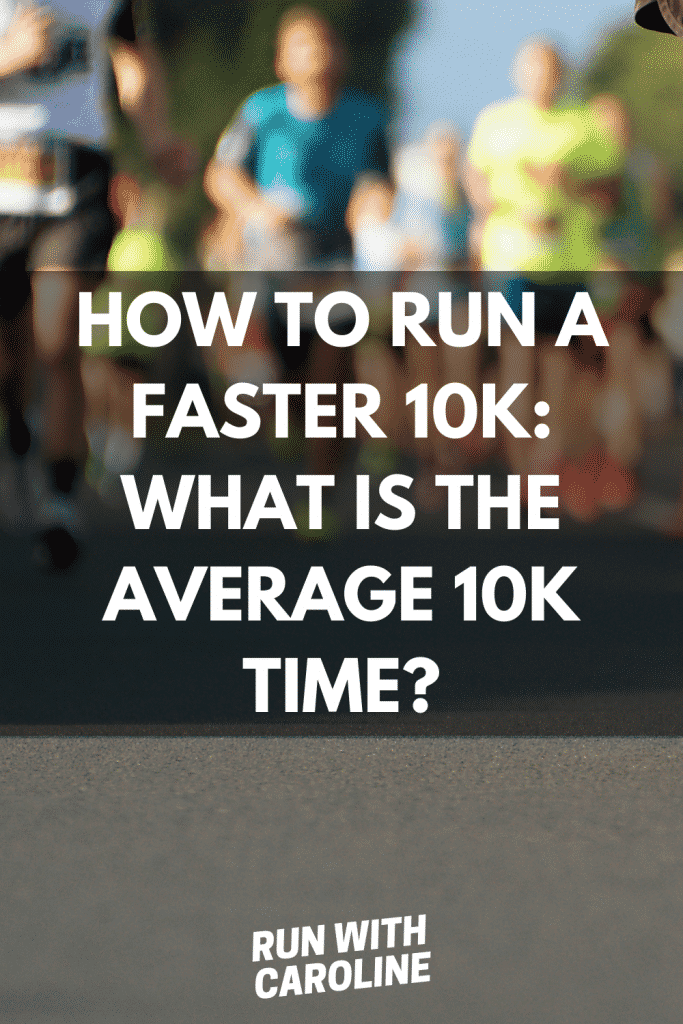 What is the average 10k time?
Here are average 10k run times broken down by age and gender.
| | | |
| --- | --- | --- |
| Age | Male | Female |
| 0-15 | 57:08 | 1:03:14 |
| 16-19 | 46:36 | 1:00:21 |
| 20-24 | 51:40 | 59:50 |
| 25-29 | 53:31 | 1:02:25 |
| 30-34 | 54:21 | 1:02:31 |
| 35-39 | 54:27 | 1:02:19 |
| 40-44 | 53:31 | 1:02:37 |
| 45-49 | 55:35 | 1:03:27 |
| 50-54 | 56:12 | 1:04:04 |
| 55-59 | 59:00 | 1:07:41 |
| 60-64 | 58:48 | 1:09:51 |
| 65-69 | 1:03:02 | 1:18:57 |
Average 10k time by age and gender
How to train for a 10k
Now you know your average 10k time based on your age and gender, you will want to start training! Whether it's going to be your first 10k or seventh 10k, a good race starts with a good training plan. It's all in the preparation!
It's important you invest some time into a well-rounded training plan. A good 10k training plan will include endurance running, speedwork and strength training, as well as a decent amount of rest days.
Check out my intermediate 10k training plan – this is perfect for anyone who has a few 10k races already under their belt and who is looking to run a faster 10k.
If this will be your first 10k, then there are some great 5k to 10k apps on the market that will guide you through the process. These are all free to use and are aimed at anyone who can already run a 5k and looking to run their first 10k.
How to run a faster 10k
If you would like to beat your average 10k time and perhaps achieve your next PB, then you may be wondering how to run a faster 10k.
Being able to improve your race times is all about consistency, progress and practice. Anyone is capable of running a faster 10k if you apply your body and mind in the right way.
If you are looking to run a sub-60 minute 10k, then check out my post on how to run a 10k in 60 minutes or less.
Speed training is an integral part of being able to run a faster 5k. You will need to get your body used to running and sustaining a faster pace. Tempo running, interval training and hill workouts are all great ways to help you run a faster 10k.
My post on 6 secrets to increase your speed also provides advice and guidance when looking to run a faster race.
And don't forget about endurance training! You will still need to be including some long runs in your training plan.