Running a 10k is a goal for a lot of runners who have either finished their first 5k or have a few 5k runs under their belt.
At 6.2 miles, the 10k run should not be underestimated.
There's a decent amount of training that goes into running a 10k, especially if you want to achieve your next PB.
The good news is that using a training framework like the one in this guide, you will be provided with strategies and a week by week breakdown to help you achieve your next 10k personal best.
In this guide we'll explore:
How many miles is a 10k?
How long does it take to run a 10k?
Who should complete this intermediate 10k training plan?
What's included in the plan?
Tips for 10k running
Intermediate 10k training plan: Week by week
Be sure to download the intermediate 10k training plan PDF at the bottom of this guide which will bring all the elements of the plan together into one handy visual.
Ready?
Let's get started!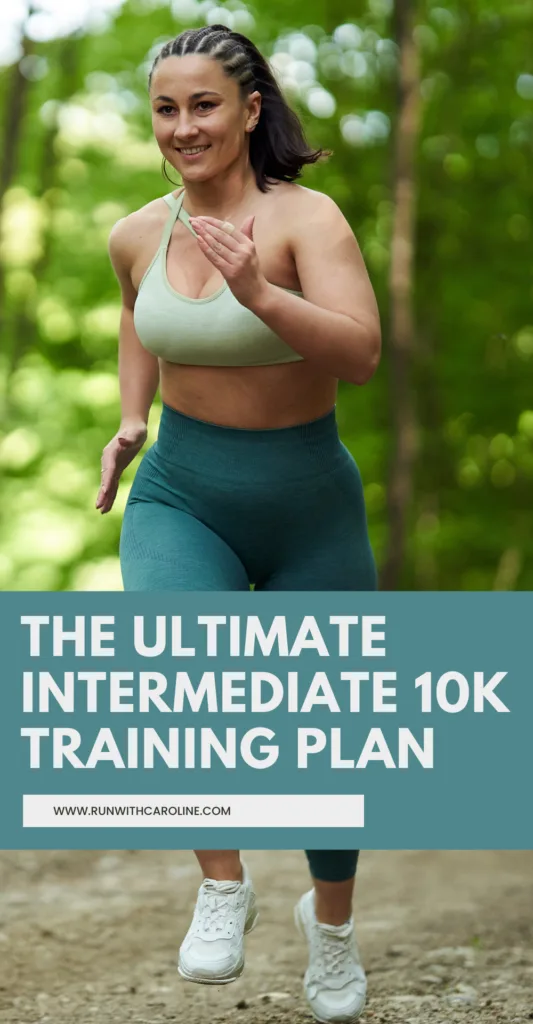 How many miles is a 10k?
A 10k in miles is 6.2 miles.
If you're used to running 5k, then a 10k is effectively double the distance.
According to the IIRM's State of Running Report conducted in 2019, there were about 1.8 million people who completed 10k races in 2018.
Related: The ultimate beginner 10k training plan: Week by week plan + printable
How long does it take to run a 10k?
A: The average 10k time for men is about 1 hour, whereas the average time for women is about 1 hour 14 minutes.
Of course, race times are dependent on a number of factors, including your gender, weight, age and the amount of training you do ahead of the race.
Related: The ultimate 14 day strength training plan for runners
Who should complete this intermediate 10k training plan?
This plan is for you if:
You can already comfortably run a 10k.
You would like to achieve a better 10k race time.
You are already running between 4 to 6 times a week, averaging about 15 to 25 miles per week.
If you don't feel you meet the above criteria, then you may benefit from my beginner 10k training plan.
Related: 5k to 10k: 5 of the best 5k to 10k running apps
What's included in the plan?
A well-rounded training plan will include a mixture of easy runs, speed training sessions, cross training and/or strength training sessions and the all-important rest days.
The following runs and workouts are included in this intermediate 10k training plan:
3 easy runs
1 long run
1 speed training session (e.g. interval training or tempo running)
1 strength training and/or cross training session
1 race test
2 rest days
Easy run (ER)
The plan will include easy runs which are runs where you run at a comfortable pace.
The general rule of thumb here is that you should be able to hold a conversation while you run without getting out of breath.
Long run (LR)
The plan will also include one long run a week that is between 4-8 miles.
Long runs are still important when it comes to training for a 10k as they help to build your endurance and stamina.
The key to building your endurance and stamina is running regularly and consistently and progressing at regular intervals.
Make sure you run at a comfortable pace during your long run, they shouldn't feel too challenging.
Tempo run (TR)
Tempo running, also known as 'threshold running', is a form of speed training that is designed to get you running outside of your comfort zone.
You will be running at a faster pace during these runs and therefore your body will get used to running at a faster pace.
Tempo runs are great for developing your anaerobic threshold.
Interval training
Interval training is another type of speed training that I have included in the plan.
As with tempo running, in order to improve your speed you need to be running at a faster pace during training.
The plan includes 400m intervals separated by a recovery walk or jog.
When training for a 10k, it is recommended you run each interval at your 5k race pace.
Just remember to warm up thoroughly before attempting intervals – don't go straight into doing them as you are at a higher risk of injury.
Strength training
Strength training (also known as resistance training) is an integral part of any training plan and it is a key component of overall health and fitness.
It involves the performance of physical exercises that are designed to improve strength and endurance.
Crucially, strength training has many benefits for runners:
Reduces the risk of common running injuries
Improves running form and posture
Improves running performance
Helps you run more efficiently
It's up to you if you include strength training in your plan at this stage, but it is recommend you do in order to run faster and stronger for longer.
Typically strength training sessions take place after your easy run, but you can schedule these sessions on days that are better for you in terms of timing.
Cross training (CT)
Cross training is great for adding different types of training activities in your plan as it helps to keep common running injuries in check.
It also keeps you motivated by helping to add variety into a training plan.
Exercises like walking, hiking, swimming, cycling, Pilates and yoga can all be considered cross training exercises for runners.
Whatever activity you choose, be sure to take it easy!
Cross training days should be considered easy days.
Race test
Mid way through the plan you will be doing what is called a 'race test'.
A race test is designed to test your fitness, normally half way through the plan.
This is so you can understand how you're doing and what you might need to calibrate to improve certain areas.
You can either do this on your own or sign up for a race locally, such as a Parkrun.
Rest days
Rest days are incredibly important for recovery and muscle repair.
Any training plan, no matter where you're training for a 5k, 10k, half marathon or marathon should include designated rest days.
So the plan won't get you running every day of the week. At most, you'll be training 6 days a week.
On rest days you should do precisely that – rest!
Don't be tempted to run on your rest days as you risk burnout or injury.
Stretching and foam rolling
Although not specifically highlighted in the plan, stretching and foam rolling are crucial in the recovery process.
They help to alleviate soreness and DOMS (delayed onset muscle soreness) after a run or tough workout.
Make sure you find time to stretch, particularly after long runs and speed training.
Related: How to run faster and longer: 4 training secrets
4 tips for 10k running
Here are a few training tips to help you train for and run a 10k:
#1 Think about pacing during your run
If you have a goal race time in mind, then work out the pace you need to be running at during your training in order to achieve this on race day.
The best way to do this is to use a running pace calculator and put in two of three variables (e.g. time, distance, pace) to work out your desired pace.
#2 Wear the right running shoes
There's nothing worse that an ill-fitting pair of running shoes that don't support your feet or give you blisters.
Success on race day is as much about your training as it is preparation in the form of the right running gear.
#3 Fuel your runs properly
Food and nutrition is really important when it comes to your speed and performance.
Ensure you are fueling your body properly with nutritious and wholesome food and make sure you are staying hydrated.
#4 Perfect your running form
Proper running form and technique plays a huge role performance and speed.
Running form is all about running in the most efficient way possible.
Efficiency is a contributing factor to speed, so take some time to understand if your running form could be improved.
Related: How many miles is a 10k? Average 10k time + 9 10k training tips
Intermediate 10k training plan: Week by week
Week 1
Monday – 3 mile easy run
Tuesday – 3 mile easy run
Wednesday – 35 min tempo run
Thursday – 3 mile easy run
Friday – Rest day
Saturday – 60 minute strength training/cross training session
Sunday – 4 mile long run
Week 2
Monday – 3 mile easy run
Tuesday – 3.5 mile easy run
Wednesday – 8 x 400m intervals
Thursday – 4 mile easy run
Friday – Rest day
Saturday – 60 minute strength training/cross training session
Sunday – 5 mile long run
Week 3
Monday – 3 mile easy run
Tuesday – 4 mile easy run
Wednesday – 40 min tempo run
Thursday – 3 mile easy run
Friday – Rest day
Saturday – 60 minute strength training/cross training session
Sunday – 6 mile long run
Week 4
Monday – 3 mile easy run
Tuesday – 4.5 mile easy run
Wednesday – 9 x 400m intervals
Thursday – 4 mile easy run
Friday – Rest day
Saturday – Rest day
Sunday – 5k race test
Week 5
Monday – 3 mile easy run
Tuesday – 5 mile easy run
Wednesday – 45 min tempo run
Thursday – 3 mile easy run
Friday – Rest day
Saturday – 60 minute strength training/cross training session
Sunday – 6 mile long run
Week 6
Monday – 3 mile easy run
Tuesday – 5.5 mile easy run
Wednesday – 10 x 400m intervals
Thursday – 4 mile easy run
Friday – Rest day
Saturday – 60 minute strength training/cross training session
Sunday – 7 mile long run
Week 7
Monday – 3 mile easy run
Tuesday – 6 mile easy run
Wednesday – 50 min tempo run
Thursday – 4 mile easy run
Friday – Rest day
Saturday – 60 minute strength training/cross training session
Sunday – 8 mile long run
Week 8
Monday – 3 mile easy run
Tuesday – 3 mile easy run
Wednesday – 5 x 400m intervals
Thursday – 1-3 mile easy run
Friday – Rest day
Saturday – Rest day
Sunday – 10k race
Intermediate 10k training plan PDF printable: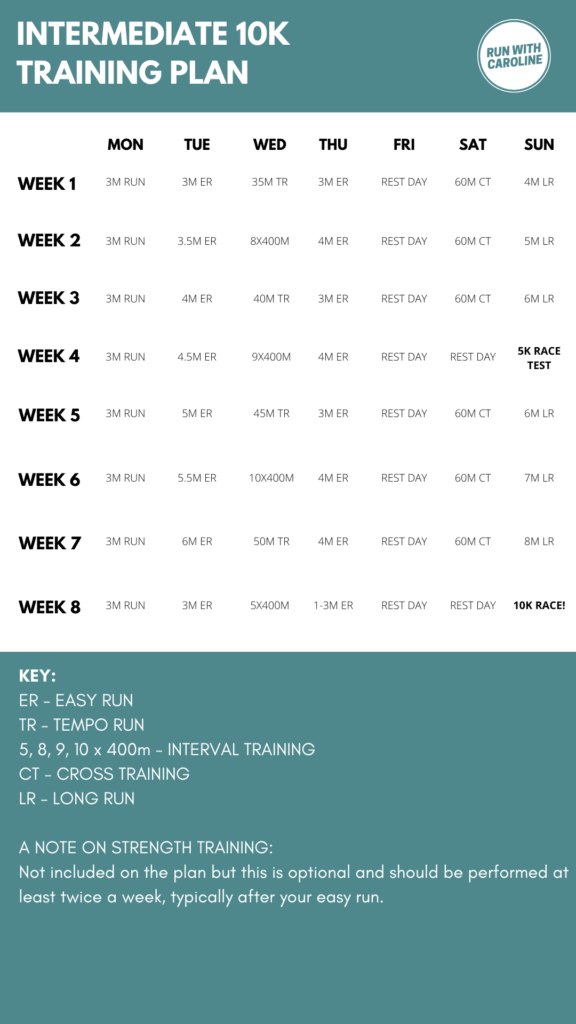 More tips on 10k running: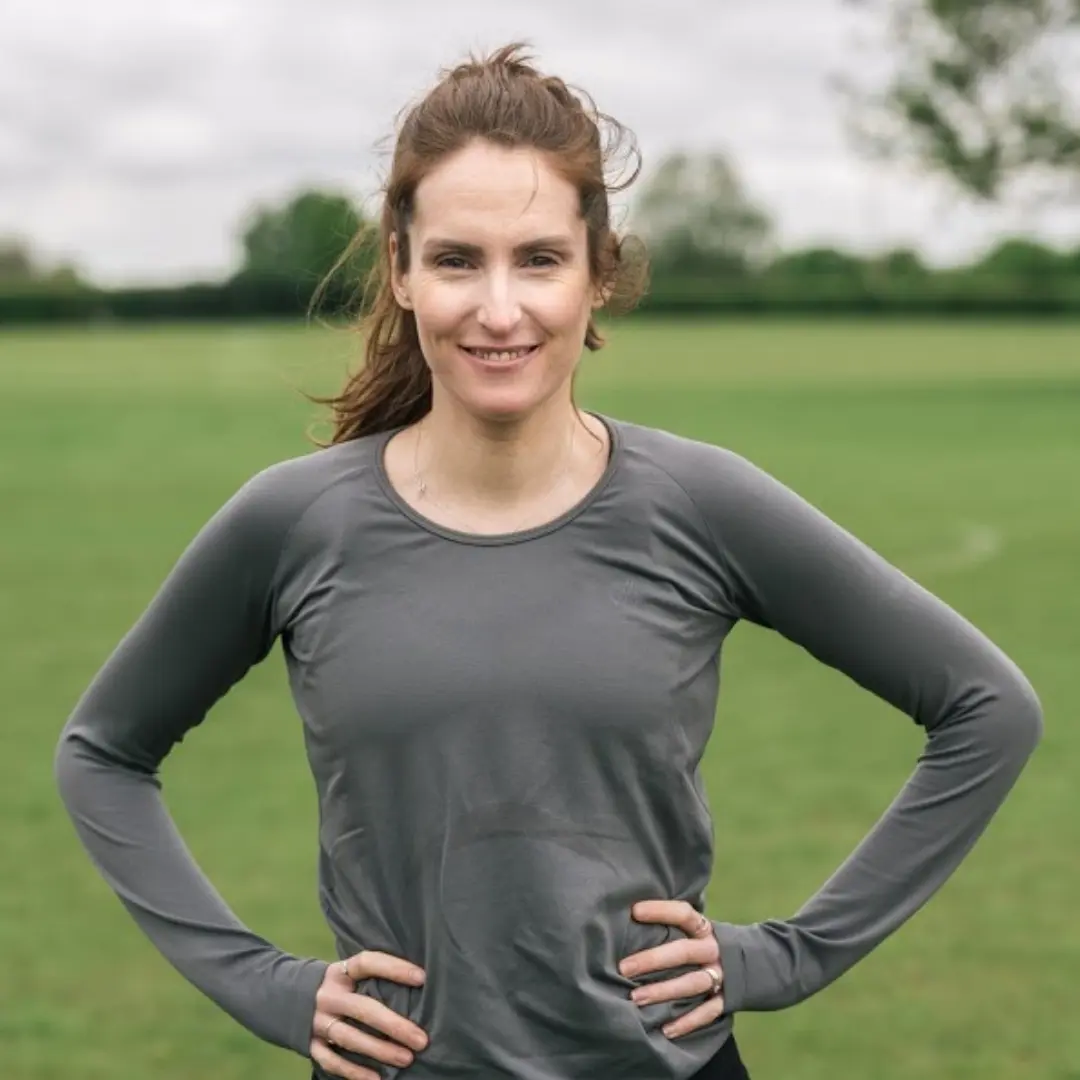 Latest posts by Caroline Geoghegan
(see all)