The 10k has always been my favourite running distance. At 6.1 miles, it's not a distance to be taken lightly, especially if you want to run it in a decent time. In this blog I'd like to share tips on how to run a 10k in 45 minutes or less should you be looking to run your next PB.
One of my own running goals was to run a 10k in 45 minutes or less. In 2019, I achieved that goal when I ran one of my local 10k running events in just under 45 minutes. I was so pleased with my time as all the training in the months leading up to the race had been worth it.
During the training months, I began to realise just how challenging running a 10k in under 45 minutes can be. Sure, I had run lots of 10k races over the years, but I had never achieved the elusive sub-45 minute finish time.
I was used to running a 5k in under 25 minutes, and now I had to keep running at a decent pace for a further 20 minutes to achieve my goal.
In this blog I will break down exactly what I did in my training in order to achieve a sub-45 minute 10k. I will share tips on how to run a 10k in 45 minutes or less, and will share any lessons learnt from my own experiences training for a 10k.
Related: How to run a 10k in 60 minutes or less
How to run a 10k in 45 minutes or less
Calculate your 10k pace
During training, I soon discovered that I couldn't run a 10k at my 5k pace as I would soon burn out. I needed to work out my desired 10k pace and build up to this in my training. I would need to get my body used to running at speed for longer distances.
In order to work out your 10k pace, the general rule of thumb is to add 20-30 seconds onto your 5k pace. This is based on the fact that runners tend to slow their pace at longer distances.
My 5k pace was around 6.52 minutes per mile or 4.16 minutes per kilometre, so I worked out that my 10k pace would need to be around 7.09 minutes per mile or 4.27 minutes per kilometre in order to achieve a sub-45 minute 10k.
You can also use an online pacing calculator to help you work out your 10k pace based on your 5k baseline pace. Here are a selection of my favourite pacing calculators:
Once you have worked out your desired 10k pace, you will need to build up to this during training. However, don't expect to be able to sustain this pace from the beginning when running a 10k. It may take a few weeks to build up to it!
Also remember that you shouldn't adopt this pace for all your runs in your training plan. Your easy and long runs should be at a slower pace, whilst your speed workouts should match your desired 10k pace, if not a little bit quicker. This is where the Luke Humphrey race equivalency calculator that I mentioned above comes in handy.
Here is an example of how I paced my runs/workouts using my 5k race pace as the baseline:
5k pace – 6.52 per mile / 4.16 per km
10k pace – 7.09 per mile / 4.27 per km
Long run pace – 8.18 per mile / 5.10 per km
Easy run pace – 9.18 per mile / 5.47 per km
Speed workout pace (e.g. intervals) – 6.52 per mile / 4.16 per km
V02 max pace – 6.35 per mile / 4.06 per km
Strides pace – 5.46 per mile / 3.35 per km
Related: How to pace your run
Practice interval training
One of the most important aspects of running a 10k in 45 minutes or less is being able to sustain a pace of at least 7.15 per mile or 4.30 minutes per kilometre.
In order to do this, you must be including some sort of speed workout in your training. A speed workout helps you run faster and when completed regularly, helps you pick up your pace.
Interval training is a form of speed workout and it is a staple for many runners and it's one of my favourite speed workouts. Intervals are short, intense bursts of fast running with a recovery time in between them.
I built up my speed by running 800m intervals at my speed workout pace (6.52 per mile / 4.16 per km), then slow jogging for 400m.
Remember to warm up before doing any form of speed workout to avoid strain or injury.
Related: 6 interval training benefits for runners
Strength train
One of the best tips on how to run a 10k in 45 minutes or less is to strength train. However, strength training is often neglected by many runners who instead just focus on running in their training plan.
Whilst it's important to build up your endurance and speed as a runner, you must also focus on strength training if you want to become faster and stronger and less injury prone. Running alone will only get you so far if you're trying to achieve a certain race time or PB.
Strength training helps you build stronger muscles, tendons, ligaments and connective tissues, which in turn helps to dramatically reduce the rate of injury.
If you're new to strength training, the best way to start is to do basic bodyweight exercises like squats, lunges, hip bridges, inchworms, calf raises and planks. These are great for beginners as they're simple movements, you can do them anywhere and you don't need any equipment to do them.
When training for a 10k, I recommend you include at least two strength training sessions per week in your training plan.
Check out my 30 day strength training plan for runners for more ideas and ways to incorporate strength training into your training routine.
Related: Strength training for runners: A complete guide
Wear the right gear
If you're training for a sub-45 minute 10k, then I'm guessing you've been running for a while or have a few runs under your belt. You will also have chosen a suitable pair of running shoes and your favourite running gear.
When it comes to achieving your desired race time, your running gear and running shoes play an integral role in getting you to the finish line. It's important to wear gear that is not only comfortable but supports you in all the right ways.
Make sure you are wearing comfortable shoes that help you run fast. You don't want to have to worry about your shoes chafing or giving you blisters on race day. Equally, you don't want to wear shoes that don't give you enough support and you end up injuring yourself as a result.
Check out my guide on how to choose the best running shoes for more information on picking the best running shoe.
Related: How to choose the best running shoes for beginners
Fuel your run
Fuel in the form of food and water are what give you energy on your runs. Being well-fed and well-hydrated will go a long way in helping you achieve your 10k race goal.
What you eat before, during and after a run can make or break your run.
Carbs are the go-to energy source for many runners as they release energy a lot faster. This is why 'carb loading' is important on the days leading up to a long race like a half marathon or marathon.
Knowing how much to eat before a run depends on how intense you expect the session to be and how comfortable you feel with certain foods. Before a 10k race, try and have something at least two hours before you plan to run so your body has time to digest the food. Here are some ideas of what you could eat:
Porridge with bananas or blueberries
Wholegrain toast with scrambled eggs
Healthy granola
A bagel with peanut butter and banana on top
A peanut butter and chocolate smoothie
Try and avoid anything that will aggravate your stomach. Avoid spicy foods and beans and lentils as these can lead to an upset stomach. Foods high in fibre and excessively fatty foods are also hard to digest.
Related: 4 common pre-run eating mistakes you're probably making
Don't neglect the long runs
When training for shorter distances like 5ks and 10ks, it's all too easy to forget about those long, endurance runs.
In a typical 10k training plan, you should be including one long run a week that is between 4-8 miles, depending on where you are in the plan.
Long runs are still important for your training as they help you to build your endurance and stamina. When coupled with speedwork, they offer a powerful mix to help you run for faster for longer.
Remember to run at a comfortable pace during your long run as discussed in the pacing section of this blog. They shouldn't feel too challenging and you should be able to hold a conversation while you run.
Related: Run for longer: 6 mental tips for long runs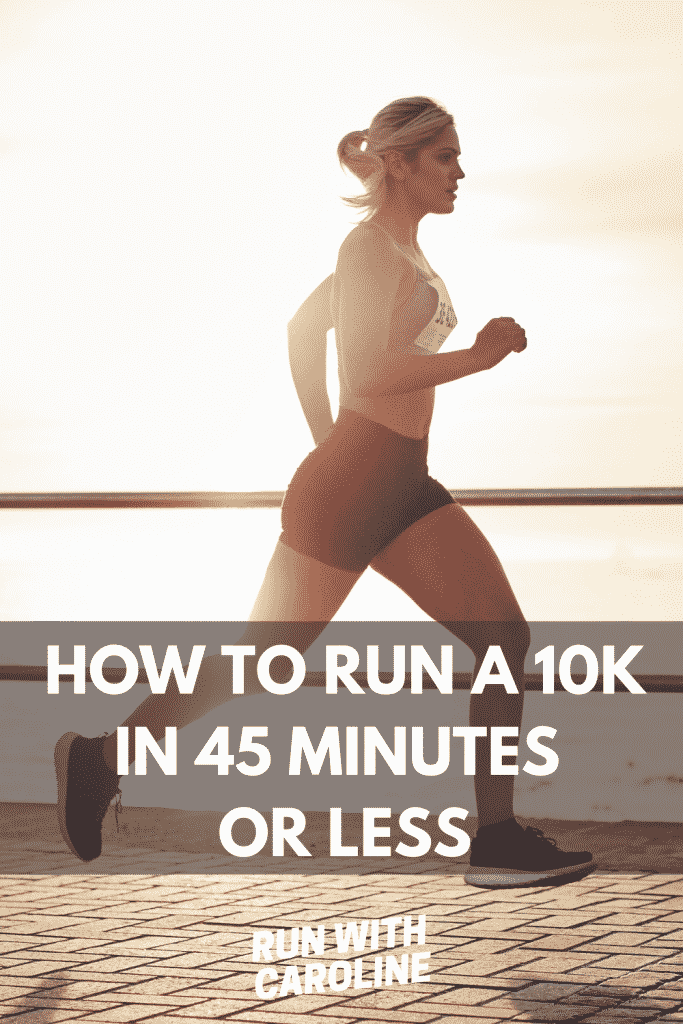 Find a training plan
If you need further guidance on how to run a 10k in 45 minutes or less, then finding a suitable training plan is a great way to give you that helping hand.
My intermediate 10k training plan is an 8-week 10k training plan that will provide you with a framework in which to train for your next 10k PB. It includes everything from endurance runs, speedwork and strength training – all the things that I have talked about in this blog.
Related: How to run a 10k in 60 minutes or less
Warm up
A warm up is essential before any run to get your body ready for the run and to reduce the risk of injury. A proper warm up consists of two main parts: jogging to get your heart rate up and dynamic stretches to loosen your muscles. Running drills and speed workouts are also great additions to any warm up.
The general rule of thumb for warm ups is the more intense the run, the longer the warm up needs to be. So if you're running a 10k at a moderate to fast pace in order to achieve a sub-45 minute 10k, focus on doing a warm up that lasts at least 15 minutes.
Related: 3 quick and easy habits for injury-free running
Wear a GPS tracking watch
A GPS tracking watch is an essential piece of equipment when it comes to running your 10k as it allows you to track your pace and effort, which is crucial when running to keep track of how you're doing.
I wear the Garmin Forerunner 235 watch when running to keep track of my run. It has the ability to track mileage, pace and other things like heart rate and recovery times.
If you don't own a GPS tracking watch, then many mobile phone apps offer GPS tracking nowadays. Some of my favourites include: Strava, MapMyRun and Nike Running.
Related: 5 of the best 5k to 10k running apps
Enjoy the run!
When you're so focused on achieving a certain race time, it can be easy to forget what running is all about and lose the enjoyment of running.
Remember that training for your 10k is only temporary and that you will soon be able to enjoy more leisurely runs. It's also good to include non-running related activities during your training such as walking, hiking, cycling and yoga to break up the running.