So you've decided to take up running! Congratulations! Deciding to take up running is a huge step for anyone. Getting yourself out there week in, week out takes courage and determination.
In this post I'd like to share my 10 week beginner 5k training plan which is aimed at anyone who is new to running and wanting to run a 5k by the end of the 10 weeks.
Running has changed my life in so many ways. It has helped me through some really tough times and to this day it's my go-to release when I'm ever feeling anxious or overwhelmed. This is a similar story for a lot of runners.
Whether you're starting running to get fit, lose weight or to simply get outdoors more, I'm so glad you've decided to take the first step! I've worked with hundreds of people to help them start their running journey.
Now you've decided to take the first step, this plan will help you navigate the wonderful world of running. It's natural to have beginner runner worries:
"I'm not good enough"
"I'm not fit enough"
"What if I fail?"
"What if I'm not fast enough?"
I'm here to tell you that every runner including me and all the beginner runners I've taught to run have had the exact same thought process when they first started running. If they can do it, you can do it too!
Related: Love to run: How to run your first 5k
10 week beginner 5k training plan: Run a 5k in 10 weeks
About the plan
This 10 week beginner 5k training plan is aimed at getting you running a 5k by the end of the 10 weeks. There are shorter plans out there, but I believe 10 weeks is the most appropriate time in which to learn how to run a 5k.
You will find a copy of the plan at the end of this article. You will see that each week is broken down to show you exactly what you'll be working on during that week. Each week has three runs and four rest days.
You'll also notice that each running session is broken up into running and walking intervals. Many new runners think they have to be able to run non-stop from the get go which simply isn't true.
This beginner 5k training plan slowly builds up your endurance and stamina by increasing the amount of time in which you run and decreasing the walking break intervals. By the end of the plan, you should feel more confident to run a 5k.
Please read each week's guidance notes carefully. These are aimed at helping you improve as a runner both physically and mentally. If you find you need more time by the end of the plan, this is completely fine.
Some people take longer to reach their 5k goal. Sometimes life gets in the way and you miss a couple of training runs. Don't worry – just pick it up again at a time that feels right for you and keep going. The most important part is that you keep going and do not lose momentum.
You can choose to repeat a week if you need more time. Try and focus on the week ahead and really practice your technique before moving onto the next week. The temptation when you start running is to rush through a plan or run every day because you love it. Use the designated rest days – if you progress too quickly you could risk burnout or injury.
Related: 7 common barriers to exercise and how to overcome them
Warm up
A warm up is integral to any run or race – whether you're running a 5k, 10k or half marathon. It has one key objective: to prevent injury and to get your heart rate up and blood flowing to your muscles to loosen them up.
A good warm up should leave you energised but not tired. If you push it too hard you may risk injury or poor performance during your run. Before your run, find a stretch of pavement or grass and do the following:
5 minute brisk walk, then Slow jogging
Skipping
High knees
Arm circling
Side steps
Sideways running (carioca)
In total, the warm up should last between 5-10 minutes. Static stretches should not be performed in the warm up.
Related: How to warm up properly before a 5k run
Cool down
After you've completed your run, it's important to cool down to return your body to its pre-exercise state. Keep walking for about five minutes. Once your heart rate has returned to its normal rate, find a patch of grass and perform the following static stretches.
Static stretches are designed to return your muscles to their normal length following exercise. They also help to prevent sore muscles after running and delayed onset muscle soreness (DOMS) which can happen 12-72 hours after exercise.
Here are some examples:
Standing calf stretch
Standing hamstring stretch
Lying glute stretch
Iliotibial band (IT band) stretch
Tricep stretch
Bicep stretch
Remember to hold each stretch for between 15 to 30 seconds.
Related: The best cool down stretches to do after a run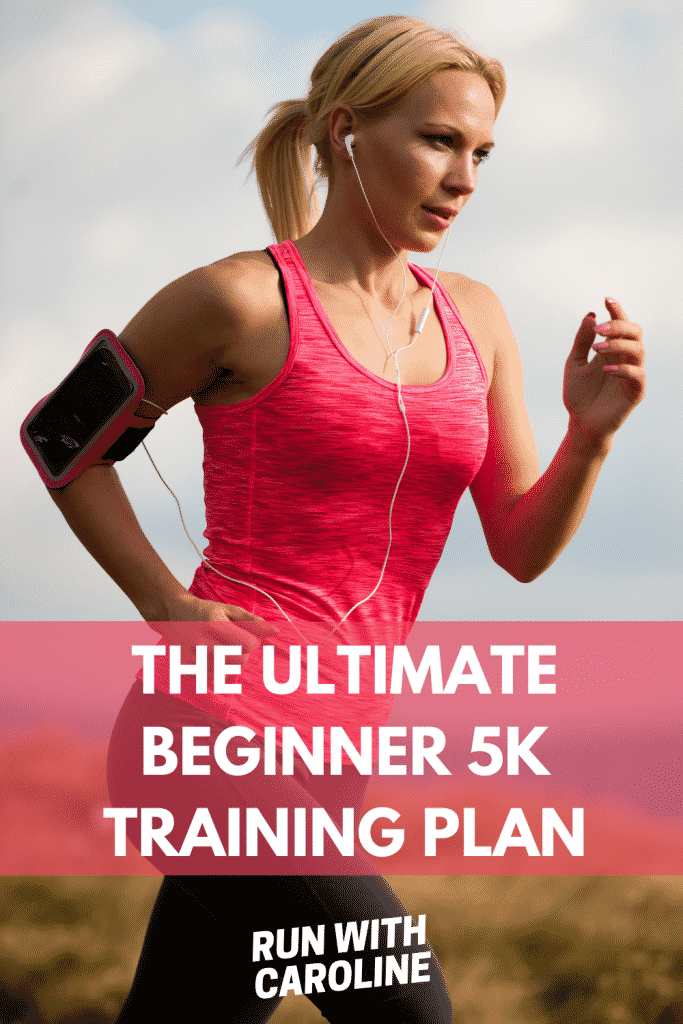 Beginner 5k training plan
Week 1
In the first week of this 10 week beginner 5k training plan, we'll be focusing on running 1 minute intervals separated by 1 minute walking intervals. You may think you can run for longer, but at this early stage it's important to let your body adjust to the movement and get yourself into a good running routine.
When you go out for your first run, it will probably feel like the hardest thing in the world. I'm here to tell you that this is a completely normal thought process for a lot of new runners (including me). Don't let these feelings stop you from continuing with your run. Just remember why you started running in the first place and let these feelings pull you through.
Once you've finished your first run this week, you'll feel more confident to tackle runs two and three because you've proven to yourself that you can do it. Well done and keep going!
Week 1 runs
Monday: Run 1 min, walk 1 min, repeat 10 times
Wednesday: Run 1 min, walk 1 min, repeat 10 times
Saturday: Run 1 min, walk 1 min, repeat 10 times
Week 1 tip: Routine
It's important at this early stage to establish a running routine that fits in with your lifestyle. Think about how you're going to schedule your runs. If this means getting up half an hour earlier in the morning, or setting aside some time on your lunch break to go out for a run, then try and establish a routine that works for you early on.
Related: How to fit a run into a busy schedule
Week 2
Running takes time and patience. The tendency for a lot of new runners is to just set off and run for as long as they can before collapsing in a sweaty heap on the floor. This is not only going to get you tired – quick – but it will be more of a shock for your body if you're not used to running regularly.
It's important to start slowly, maintain a steady pace and gradually build up a solid base from there. Your stamina and endurance will improve over time.
This week's running intervals are slightly longer at 2 minutes, but you also have longer walking breaks in between to recover and get ready for your next run.
Week 2 runs
Monday: Run 2 mins, walk 2 mins, repeat 6 times
Wednesday: Run 2 mins, walk 2 mins, repeat 6 times
Saturday: Run 2 mins, walk 2 mins, repeat 6 times
Week 2 tip: Slow down
As discussed above, the temptation is to run non-stop at a fast pace (whatever that means for you) as soon as you begin your run, but beginner running is a marathon, not a sprint (excuse the pun), so slow down and maintain a steady pace.
You should be able to comfortably hold a conversation whilst you run. If you're out of breath or struggling to talk, that's a sign you need to slow down.
Related: 4 tips on how to slow yourself down when running
Week 3
By now, running should feel less alien to you and your body should be getting much more used to the movement. At this point in my 10 week beginner 5k training plan, I'd like to introduce some key concepts when it comes to your form whilst running.
Many beginner runners don't think about their form and posture when they start running. There is a huge focus on what gear to buy and what running shoes to wear. While these are all critical, pursuing a running goal without taking the time to learn basic proper running form can be likened to starting any new sport without ever taking a lesson to learn how to hit the ball or swing the bat correctly without hurting yourself.
Good running form helps to run faster, more efficiently and more comfortably. It's all about creating a comfortable range of motion and movement in a way where the least strain is placed on your joints, supporting muscles and ligaments.
It's important to note at this stage that there is no such thing as 'perfect' running form, but there are simple tips and techniques that you can adopt on your runs to make this process a little easier. 
Week 3 runs
Monday: Run 3 mins, walk 2 mins, repeat 5 times
Wednesday: Run 3 mins, walk 2 mins, repeat 5 times
Saturday: Run 3 mins, walk 2 mins, repeat 5 times
Week 3 tip: Running form
As discussed above, good running form is so important when it comes to running. There are a few simple tips that I'd like to share with you to help you master good running form: 4 simple tips to improve running form
Related: How to run properly: Running technique for beginners
Week 4
You're almost halfway through my 10 week beginner 5k training plan. Well done! At the beginning of this guide we discussed overcoming barriers. A barrier for a lot of people when they first start running is having the motivation to actually get out there and go for a run.
Three runs a week is a lot of time and investment for many people, so you really have to make sure you're tapping into what motivates you to push you through it. I've met a lot of runners who agree that running feels like 90% mind and 10% matter. Of course, physical fitness is important, but the battle between your mind and your body feels like a constant struggle.
You're on week 4 of this plan so you know already that your body is more than capable of hitting the pavement, it's just your mind that may need a little more convincing! Repeat: "I can do this, and I am capable." 
Week 4 runs
Monday: Run 5 mins, walk 3 mins, repeat 3 times
Wednesday: Run 5 mins, walk 3 mins, repeat 3 times
Saturday: Run 5 mins, walk 3 mins, repeat 3 times
Week 4 tip: Motivation
This week I want you to focus on why you are running and what it is about running that you enjoy. How does it make you feel after each run?
Practice the positive affirmation technique that you learnt at the start of this programme and really use it to drown out some of that negative self-talk that you may have whirring around in your head. Once you clear your mind of those niggly thoughts, you'll find it much easier to run.
Related: How to stop negative thoughts and run your best race
Week 5
Congratulations! You're halfway through my 10 week beginner 5k training plan. I hope you've enjoyed the programme so far and have found a running routine that works for you. Once you've got a routine that works, you'll find it much easier to stick to your runs each week.
If you haven't yet been able to hold down a routine, then now is the time to self-reflect and understand why it isn't quite working for you.
With any exercise, it's important to self-reflect every now and again to understand what's going well and what could be improved. After all, running is a big learning curve for a lot of people, and even the most elite runners (think Mo Farah and Paula Radcliffe) work on their running technique each week. It's not just a task for us beginners
Week 5 runs
Monday: Run 8 mins, walk 3 mins, repeat 2 times
Wednesday: Run 8 mins, walk 3 mins, repeat 2 times
Saturday: Run 8 mins, walk 3 mins, repeat 2 times
Week 5 tip: Self-reflection
I want you to reflect on the last four weeks and write down what has gone well, what hasn't gone so well and what you'd do differently over the next 5 weeks.
I'm a big believer in learning from your mistakes to make you a better runner, so please don't take this as an opportunity to put yourself down! You've done incredibly well so far! If anything this is a time to celebrate your achievements.
Write down some of your thoughts and ask yourself the following questions:
What has gone well?
What hasn't gone so well?
What have you found difficult?
What could you improve?
What would you do differently?
Related: How to believe in yourself: Running and self confidence
Week 6
Week 6 is where we step things up a bit. You've got your first few runs in double figures. Please don't be scared! If you feel you're not quite ready, then it's completely fine to repeat week 5 to give yourself more training time. The important thing is that you continue with your training plan and don't lose momentum. 
Week 6 runs
Monday: Run 10 mins, walk 3 mins, repeat 2 times
Wednesday: Run 10 mins, walk 3 mins, repeat 2 times
Saturday: Run 10 mins, walk 3 mins, repeat 2 times
Week 6 tip: Sign up for a race
Now you're more than halfway through my 10 week beginner 5k training plan, it's a good time to register for a race. By committing to a race, you will have more accountability to finish the programme and stick with the plan. Why not give yourself more accountability and sign up with a family member or friend?
Running your first race is a scary thing, but it's also exciting! You're bound to have pre-race nerves. This is completely natural and is a familiar feeling for a lot of runners.
You have a few options when it comes to registering for your first race. One of the simplest is Parkrun. Parkrun is a free, weekly timed run that takes place every Saturday morning in locations across the UK and the globe. To find your nearest Parkrun, visit the Parkrun website where you will find more details on how to sign up for the race.
Related: When will Parkrun start again? 5 things you need to know about the return of Parkrun
Week 7
Now you've signed up for your first race, you may be tempted to step up your training and run more and more! It's important that you stick with the plan and try not to burn yourself out too soon.
Take stock of all the things you have learnt so far in the programme and remember to run at a comfortable pace and keep your running form in check. If you feel yourself slouching on those longer runs, remember that helium balloon trick! 
Week 7 runs
Monday: Run 12 mins, walk 2 mins, repeat 2 times
Wednesday: Run 15 mins, walk 1 min, repeat 2 times
Saturday: Run 20 mins
Week 7 tip: Run with others
One of the best things about running is being able to run with others. It's a great way to meet new people and make yourself accountable for your runs. It also makes running a lot more fun as you get to run with a group of like-minded people who are working towards a common goal.
Use websites like MeetUp and RunTogether to find running groups near you. It's important to find running groups that suit your goals and running experience. Many groups offer a trial week so you can get a feel for what the group is like.
You can always email the group leader and explain that you are a beginner runner. If you need that extra support and motivation, why not join with a family member or friend?
Related: How to make running easier: 7 simple tips
Week 8
This week you've got three runs, all in double figures, without walking intervals. Before you have a mini panic attack, remember how far you've come to get to this point!
Just think of it as two 10 minute runs, but without the walking interval in between. If you feel you need a small break, walk for 30 seconds then start running again. It's important to keep the momentum going to really build up your stamina and endurance. 
Week 8 runs
Monday: Run 20 mins
Wednesday: Run 20 mins
Saturday: Run 25 mins
Week 8 tip: Listen to your body
Your body provides you with constant feedback that can help improve your running performance while minimising biomechanical stress. Learn to differentiate between the discomfort of effort and the pain of injury.
When you practice listening, you increase competence in persevering through the discomfort and responding to pain. Know when to stop if you ever feel pain.
A good way to practice listening to your body is to run on your own every now and again. This means ditching the music and anything else that you could distract you. You can think of it as mindful running!
Related: How to practice mindful running
Week 9
Wowzers! It's the penultimate week. You have come so far! Take some time to reflect on what you've achieved over the last nine weeks. You've gone from running 1 minute intervals to running for 25 minutes straight.
Give yourself a huge pat on the back! This week we are upping the time slightly and by the end of the week you will complete a 30 minute run. Again, to make it not sound as scary, just think of it as two 15 minute runs without the walking interval in between. 
Week 9 runs
Monday: Run 25 mins
Wednesday: Run 25 mins
Saturday: Run 30 mins
Week 9 tip: Race prep
If you've booked your race for the end of week 10, now is the time to start preparing for it. The previous eight weeks have given you a solid base from which to work from, now it's time to capitalise on that and ensure you're prepared fully for your race.
Take time to refuel and hydrate after each of your runs and remember to warm up and cool down after each run to avoid delayed onset muscle soreness (DOMS). You may even want to visit the race course and see what it looks and feels like.
If you're used to running on flat roads, for example, the race course may throw up some unexpected obstacles in the form of hills and uneven terrain. Think about what you'll eat before your run. Keep it light so it doesn't feel too heavy on your stomach. Keep an eye on the weather forecast and think about what you'll wear on the day. Lastly, enjoy the process! You've got this!
Related: How to train for a 5k: The best 5k running apps
Week 10
Woo hoo! You've made it to the last week of my beginner 5k training plan! Not long now until your 5k race. You may feel scared, nervous, excited or all three! These feelings are completely natural. There's nothing wrong with a few nerves and adrenaline. I've found they're necessary sometimes to push you through the race.
This week you've got two 30 minute runs before your 5k race. Use these runs to really focus on your form, stride and how your body feels. And use your rest days to optimise recovery.
As discussed in week 9, refuel your body and keep it hydrated. You could also practice some gentle stretching on your rest days if you experience some muscle soreness. It's important to keep the day before your race as a rest day. Don't be tempted to go for a quick run or do a workout at the gym – you need to conserve your energy for the race.
Week 10 runs
Monday: Run 30 mins
Wednesday: Run 30 mins
Saturday: 5k race!
Week 10 tip: Look ahead
Your performance in the 5k race will not define you. If you have a bad race, there will be others to work towards. Don't let this put you off. Like many things in this world, running is a continual journey of improvement marked with success and failures. Failure is what makes you a stronger and more motivated runner.
Thank you and congratulations for finishing my 10 week beginner 5k training plan. I hope you've enjoyed it and learnt lots along the way! The journey from 0k to 5k is always the hardest.
I'd love to hear how you've got on and how you're planning to spend the next 10 weeks. The biggest lesson learnt for me when I ran my first 5k was not to compare myself to other runners.
And I'd like to stress this to you too. Run your own race and don't let anyone else's opinion or view on what you should be doing affect your race. All the best for now and enjoy the adventure! It might feel like a rollercoaster but it's so worth it!
Related: 5 of the best 5k to 10k running apps
Here is the week by week plan in table format so you can see each week. Feel free to download and save locally so you can refer to it during your training.