If you're struggling to find your running motivation, then you're not alone.
Every runner struggles with running motivation at one time or another.
Whether you've had a bad run or you're experiencing heavy legs when running, it can be tough to find your running mojo.
Many runners report feeling better having finished a run.
So how do you get yourself out the door when you're just not feeling it? What hacks can you employ to make running easier?
In this guide we'll explore 17 running motivation hacks to get you motivated to go for a run.
Ready?
Let's go!
17 running motivation hacks
#1 Just get up and go
Sadly, there isn't a magic formula that will get you out of the door, but don't let procrastination consume you.
While you think of all the reasons why you shouldn't go for a run, you could've completed your run, come home, showered and carried on with your day.
Don't let your mind overtake your original intention of getting out there and hitting the road.
Decide on a route, commit to it, then go!
Depending on the distance, you're normally home within 30-45 minutes which is no time at all.
Related: 80 of the best running songs to get you pumped for your next run
#2 Schedule your run like an appointment
When life gets busy, a good way to make time for running is to schedule it like any other appointment in your diary.
By carving out time in your diary, you can fit all your other tasks and activities around this slot.
This is especially handy when you have work or family commitments.
The key is to create a running schedule that works for you and your lifestyle.
Schedule your runs in the morning before you go to work, at lunch times, or in the evening if you struggle to run in the day.
Related: How to fit a run into a busy schedule
#3 Join a running group
Joining a running group is a great way to motivate yourself and make you feel accountable to go for a run with others on a regular basis.
They also offer a great support network in return!
The key is to find a group that works for you and that matches your goals and running experience.
If you're looking to really enhance your running, consider joining a group organised by an athletics club.
These tend to focus on making you a better runner at all levels, including looking at your breathing, posture and endurance.
If you'd prefer a more informal social group, you can normally find some listed on apps like Meetup, RunTogether and Facebook.
Many groups organise social activities too – whether it be coffee and cake or a pint at your local – these are all great incentives to finish your run!
Related: Become a better runner with these 8 books about running
#4 Run with a friend
If you're not quite ready to join a running group, find a friend to go running with you.
A good friend can be a great source of support and motivation on your run.
With the great outdoors as your playground, you may find it a better environment in which to talk about your day or your week ahead.
Related: Bored with running? These running books will make you fall in love again
#5 Run Parkrun
Parkrun gives you a great reason to get up on a Saturday morning. Best of all, it's free!
If you find yourself procrastinating on a Saturday morning instead of going for a run, register for your local Parkrun.
You can register for your local Parkrun by visiting their website.
If you're new to Parkrun, check out my guide on what to expect at your first Parkrun to prepare yourself and get the most out of the experience.
Related: 10 running clubs changing the world one step at a time
#6 Plan a new route
Another great way to motivate yourself is to plan a new and exciting route.
Run somewhere where you haven't been before and explore your surroundings.
The thought of a new route is a great way to get you excited for a run.
Of course, with any route the imperative should be your own safety, so don't go taking yourself off somewhere if you feel unsure about it.
And always tell someone where and when you're going.
Related: How to keep running fun
#7 Take a run selfie
As a runner, you come across some beautiful scenery that cyclists and motorists often don't get to see when you're off the beaten track.
Track your runs by taking run selfies – this can be a great source of motivation.
Many runners start Instagram accounts to log and share their runs and workouts with the wider running community.
Strava also offers a way to share photos from your runs with fellow runners.
Related: 101 funny and motivational race day sign ideas
#8 Track your run
Tracking your runs using an app like MapMyRun or Strava is a great way to provide accountability and share your workouts with the running community.
It's hugely motivating to see all your previous runs and see how far you've come in a short space of time.
If you're looking for something that's a bit more fun, try an app like Zombies, Run! which imagines you are running from a zombie epidemic.
There are also other apps like Run the World that allow you to do 'virtual' runs in the USA, Europe and Australia.
Related: 8 of the best running apps for beginners + the pros and cons of each
#9 Reward yourself
Probably one of the best ways to motivate yourself to go for a run is to reward yourself.
Going for a run is a huge achievement! And with any achievement, there comes a reward.
We all have different ways to reward ourselves, whether it be a hot shower when you get home or a sweet treat.
No matter what your reward, you should always congratulate yourself for investing in your physical and mental wellbeing.
Related: 5k to 10k: 5 of the best 5k to 10k running apps
#10 Go trail running
Many runners head to the trails in order to seek adventure, away from the city and congested roads.
Trail running is a great way to rekindle your love affair with running. Running and the outdoors come together to create an unforgettable experience.
If you're new to trail running, make sure you invest in a good pair of trail running shoes.
Related: 12 trail running tips for beginners
#11 Sleep in your running clothes
If you're someone who hits the snooze button when you wake up, then sleeping in your running clothes could just be the hack to get you out the door.
Sleeping in your running clothes may sound unconventional, but some runners swear by it to give them the motivation to go for a run in the morning.
Related: 7 of the best websites to buy affordable running clothes
#12 Run without a watch
Many runners swear by their running watch to track their pace, distance, heart rate and many other running metrics.
Whilst a running watch can do wonders for your training, it can sometimes put pressure on you to run at a certain pace.
After a while, this can take the enjoyment out of running. If you don't enjoy something, you're less likely to find the motivation to do it.
Why not consider running without a watch? Mindful running has lots of benefits.
Related: Nude running? Here are 4 realities no one will tell you
#13 Speed train
Speed training like interval training and tempo running is a great way to improve your endurance, speed, strength and stamina as a runner.
Instead of heading out for a long run which takes 1 to 2 hours to complete, consider doing a speed training session.
Not only will you add variety into your training plan, you will be able to fit in a workout in under 30 minutes if you're short on time.
Related: 7 essential running form drills for beginners to improve speed and endurance
#14 Have a morning coffee
According to a study on caffeine and performance, caffeine ingestion prior to exercise increases performance during endurance exercise like running.
What better excuse to enjoy your morning coffee before a long Sunday run?
Related: The 6 best supplements for runners: Here's why
#15 Listen to a new running playlist
Music is a great way to spur you on during a run.
Find a new running playlist and fill it with all your favourite tunes – this will go a long way to motivate you to finish a tough run or get you out the door.
Related: 80 of the best running songs to get you pumped for your next run
#16 Cross train
If you're tired of running every other day?
Then consider adding some cross training activities into your training routine.
Walking, swimming, cycling and yoga are all great forms of cross training for runners.
Cross training has a whole host of benefits for runners whatever your training goals.
It helps to reduce your risk of injury, improves your total body fitness and encourages you to stick to a training routine.
Related: A beginner guide to wall Pilates: Everything you need to know as a runner
#17 Invest in some new running gear
A new pair of running tights or a brand new running top is great motivation for you to go for a run and try out your new gear.
If you're in the market for a new pair of running shoes, then check out my running shoes guide for more information on finding the right shoes for you.
Related: What to bring to the gym: 15 workout essentials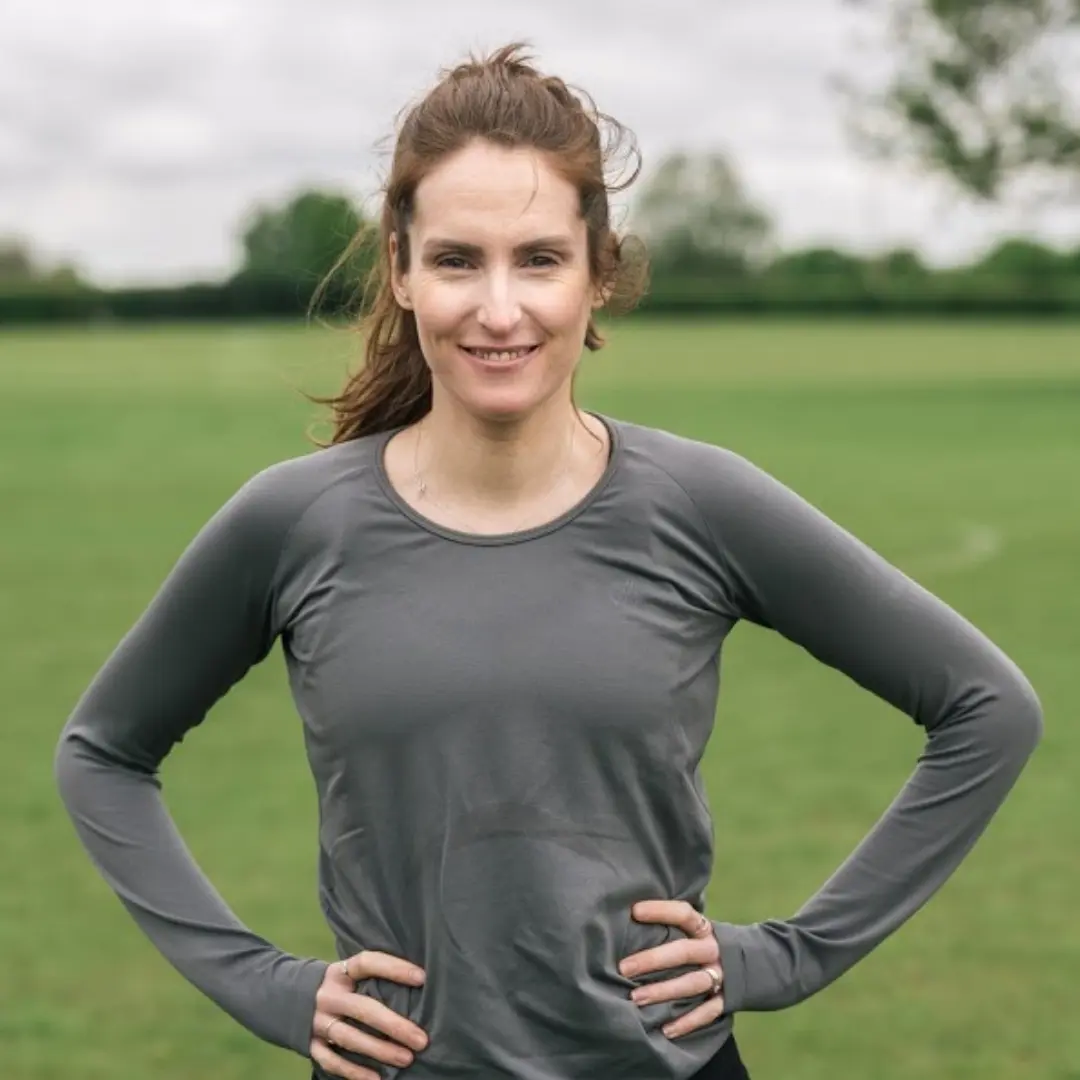 Latest posts by Caroline Geoghegan
(see all)