Your first half marathon is a pretty big deal. There are so many ways to train for a half marathon, it can be hard to know when and how to apply them.
The half marathon is one of the most popular race distances out there.
According to a 2018 study, the participation in long-distance running events has grown significantly in the last decade.
The half marathon was the favourite distance, with amateur runners as well as elite runners taking part in events.
Despite these stats, it can still feel really daunting when training for your first half marathon.
You put so much effort into your training before the big day, you want to know that it will all pay off on race day.
In this blog, I'd like to share the top 10 ways to train for a half marathon.
With these tips, I hope you have the confidence to attack your first half marathon and come out on top on race day.
10 ways to train for a half marathon
Use a training plan
This is probably one of the most important first half marathon tips. Yet so many runners start training for their first race without a proper training plan.
There are plenty of free half marathon training plans available online. These provide week-by-week runs and activities depending on your fitness levels.
Whether you're a beginner, an intermediate or an experienced runner, there's bound to be plan that suits you.
These plans can range anything from 10 to 16 weeks. I'd recommend going for a four month (16 week) training plan if it's your first race.
Each training plan will also differ in terms of the types of workouts and weekly mileage on offer.
The key is finding one that fits in with your schedule and lifestyle and matches your running fitness levels.
For tips on fitting in running into your daily life, check out my post on how to fit running into a busy schedule.
Get some miles under your belt
It's worth pointing out at this stage that any half marathon training plan assumes you already have a good level of running experience under your belt.
If you've never run 5k before, then I'd recommend you attempt something like a Couch to 5k plan before embarking on your first half marathon.
You can quickly overwhelm your body if you go straight into training for a half marathon when you have little or no running experience.
Ideally, you should have a weekly combined mileage of about 15 to 20 miles when you start your half marathon training plan.
Cross train
Training for a half marathon doesn't mean you just need to focus on running for the next 3 to 4 months.
It's important you include other cross training activities into your training plan.
I'd recommend you include other aerobic sports like cycling and swimming to build up your fitness levels and athletic performance.
It's also good to include strength training and high intensity-interval (HIIT) workouts in your training plan.
As mentioned above, many half marathon training plans include these types of workouts – the key is to balance them these alongside your weekly runs.
Plan to do these workouts at least twice a week to get the most out of your training plan.
Try tempo runs
Tempo runs are when you run at a sustained, hard pace for a period of time, typically between 20 to 30 minutes.
They are great because they help you build your endurance and boost your muscular systems to better deal with fast paces over long races.
A tempo run should feel comfortably hard, but you shouldn't treat it as an all-out race.
The easiest way to determine your tempo race is to add 24 to 30 seconds per mile to your 5k personal best.
The result should be about the pace you would be able to sustain for a full hour of running without needing a break.
Since including more tempo runs in my half marathon training plan, I've been able to run at a faster pace for longer without feeling tired.
When I first started training for half marathons, I used to hit a wall around the 10 mile mark.
Tempo runs are great to build your endurance and help get you through these tough times on the run.
Try Fartlek runs
Another way to build up your pace and endurance is to try Fartlek training (also known as 'speed play').
A Fartlek run is when you run about 20 seconds slower than your 5k pace, followed by a slow interval at your easy, long run pace.
The benefit of Fartlek is that it teaches your body to learn how to speed up and/or slow down when needed during the race.
This is important as it gets you used to running at a faster pace and helps to increase your stamina and endurance.
Take care of your body
Although running has a lot of health benefits, training for a half marathon can be hard on your muscles and joints.
It's important to know when to rest. Listen to your body and don't push yourself too hard regularly as this could lead to burnout and injury.
Use a foam roller, remember to warm up before your run and cool down after your run, and stay hydrated!
I try and drink at least two litres of water every day when training for a half marathon as you'll be using a lot of fluids through sweating.
It's important to have a proper recovery strategy in place when training for a half marathon.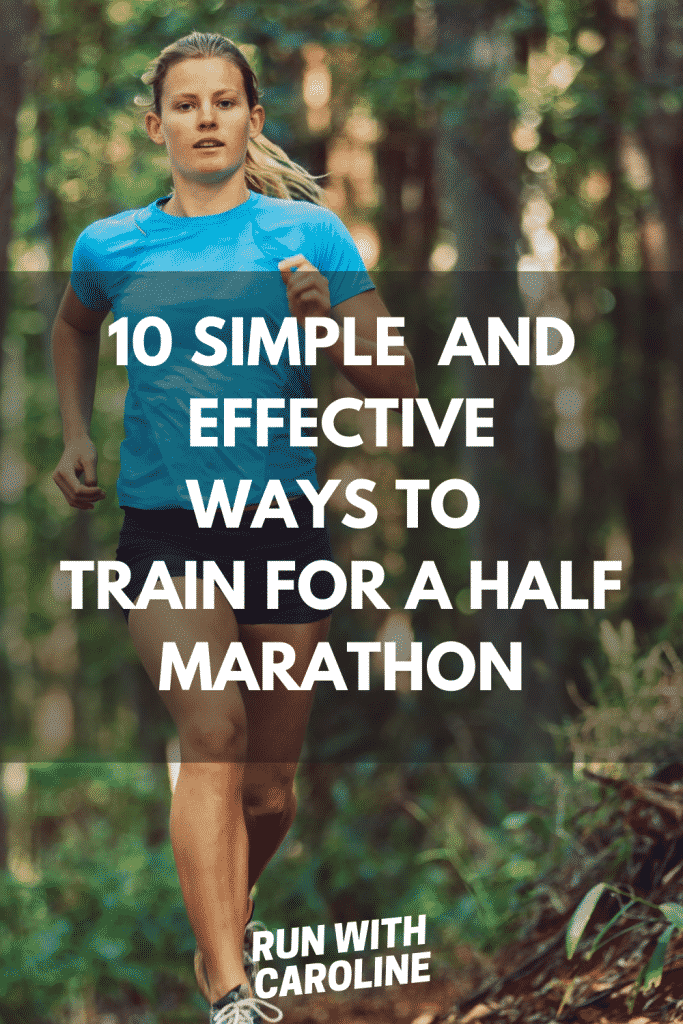 Fuel your body
It sounds obvious, but food plays a large part in my training plan. Try and eat the right foods and, equally as important, the right amount of food.
Training for a half marathon burns a lot of calories and energy, so you need to make sure you're replenishing these through food.
Unfortunately, running doesn't give you a golden ticket to eat unhealthy, fast food. Despite the increased amounts of carbs in your diet, you still have to maintain a healthy lifestyle.
This can sometimes be hard, especially when you have a 9-5 job and a family to look after.
The key is balance! Allow yourself a treat once in a while.
If you're wanting to find out more, check out my post on what to eat before a run.
I've also written a guide on protein for runners as protein is essential for muscle repair for recovery.
Join a running group
There's a lot to be said for running with friends or a local running group.
They provide an incredible support network and are a great source of motivation.
Depending on your needs, you can either look to join an athletics club affiliated run group, or a community-led run group.
Most groups are free and can be found on websites like Meetup and RunTogether.
Find a running coach
If you'd like more hands-on support when training for your first half marathon, consider finding a running coach.
This is probably one of the most neglected ways to train for a half marathon. Contrary to popular belief, you don't need to be an elite athlete to benefit from the services of a running coach.
A running coach can help you define and meet your goals, and can help you stay consistent and motivated in the lead up to the race.
Depending on the type of running coach you find, they could also advice you on nutrition and fuelling your training plan.
Knowledge, experience and personality are all things to keep in mind when finding the best running coach for you.
It also pays to check which distance they specialise in. Not all running coaches specialise in longer distances like half marathons.
Do your research and hopefully you can find the right person for you.
Enjoy it and have fun!
Running a half marathon is a one hell of a challenge! I still remember how incredibly proud I felt when I crossed the finish line at my first half marathon – months of blood, sweat and tears had all paid off!
It's easy to forget that training for a half marathon can actually be fun! This is often one of the most neglected ways to train for a half marathon.
When you're so focused on running your best race, the fun and enjoyment can easily take a back seat. It doesn't have to be this way though.
Remember that it's just a race and treat it like any other run to take away some of the pressure. As you get more running experience under your belt, this will soon become second nature.
Check out my blog on how to keep running fun for more tips and advice when the pressure gets too much. After all, having fun is one the best ways to train for a half marathon.
How do you like to train for a half marathon? Do you have any tips to share when running a half marathon? Comment below.