What are the best running leggings for women?
When you find a pair of good running leggings, hold onto them!
It took me a good few years to find the some good running leggings.
The key factor for me when buying my running leggings is always comfort (and style).
You want to know that your leggings will last the run without you having to pull them up or adjust them every two minutes.
Back in the early days, I bought a few pairs, but they started to fall down after only a few weeks.
I don't know if this was due to the quality of the leggings or the fact that I had lost a bit of weight! I like to think the latter!
We are lucky nowadays that there are so many great shops and stores online that sell running leggings for women.
They come in all different brands, styles, shapes and sizes so you really do have a wide selection to choose from.
With such a wide selection though it can be hard to know which ones to choose.
So in this guide I'd like to share my top picks of the best running leggings for women.
We'll look at:
Tips for choosing the best running leggings for women
My reviews in this post are based purely on my experience with these leggings.
Tips for choosing the best running leggings for women
Buying a pair of running leggings is a deeply personal thing.
It's like buying any other piece of clothing that you are going to wear over and over again, like a pair of running shoes.
To add to this, what I find comfortable may not work for you, so I suggest you do your research before settling on a pair of running leggings.
Here are a few key things to think about when buying a pair of running leggings.
#1 Fit
If you see a pair of running leggings that you like in a shop, be sure to really suss out the leggings before you buy them.
Feel the fabric – does it feel stretchy enough?
Does it feel too rough or like it would dig into your skin after a few miles?
Poorly constructed running leggings often have poor seams that dig into your skin which is not nice for chafing.
Likewise, running leggings shouldn't feel too tight, unless they are specially designed compression tights.
Your legs need to breathe too and the blood needs room to circulate fully around your legs.
#2 Comfort
Yes, the running leggings may look AMAZING with a really great colour and print.
But if they're not comfortable, those thoughts will soon go out the window when you're on a run.
Try the leggings on in store.
In the changing rooms, flex your legs and do a few stretches (if the changing room allows) and really see how they feel.
If you have any doubts at all, don't buy them.
#3 Fabric
As with the fit, some poorly constructed tights are also made of crappy material that doesn't allow your body to breathe on a run.
You may have heard of sweat absorbing technologies and sweat-wick fabrics.
Likewise, there are heat-tech technologies out there for those winter runs.
Really make sure you try out the leggings before buying the
tights.
Big brands like Nike and Under Armour are normally good for these types of running leggings, but always try them on before buying.
#4 Price
As discussed above, you can find some really great running leggings for good prices in shops like Decathlon.
A higher price doesn't always mean higher quality.
I'd also recommend you scope out the sportswear section in TK Maxx as they have a lot of great bargains for big brand sportswear like Under Armour and Nike.
#5 Additional features
Many running leggings nowadays have additional features like pockets, reflective strips and zips.
These can be really practical features if you want to hold things like your keys and phone on a run.
Just be sure you don't sacrifice comfort by holding your phone in your leggings!
Related: 7 of the best websites to buy affordable running clothes
The best running leggings for women
#1 Best all-round running leggings: Nike Epic Luxe High Rise Running Tights
This pair of running leggings was the first pair I ever bought, and I still wear them to this day.
I think that says a lot to think I've been running now for over 10 years.
I'm even more surprised that they still fit!
These running leggings are from Nike and they have sweat-wicking and stretchy fabric and have a flattering fit.
This also means they fit snug on your legs.
They've also got a small zipped compartment on the back of the leggings which is great for holding your keys, and a drawstring so they don't fall down.
Nike have since upgraded these leggings but they are available via the link below.
They're high-waisted now too which is great if you like that look.
Where to buy: Nike Epic Luxe High Rise Running Tights, £79.95
#2 Best running leggings if you're have a tight budget: Kalenji Kiprun Women's Running Compress Tights
If you don't want to be spending a fortune on a pair of running leggings, then there are plenty of places nowadays that sell affordable running gear.
One of my favourite places to buy affordable running leggings is Decathlon.
They sell a wide range of running gear from running shoes and running leggings to water bottles and sports watches. It's like an Aladdin's cave for runners!
These running leggings from Decathlon are comfy and really practical with handy pockets.
They also have zips at the bottom of the leggings which are great for ventilation in those summer months.
If you're looking to get a taste of compression technology, these may be a good fit for you. At £19.99, they are an absolute bargain!
Where to buy: Kalenji Kiprun Women's Running Compress Tights, £19.99
#3 Best running leggings that don't fall down: Nike Epic Luxe High Rise Tights
These leggings from Nike are making their second appearance on this list – I love them that much!
So many running leggings today use different fabrics and technologies to try and avoid the 'saggy crotch' situation.
Out of all the things to happen to your running leggings whilst you're out on a run, them falling down is the most annoying!
Over the years I've come to be a better judge of running leggings when I'm out shopping.
I now know which fabrics and materials are going to cause me issues on a run.
You basically need fabrics that are elasticated (like Lycra) and fit well around your bum and legs.
I think this is why compression tights are becoming so popular nowadays (more on that below).
I probably could recommend many pairs of running tights in this category as there are so many good ones.
But in the interests of picking one pair, I'd have to go with the Nike Epic Luxe High Rise Running Tights.
These are my best all round running leggings (as reviewed above), but they are also great at staying put because they have the high rise and drawstring.
Where to buy: Nike Epic Luxe High Rise Running Tights, £79.95
#4 Best running leggings for long runs: Under Armour Fly Fast Tights
These compression running leggings from Under Armour squeeze your legs in all the right places.
They also improve your circulation and reduce muscle vibrations.
I came across these tights fairly recently. I bought a pair of blue and black Under Armour compression tights (you may have already seen them in a few photos on my blog) and I absolutely LOVE them!
They support my muscles on my long runs and I don't tend to feel as sore as I would without them.
A recent review of studies revealed that runners wearing compression tights might have a slightly better endurance performance and less muscle pain/inflammation than runners in regular tights.
Where to buy: Under Armour Fly Fast Tights, £50
#5 Best running leggings for holding stuff: Lululemon Fast and Free Tight
Retailers are starting to include pockets in their active wear more and more these days.
Gone are the days of stuffing your phone in your sweaty sports bra!
If I'm on running to work on a run commute, I'll wear a running backpack and stuff everything in there.
But in terms of running leggings with pockets, the key is finding some that allow you to hold stuff in the pockets securely and comfortably.
You don't want your phone or keys jiggling around whilst you run as this can be distracting and uncomfortable.
There are a few brands that offer pockets. The ones I've tried include Nike, Under Armour, Addidas, Lululemon and Tikiboo.
If I had to choose one pair, I'd go with the Lululemon Fast and Free running leggings which include not one, but TWO pockets for storing your stuff.
They also have special fabric which is quick-drying, sweat-wicking, and offers lightweight coverage.
Where to buy: Lululemon Fast and Free Tight, £108
#6 Best patterned running leggings: Tikiboo Blue Camo Leggings
Tikiboo offer a wide range of patterned running leggings from their online store.
They have all the wacky prints you can imagine – from Mr. Men prints to rather fetching United States of America flag print leggings.
These leggings not only make you stand out from the crowd, but they are incredibly comfortable!
They have 360-degree stretch lycra fabric and flat-lock seams which means no chafing! They also have a drawstring waist which means they stay put the whole run.
Most of the leggings also come with a zip pocket which comes in very handy if you want to carry something small like a bunch of keys or a debit card.
Where to buy: Tikiboo Blue Camo Leggings, £36.99
#7 Best reflective running leggings: Nike Epic Luxe Flash Reflective Running Tights
I cannot stress the importance of high-visibility clothing when out on night runs.
It's so important to be seen my motorists, cyclists and pedestrians alike.
I've heard some horror stories of runners nearly getting run over because they simply cannot be seen on the roads.
A good way is to include high visibility technology on your running leggings too. It not only gives you safety bonus points but they also look quite cool!
My pick are the Nike Epic Luxe Flash running leggings because they're comfy and have a really cool pattern on them.
I suggest pairing a pair of reflective running leggings with a high vis jacket too to really make sure you are seen on those nighttime runs.
Where to buy: Nike Epic Lux Flash Reflective Printed Running Tights, £65.47
#8 Best running leggings for indoor workouts
If you're a gym lover and regularly run on the treadmill, then you'll need running leggings that are a bit more breathable and don't feel too heavy on your legs.
It's often a lot warmer indoors, especially when you start getting hotter and sweatier, so it's wise to choose running leggings that are not designed for cold climates.
It also depends on what you're doing in the gym.
If you go to the gym and spend the whole hour on the treadmill, then you'll want leggings that hold up for the duration of the run.
If you go and spend most of your time on some of the machines and strength training, then most likely you'll want leggings that have been designed with gym workouts in mind.
With this in mind, I've recommended two pairs of leggings below:
Best for when you're combining running and strength training: Gymshark Energy+ Seamless Leggings, £45
Best for when you're mostly running on the treadmill: Lululemon Wonder Under Hi-Rise Tight, £78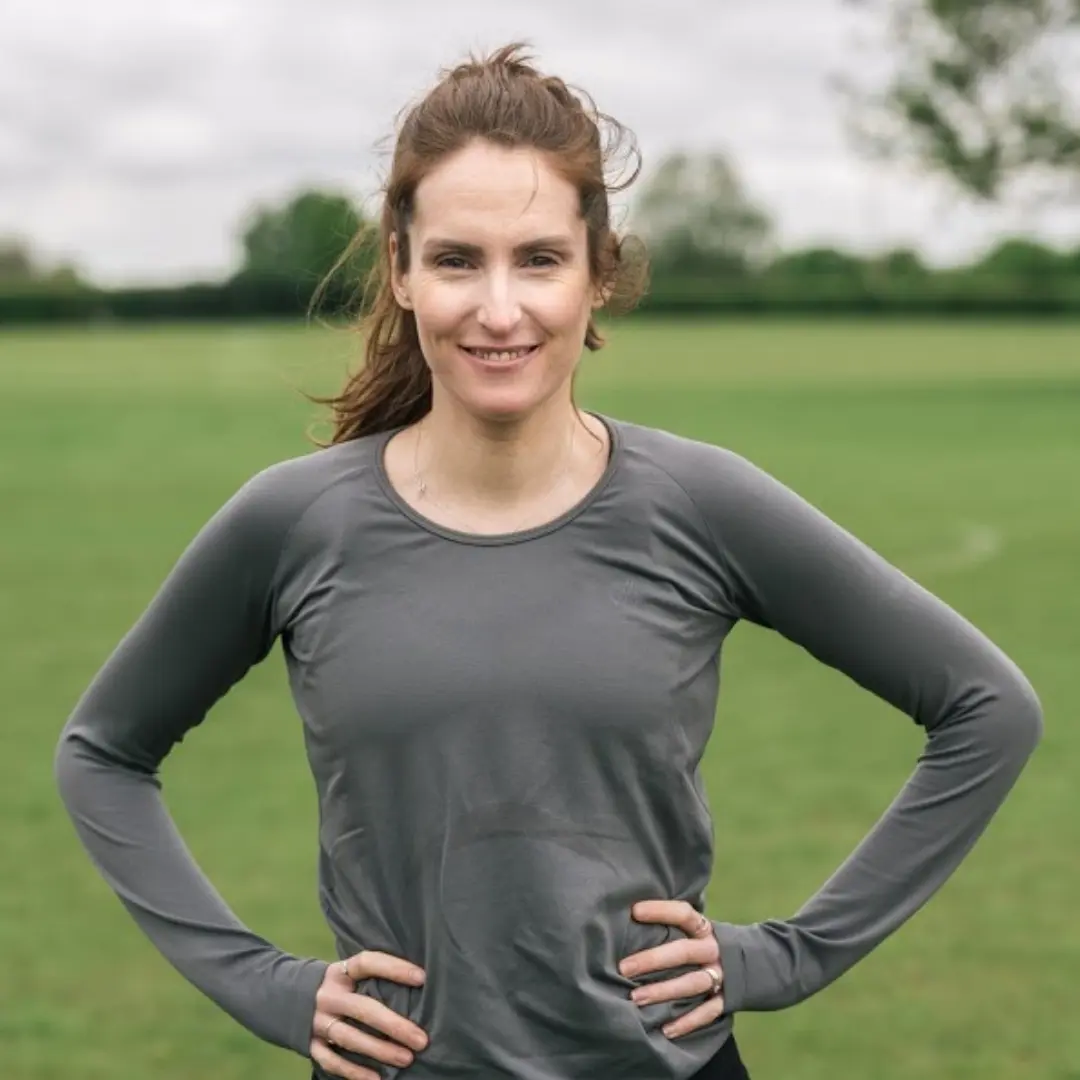 Latest posts by Caroline Geoghegan
(see all)