If you're wondering what to buy the runner in your life this holiday season, then you're not alone.
It can be confusing to know what exactly to buy your significant other, especially if they already have a tonne of gear.
The good news is there is no shortage of equipment runners can get excited about.
From recovery tools and massage balms to running socks and watches – the list of equipment has never been bigger!
In this guide we'll look at 25 of the best gifts for runners.
We'll look at:
Best gifts for runners: Long distance runners
Best gifts for runners: Beginner runners
Best gifts for runners: Women runners
Best gifts for runners: Recovery
Best gifts for runners: Strength training
Best gifts for runners: Cross training
Best gifts for runners: Tech
Best gifts for runners: Food and drink
Ready?
Let's go!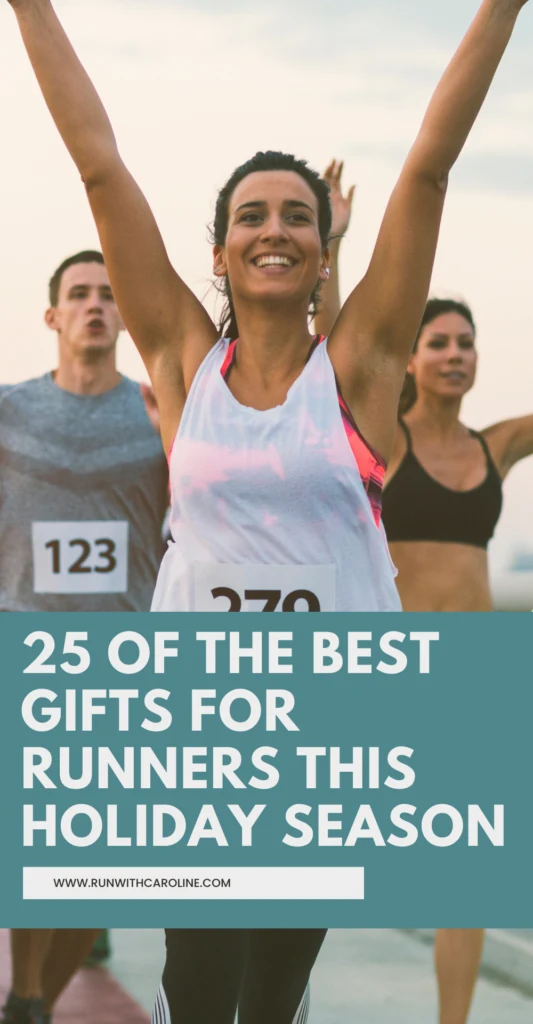 25 of the best gifts for runners this holiday season
Best gifts for runners: Long distance runners
I've written a review of Goodr sunglasses as they offer a good range of stylish yet durable running sunglasses.
Goodr sunglasses are lightweight sunglasses that come in a range of frames and colours.
They also come in a range of lenses, including blue-blocking, polarised and mirrored reflective lenses, to help reduce the glare and block harmful UVA and UVB rays on your run.
Even better, each pair of sunglasses comes with a 30-day free return policy and a one-year warranty.
#2 Coppertone SPF50 4 in 1 Sport Sunscreen (£13)
This 4 in 1 sunscreen from Coppertone really packs a punch.
It provides every day sun protection with a multi-benefit, broad spectrum formula that helps your skin in more ways than one.
It's water resistant, sweat resistant and sinks quickly into the skin.
Rave review: "Brilliant sunscreen. I've had trouble with a lot of other brands of sunscreen that was stinging my eyed, this one doesn't! Rubs in quickly without leaving residue, and nice on sensitive skin with a nice smell, best sunscreen I've ever used."
Related: 10 of the best running books to inspire you to run
Recovery slides are one of the best things to wear if you want to relax and recover after a run.
These sandals are durable, comfortable and cushioned.
Made with OOfoam technology, they conform to your foot and help to absorb impact, therefore easing stress on your feet and joints after a run.
Rave review: "This is my second pair of slides. My podiatrist recommended them a year ago to me for severe plantar fasciitis. These slides, along with more supportive sneakers, they have completely gotten rid of my plantar fasciitis. No foot pain for the first time in years!"
Related: Running by feel: 5 life-changing benefits of running without a watch
Best gifts for runners: Beginner runners
This running light from Lumefit is one of the best on the market for keeping you safe.
It has an ultra bright run light as well as three reflective bands for 360 degree visibility.
If you don't like the idea of fixing a light to your forehead, then this light may just be for you!
With its practical, lightweight design and adjustable, elastic straps – it is a comfortable and more importantly safe running light.
Rave review: "I have already purchased one of these lights and wouldn't be without for my night time/winter running. The battery life is amazing and the light strength means I feel safe whenever I run.
So pleased with it that I have now purchased two more to gift to running friends."
Related: 6 of the best supplements for runners
#5 Stainless Steel Medal Hanger Display (£16.99)
What better way to share your running achievements than with a medal display.
This sleek, British-made medal hanger is made from solid, stainless steel so you don't have to worry about it not being able to hold all your medals.
Rave review: "Does the job perfectly! Solid and well-made. I decided to hang it rather than screw into the wall and it works fine."
Related: 8 of the best books about running to help you run stronger for longer
#6 Nike Dri-Fit Crew Neck Running Top (£54.95)
I love the minimalist design of Nike running tops – I personally own this top and love how stylish it looks.
The Nike Dri-Fit running top is a classic and used by runners time and time again.
It features sleeves with thumbholes and a watch window so you can easily track your miles.
Nike have also added a handy stash pocket on the left side so you can store your key or card if you need to.
Rave review: "The best running long sleeve! So soft and comfortable. Love the side pocket too!"
Related: The best recovery shoes for runners: Oofos slides vs Hoka slides
Best gifts for runners: Women
#7 Brooks Adrenaline GTS 23 running shoes (£135)
I wrote a review of the Adrenaline GTS running shoe as we loved it so much!
The Adrenaline GTS range from Brooks have long time been a runner's favourite.
With its cushioning and support, this shoe is a great all rounder to keep your foot stabilised during your run.
Rave review: "I absolutely love my Adrenaline GTS 23 The support and cushion that these sneakers provide is excellent. Plus the colour choices are great! I will be buying another pair when I can afford them."
#8 Gregory Maya 22 running backpack (£85)
It can sometimes be hard to find a running backpack if you're a woman. Most backpacks are designed with a man's body in mind.
This running backpack from Gregory ticks all the boxes!
It is designed for a woman's body in mind so it hugs your frame and moves with it.
It also has a lot of handy compartments to keep all your essentials, including a stretchy front pocket which is a life saver!
It's great for running, cycling, hiking and run commuting.
Rave review: "Very comfortable and just as described. Plenty of adjustments can be made so that it fits perfectly. Good purchase."
#9 adidas Tailored Impact High Support Sports Bra (£50)
I love this sports bra from adidas as it provides all the support you need on an intense run or workout.
It's a functional, breathable, sleek sports bra with adjustable back straps.
Even better, it's made from at least 70% recycled materials.
Rave review: "adidas never fails to surprise me. I love this product. I have been using adidas high support sports bra since forever. I would recommend blindly to go for this if anyone is looking for high support sports bra."
Related: Half marathon gear checklist: 6 running accessories for half marathon training
Best gifts for runners: Recovery
#10 Core Balance Foam Roller (£13.99)
This foam roller from Core Balance is a must-have for any runner looking to relieve muscle pain and boost their recovery times.
Made from EVA foam, this lightweight roller helps to break up soft tissue and target muscle knots (trigger points) that can develop after a run or workout.
Rave review: "I was advised to get this foam roller by an osteopath to help with loosening calf muscles. You can really feel the benefit for sure. A couple of minutes out of your day and the benefits are great. Would recommend."
#11 Westlab Soothing Epsom Bath Salt (£10)
Running can be tough on your body.
An Epsom salt bath may just what you need to revive tired, sore and stiff muscles.
Epsom salt is naturally rich in magnesium which is great for treating skin conditions and soothing overworked muscles.
Rave review: "Perfect for relaxing. If you use them regularly after sports or for pain relief or as a skin treatment you can afford to if you buy this brand. More expensive salts are not better than these. If you want some fragrant salts just add a few drops of essential oil. I use these all the time for all the family and swear by them."
#12 Beenax Massage Ball Set (£9.99)
Another massage tool makes this list.
Massage in the form of myofascial release is so important for runners to treat sore, tight and stiff muscles.
Tight muscles can lead to postural imbalances which in turn can affect your running form.
A massage ball will go a long way to relieve trigger points (muscle knots).
Rave review: "I recently purchased the massage ball set to alleviate the excruciating pain caused by sciatica, and I must say, it has been a total game changer for me. This set is a must-have for anyone struggling with sciatica or general muscle tension."
Related: What to bring to the gym: 15 workout essentials
Best gifts for runners: Strength training
#13 adidas Everyset Trainer Shoes (£80)
If you're heading to the gym to lift weights then you need a pair of training shoes that will support your workout in all the right ways.
These training shoes from adidas provide the necessary comfort and stability.
With their flatter shape they create a 'grounded' feeling which allows you to focus on your form when performing bodyweight exercises or lifting weights.
Rave review: "These shoes are comfortable, flexible and breathable. Love, love, love!"
#14 CFX Resistance Bands (£12.99)
Resistance bands are probably the most versatile piece of equipment a runner can own.
Not only are they lightweight and portable, they're suitable for all ability levels, whether you're a beginner runner or more experienced.
These resistance bands from CFX come in three different strength levels – light, medium and heavy.
All three bands are designed to target your hips, hamstrings and glutes, so they are great for strengthening the key running muscles in your hips, butt and legs.
Rave review: "Great for beginners and I have been using them for lots of leg and arm workouts! The bag they come in is also really handy for taking them to the gym. I would recommend these bands for everyone! Perfect for home workouts or taking to the gym."
#15 Build & Fitness Adjustable Wrist and Ankle Weights (£23.99)
These sleek, fully adjustable wrist and ankle weights from Build & Fitness are perfect to add resistance to your run or workout.
And at £23.99, they are way cheaper than some of the more well-known brands on the market (we're looking at you Bala Bangles).
At 0.5 kg each, they are not the heaviest, but this is precisely why they are good to wear on a run as you don't want weights that are too heavy.
Rave review: "These weights are excellent for adding a bit of extra resistance to my workouts, and they're very comfortable to wear."
Related: 5 best home gym equipment for runners
Best gifts for runners: Cross training
#16 Core Balance Yoga/Pilates Mat (£17.99)
Yoga and pilates are great forms of cross training for runners.
This yoga mat from Core Balance is lightweight, extra wide, double layered and non-slip, making it a top choice for every workout.
Rave review: "I've been looking for a good exercising mat and this is perfect. After reading the reviews, I have decided to buy one and I'm glad I did. I have wood floors so quite hard to exercise without something underneath. This mat stays put, it won't slip and it as the right length."
#17 Yoga For Athletes: 10 Minute Yoga Workouts to Make You Better at Your Sport (£15.39)
This is a is no-nonsense guide for integrating yoga with your existing running and strength training routine.
The author of the book, Dean Kohlman, is a respected athlete, fitness enthusiast and functional yoga expert.
He has worked with physical therapists to create yoga programmes for professional athletes, personal trainers and athletic trainers.
So if you're looking to combine yoga with running, then this is the perfect resource to learn how to do it effectively and safely.
Rave review: "This book was truly written with an athlete in mind! I have tried many classes and it has never clicked for me. With the help of this book I can now see where I will use it for warm ups, how to sync the breathe better and where I will use it for recovery purposes."
#18 Gritin Sport Jump Rope (£7.99)
This anti-slip, easily adjustable jump rope from Gritin is a game-changer for HIIT workouts.
If you want to add some more variety into your training routine, skipping workouts offer a great alternative to standard HIIT workouts.
Jump ropes are compact and lightweight, so they are easy to take with you on the go if you fancy a workout when you're away from home.
Rave review: "I recently purchased the Gritin Speed Jump Rope, and I am absolutely thrilled with my purchase! This skipping rope has taken my workouts to a whole new level, and I couldn't be happier with its performance."
Related: What do I need on race day? The ultimate running race day checklist
Best gifts for runners: Tech
#19 Shokz OpenRun Wireless Bone Conduction Headphones (£103)
These headphones from Shokz regularly top the best headphones for runners lists.
They use bone conduction technology that sits in front of your ears instead of within them so your ears don't get too hot on a run.
Shokz Headphones are the only brand recommended by England Athletics, so if you're looking for a pair of headphones will official backing, then these may just be for you!
Rave review: "These headphones are fantastic. I haven't used bone conduction headphones before and I'm amazed at how good the sound quality is. You can still hear ambient noise, like traffic noise, so I feel a lot safer when running on the main road. They're really comfortable and the battery lasts for ages and charges really quickly too. I've already recommended them to dozens of friends and can't imagine ever going back to in-ear headphones."
#20 Garmin Forerunner 235 running watch (£199)
Garmin offers a range of watches and wearable tech for running, including the ever-popular Forerunner 235 running watch.
It offers activity tracking, daily step counts, calorie tracking and sleep tracking features.
More importantly, it allows you to track your distance, pace, time, heart rate and more!
It has never been easier to have training data and statistics at your fingertips.
Rave review: "If you're looking for a running watch that masters all of the basics, this is your safe bet."
#21 Theragun Prime Electric Handheld Massage Gun (£275)
If you regularly suffer with sore and tight muscles, then you want to level up your massage game and invest in an electric massage gun.
The Theragun Prime is a handheld massage gun that has revolutionised the post-workout routine.
Within minutes you can use the gun as a form of deep muscle treatment to ease discomfort, soothe tightness and tension and recover faster.
Rave review: "Now I've had a few cheap massage guns in my time and they've helped for a day but this thing hits on another level! You feel it 10 times deeper, its expensive but totally worth it. Love how it connects to your smartphone too and just your pain and away it goes! Perfect!"
Related: The best protein food for runners: What you should know about protein
Best gifts for runners: Food and drink
#22 Run Fast, Cook Fast, Eat Slow: Quick Fix Recipes for Hangry Runners (£16.99)
Healthy eating doesn't have to be boring.
In this book from Olympian Shalene Flanagan and chef Elyse Kopecky they share fast and easy recipes without sacrificing flavour.
It's full of pre-run snacks, post-run recovery breakfasts, energising smoothies, race day bars and veggie-packed power bowls.
So whether you're training for a marathon or simply want to learn how to cook more healthy recipes, check this book out!
Rave review: "It's refreshing to see a book that doesn't eliminate food groups, and instead focuses on eating high quality nutrition. If you're a ravenous runner (like me), the recipes will help you feel fuller for longer."
#23 Garden of Life Sport Certified Grass Fed Whey Protein Powder (£55)
This protein powder from Garden of Life is a good choice because it's NSF Certified for Sport and Informed Choice Certified.
It provides 24 grams of high quality, sustainably sourced whey protein – the whey comes from milk produced by grass-fed cows.
It also delivers all the essential amino acids all of which aid in muscle recovery and repair.
Rave review: "This is a great product – protein from non-GMO, grass-fed cows. The chocolate is pleasant tasting in plain water so not at all difficult to drink. Animal protein absorbs so much better in the body than plant protein. I take this in the morning and organic bovine collagen in the evening and it put a little pep in my step in just a couple days. I can already tell a difference!"
#24 Trip CBD drink – 12 pack (£24)
These drinks from Trip are infused with CBD, chamomile, ginseng, L-Theanine and lemon balm for a delicious and refreshing taste.
One of these drinks before or after a run is an absolute game changer – and they're my favourite drink right to provide an afternoon pick me up!
They are also great for helping you to unwind after a busy day.
Rave review: "Trip is a great and tasty drink for any time of the day. It's become a staple in our house!"
#25 Pip & Nut Dark Chocolate Nut Butter Cups (from £1.65)
I love these nut butter cups from Pip & Nut.
Not only are they delicious, they are award winning, ethically sourced and contain no palm oil.
Put them in your bag for a post-run recovery treat!
Rave review: "I love the dark chocolate peanut butter cups. I'm a real peanut butter and dark chocolate fan, so these are right up my street. I've had similar ones from other companies but these are the best ones, by far."