Running is a great way to get fit, feel better within yourself, and make long-lasting friendships with fellow runners.
Forming a new habit can sometimes feel daunting, if not overwhelming.
How to start running? What gear do I need? How far should I be running? These may be some of the thoughts and questions that you have right now.
Starting a new habit like running doesn't have to be complicated or difficult. With the right tips, support and advice, you'll be on your way in no time.
In this guide we'll explore 12 tips for beginners to make your introduction to running simple and straightforward.
Ready?
Let's go!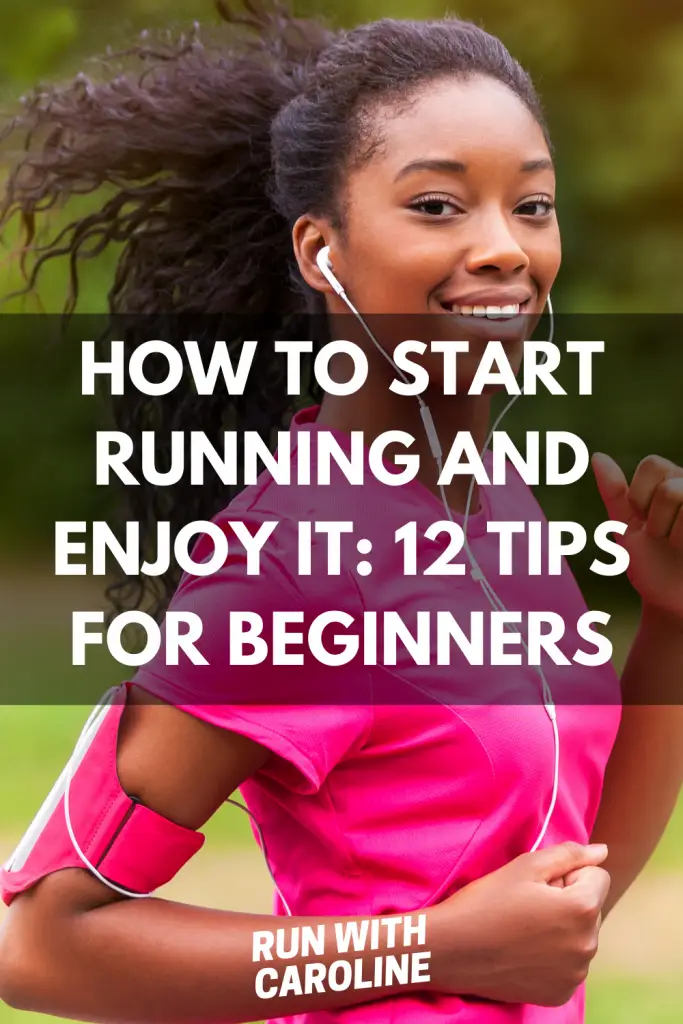 How to start running and enjoy it: 12 tips for beginners
#1 Buy a pair of decent running shoes
A decent pair of running shoes is a must for any beginner runner. There are a lot of affordable options on the market nowadays.
My advice would be to find a pair that feels comfortable to wear, but don't shell out too much money on shoes just yet.
A high-end pair of running shoes could set you back between £80-£150 depending on the brand!
Shops like Decathlon and Sports Direct offer a range of affordable running shoes. Check out my post on where to buy affordable running gear for more information.
Related: How to choose the best running shoes for beginners
#2 Buy some basic running gear
Although you don't need a lot of gear to begin with, running shoes, running socks and comfortable running gear like leggings, shorts and t-shirts are all a must.
It will also depend on the climate and weather you are running in. Winter running requires a different set of gear to summer running, for example.
When it comes to buying running gear, choose comfort over style! Chafing whilst running is not a happy experience.
Related: 7 must have running accessories you didn't know you needed
#3 Check your running form
Proper running form is something that I ask runners to practice from day one of their running journey.
It really is worth it to learn the basics of correct running form and posture.
Running form can never be perfect, but there are some simple tips that you can follow to ensure you become a more efficient runner:
Relax your shoulders
Run tall
Swing your arms
Take it in your stride
You can find more information about each of these points in my blog post on 4 simple tips to improve running form.
Related: Proper arm swing and 5 ways to improve it
#4 Choose a training plan
Many beginner runners start out with a running/walking training plan like the Couch to 5k programme.
This programme is often 9 to 12 weeks in duration and is aimed at anyone looking to start running or get back into running after a long break.
Couch to 5k is great for new runners as it allows you to take walking breaks in between runs.
These walking breaks gradually become shorter as the weeks progress, allowing you to build up your endurance and stamina.
This training plan is also great to ease you into running and slowly build up your confidence as a new runner.
If you feel Couch to 5k is a little too easy for you, then consider choosing a beginner or intermediate 5k training plan.
Many beginner runners start with a 5k training plan and progress into running 10k races, half marathons and even marathons!
Related: Couch to 5k training plan: 7 essential things you need to know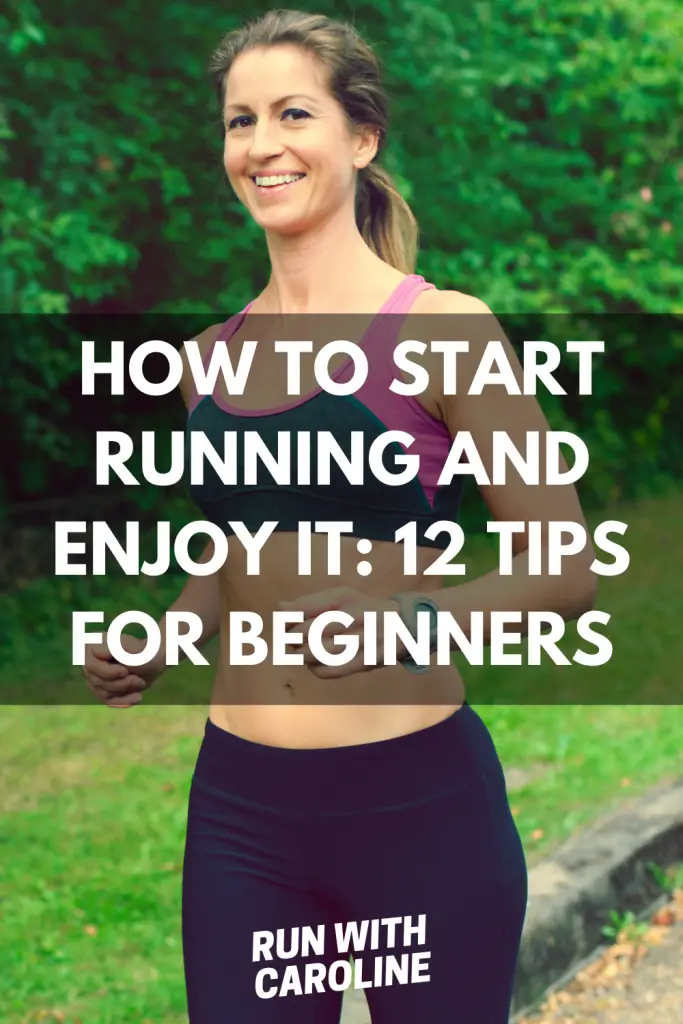 #4 Find your running motivation
For many beginner runners it can be challenging to feel motivated to run and run consistently.
Whatever your reasons are for taking up running, make sure you find enjoyment in running. Doing something you don't enjoy will soon become a chore!
Running releases 'feel good' hormones like dopamine and serotonin that contribute to the much sought after runner's high that many runners experience after a run.
The fact is, moving your body has lots of positive effects on your physical and mental health.
This adds to the already significant body of research showing that running can improve your mood and help fight stress, anxiety and depression.
Related: Is running good for you? 12 amazing benefits of running for the body and mind
#5 Be consistent
In the early days, it's important to make running a habit so you gain enough exposure to it to become a better runner.
This is probably one of the most important tips to start running and keep enjoying it.
Getting past the first five minutes of a run is always the hardest. As your body adjusts and gets into a rhythm, it will soon feel easier and you will get into your stride.
Start with 20-30 minute runs at a maximum of 2-3 times a week. You can choose to add longer runs (30-40 minutes) as you go, and run more times a week if you want, but later.
Studies show that habit formation varies from person to person, but on average, ranges around 66 days (just over two months).
This means you won't pick up running from the get go and fall in love with it right away. It will take time to feel natural to you.
Once you've formed a habit, you can then mix up your running routine with things like speed training and hill training.
Related: Make time to run: How to fit running into a busy schedule
#6 Focus on time over distance and speed
When you start running, you'll probably be overly-conscious of your speed, or lack thereof.
Instead of worrying about how fast you're running, focus on the amount of time you're running for.
For example, your goal could be to run 15 minutes per day for 1 week, then increase that to 20 minutes per day in the following week.
By focusing on time over distance and speed, you don't have the pressure to run a certain distance or run at a certain pace that may be unachievable for you at such an early stage.
Forget about speed and pace, these will come later once you've got the running basics under wraps.
Related: How to increase running stamina and endurance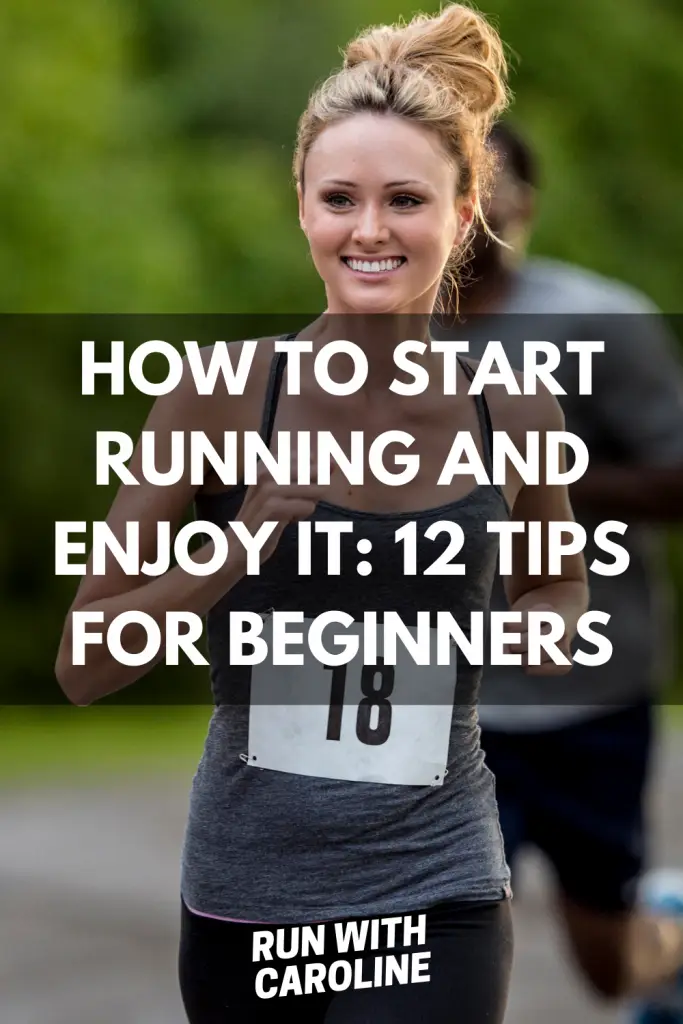 #7 Join a running group
If you don't want to run on your own or lack the motivation to go running solo, then joining a running group is a great way to make running fun and meet new people in the process.
Make sure you find a running group that matches your running experience and fitness levels.
If you're more of a social runner, there are lots of running groups that meet for a run, then visit a cafe or pub afterwards.
Websites like RunTogether are a great source to find local running groups.
If you're not quite ready to join a running group, run with a family member or friend.
Related: How to make running easier: 7 simple tips
#8 Join an online running community
Online running communities like Run Mummy Run and The Lonely Goat Running Club have become increasingly popular over the last 10 years.
More runners than ever are taking to social media to share their runs and find running buddies.
These groups are great to share any questions you have about running and get support and advice on running-related things like routes, injury prevention and running motivation.
#9 Download a running app
A running tracking app is a must for many beginner runners as it allows you to track your progress and share your progress with your running friends.
Online running communities like Strava and Nike Run Club are great ways to share your love of running.
A running app is also beneficial to not only track your run, but monitor your distance and pace and provide some motivation.
Check out my post on 6 of the best running for beginners apps for inspiration.
Related: 5 of the best 5k to 10k running apps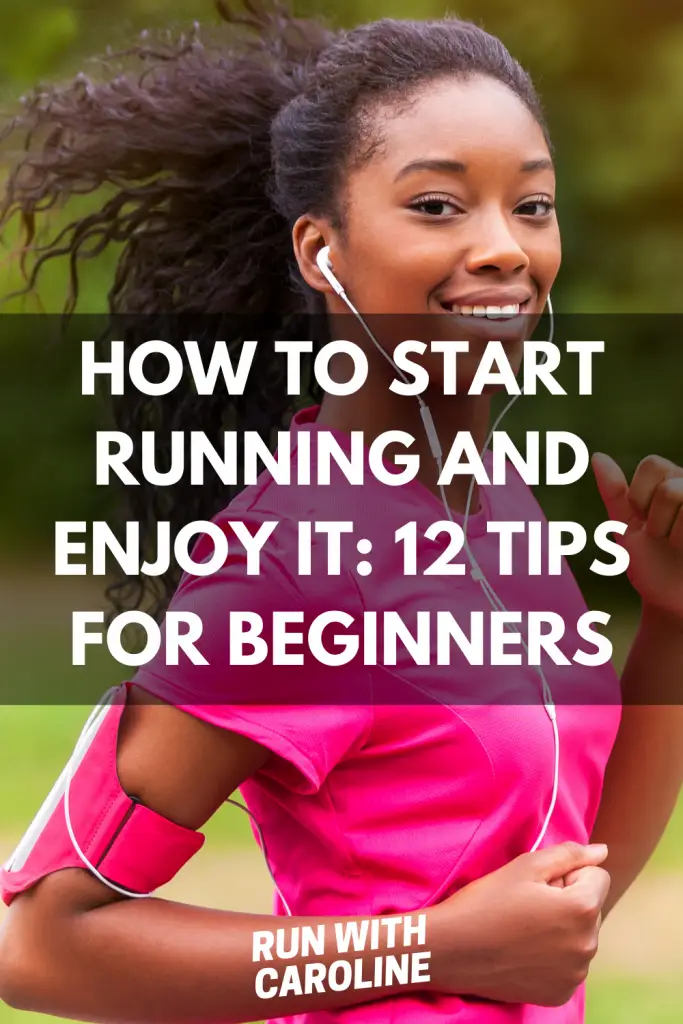 #10 Warm up before each run
A warm-up before each run is crucial, especially when you're starting out on your running journey.
A warm-up can be thought of as a 'dress rehearsal' before your run to prepare your body for the run ahead.
If you go straight into a run without warming up, you risk injuring yourself. Many studies have shown that your performance is improved after a proper warm-up.
Your warm-up should focus on raising your heart rate and mobilising your joints and muscles.
Dynamic exercises like leg swings, forward lunges, fast feet and arm circles are all great examples of warm-up exercises.
Related: How to warm up before a run: 4 actionable tips
#12 Cool down after each run
Like a warm-up, a cool down is beneficial to help prevent injury and return your body to its pre-exercise state.
Cool downs can also help to minimise muscle soreness after a run.
A proper cool down should include light jogging (to lower your heart rate) and stretching (to minimise muscle soreness and improve flexibility).
Some recommended cool down stretches are the standing quad stretch and standing calf stretch.
See my post on the best cool down stretches to do after a run for more recommended stretches.