Running can be hard, especially if you're not in the right space mentally.
If you allow the smallest bit of self-doubt to enter your mind, it can be a deal breaker on a long run.
This is where it's important to have mental tips for long runs to get you to the finish line.
These mental tips will not only give you the mental strength to complete a long run, they will also give you the confidence and positive mindset to attack your next run.
According to research conducted at the University of Wales, mental toughness boils down to confidence, consistency, control, determination and focus.
These qualities combined with adequate preparation before a run can serve to boost your performance on a run.
Here are 6 mental tips for long runs to help you run stronger for longer.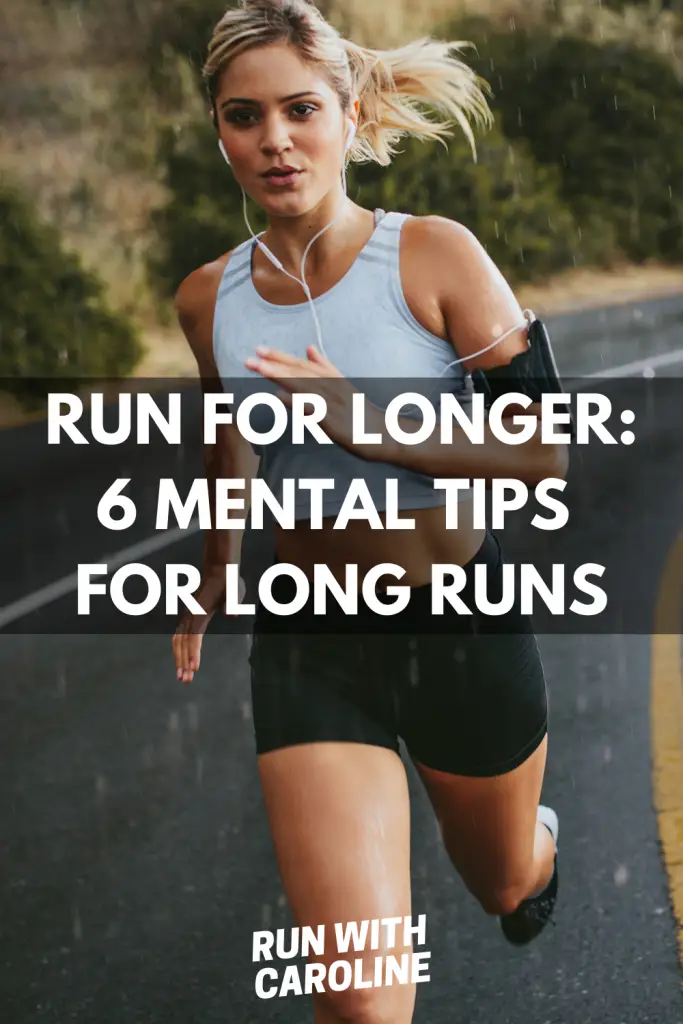 6 mental tips for long runs
Give yourself a pep talk
Positive affirmations and positive self-talk can go a long way to boost your confidence and self-esteem when practiced regularly.
On the morning of your run, practice positive affirmation:
"I can do this."
"I am prepared for this run."
"I have it in me to complete this run to the best of my ability."
"I am proud of myself that I have come this far."
Over time, these positive affirmations soon become beliefs, wiping away any negative self-talk and negative mindset.
Positive affirmations in the form of post-it notes also work well to boost your confidence. Write some positive statements on post-it notes and put them on your mirror and fridge. Seeing these when you get up in the morning before you go for a run will be a welcome boost.
Related: How to believe in yourself: Running and self-confidence
Break up your run
If you're about to run your longest run ever, it can quickly become overwhelming when you think about all those miles.
Whether it's 5, 10, 20 or 30 miles, it helps to break it up into smaller distances to make the run seem more manageable. For example, if you're running 20 miles, break it up into four 5-mile runs.
At the start of each new run, just think that you're starting out on a brand new run. Visualise yourself with a fresh pair of legs and just focus on getting to the end of that segment.
Related: Run for longer: How to increase running stamina and endurance
Think of the post-run reward
This is probably one of my favourite mental tips for long runs and it has worked well for me on a number of runs.
Decide on a reward if you complete the run. This could be a nice hot shower, a hot cup of coffee, a cheeky pastry or simply a restoring stretching session. This will give you something to look forward to after the run and will spur you on to complete it.
My favourite thing to do (pre-Covid of course) is to finish my run near a nice, little coffee shop and park up for a pastry and coffee once I have finished my run. It's one of the best ways to start my weekend after a long run.
Related: 5 practicable tips to keep your running motivation during the pandemic
Visualise yourself crossing the finish line
Picture yourself crossing the finish line and try to visualise your goal time displayed on your watchface.
Imagine what you'll be thinking, how happy you'll feel and how proud you'll be of your achievement.
This works well if you're training for a race and at the finish line there's a crowd of cheering people and a medal to look forward to.
Related: 21 funny and motivational running quotes to inspire you
Pick an interesting route
If you struggle to fight off the boredom on long runs, be sure to pick a route that's varied and interesting. If you're not stimulated or excited by your running route, this can quickly interfere with your race game and push you off track.
My routes very much depend on my mental state in terms of whether I pick a route in the countryside or a route through the city. In the city, the monuments and landmarks keep me entertained, in the countryside it feels good to be outdoors in a big open space.
Pick a route that will not only offer you stimulation on your run, but allow you to perform at your best. If you're trying for a personal best, it's best not to pick some complicated trails.
Related: 12 trail running tips for beginners
Remember it's not always easy
If long distance running was easy, everyone would be doing it! Remember that a long run is hard on your body and mind, so don't be too disheartened if you have a wobble now and again when preparing for your run.
You are taking on a challenge and the difficulties you face will serve to make you a stronger runner and person.
Related: Run happy: 6 mental health benefits of running
What are your favourite mental tips for long runs? Comment below!