We all love running, right? Right?!
It's true to say that many people have a love hate relationship with running. One week you can feel on top of the world, the next it feels like the hardest thing EVER!
Funny running memes like the ones in this guide are what keep running fun and enjoyable.
After all, anything that keeps you going on those grueling, long, winter runs.
Whilst running is a great solo sport, it also brings people together. Many runners have shared experiences through running, including those funny and hilarious moments.
So, whether you're a beginner runner or have been running for years, you can relate to these funny running memes.
In this guide we'll explore:
How to keep running fun
Don't enjoy running?
Ready?
Let's go!
How to keep running fun
Here are 6 tried and tested ways to keep running fun:
#1 Switch up your training routine
It's always a good idea to switch up your training routine once in a while to keep it fun and exciting.
Workouts like interval training, tempo running, hill repeats and strides are all great ways to keep running exciting.
#2 Run with a friend or as part of a group
If you're missing some much-needed companionship on your runs, then why not run with a friend or as part of a group.
Group running can have such a positive impact not only on your running, but your mental health too.
#3 Try a different route
Running is a great way to explore what your local area has to offer.
Research a different route and give it a try.
Trail running is becoming ever more popular as more and more people seek more adventurous terrains for their runs.
#4 Listen to your favourite podcast or audiobook
A podcast or audiobook offers some variety on your runs, and takes you away from your own thoughts.
#5 Try active travel
Instead of driving or using public transport to reach your destination, why not run commuting instead!
Whilst this requires a bit of forward planning, it's a great way to get your weekly miles in and switch up your running routine.
#6 Sign up for a race or event
There are so many running races, events and challenges out there nowadays – all catering for different tastes and interests.
One of the best ways to rediscover your running mojo is to sign up for a race or event and become accountable for your runs.
Parkrun is probably one of the simplest ways to take part in an event. It's free and takes place every Saturday morning in many locations across the globe.
Related: 101 funny and motivational running race day sign ideas
Related: 72 funny running puns and running jokes that will make you laugh out loud
10 funny running memes to brighten your day
#1 Hey girl, keep running
Because we all need a bit of Ryan Gosling in our lives!
And wine and puppies…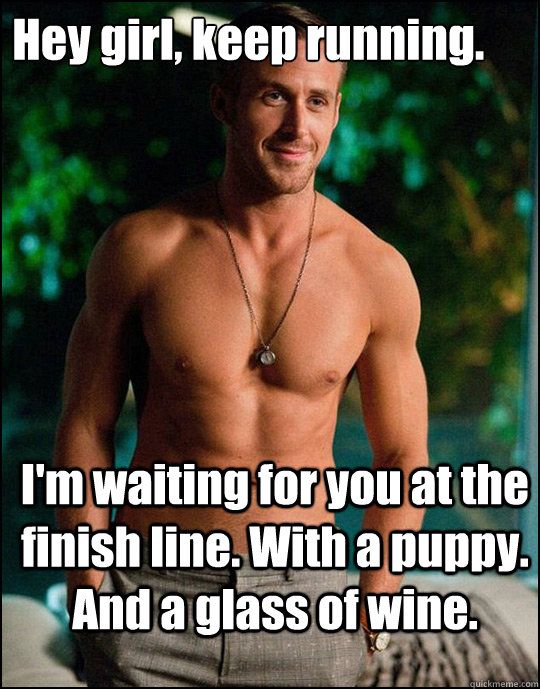 #2 One does not simply walk normally after a long run
This one is for the Lord of the Rings fans out there.
The pain is real after a long run!
#3 Marathon, what marathon?
Yep, everyone sets their sights on running a marathon but the feeling you get after doing one is both euphoric and painful!
#4 Is there any such thing as a good race photo?
We feel your pain here.
Does a good race photo exist?!
#5 The haters gonna hate
If I had a pound for every time someone said to me "why would you do that to yourself?" when I told them I'm going for a run I'd be a millionaire!
Ignore the haters y'all.
#6 The dreadmill
Ahhh treadmills. You either love them or you hate them.
#7 We all know THAT face
The head bob. The universal sign for runners that someone doesn't just get why you run.
#8 This girl is on fire
We runners have to face the fact that there will be muscle soreness, but my gosh when your quads hurt, they hurt!
#9 Slow and steady wins the race
I'm not going to lie, this is one of the best feelings in the world!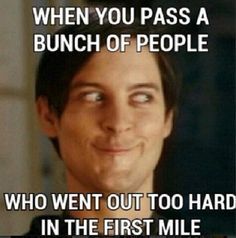 #10 Simply put – we all love running!